Dali and I: The Surreal Story
Update: Filming and production on this project/film has been at a standstill for editing and script issues. Check back with Pacino Worldwide for further updates.
~Your Owners
Jackie & Iris
8/2009
Coming soon to theaters in 2009--Filming to begin Summer 2008!
Al Pacino will play Salvador Dali in Dali & I: The Surreal Story to be directed by Andrew Niccol.

The movie will span the 1960s-80s, a time when most of Dali's great work was behind him and he became more flamboyant. The story will also focus on the mentor-protege relationship between Dali and a young art dealer named Stan Lauryssens. Niccol will also rewrite the script originally written by John Salvati based on Lauryssens' memoir "Dali and I". Shooting is scheduled to start Summer 2008.
**by The Hollywood Reporter, January 2007
Find more about Dali and I: The Surreal Story here!
Art dealer Stan Lauryssens made millions in modern art, but he sold only one name: Salvador Dali. The surrealist painter's work was a hot commodity for the newly rich, investors, and businessmen looking to launder their black market cash. Stan didn't mind looking the other way; he just hoped the buyers would look the other way as well. The artworks he sold came from some very shady sources. And he soon discovered that the shadiest source of all was Dali himself. The more successful Stan became, the closer he got to Dali's inner circle, until he found himself living next door to the aging artist. There, while Stan hid from Interpol's detectives, he learned more about Dali's secret history, the studio of artists who produced his work, and the money-making machine that kept Dali's extravagant lifestyle afloat long after his creativity became to flounder.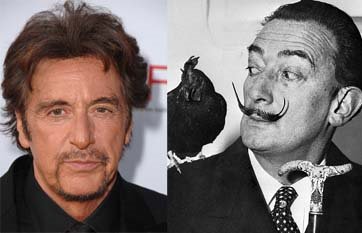 Al Pacino spoke to MTV News about portraying the 20th century painter Salvador Dali in the upcoming film entitled "Dali & I: The Surreal Story" based on Stan's book.
"I really like that Salvador Dali idea," said Pacino of the biopic. "I really feel that's a place I would like to get myself around to playing."
The movie will reunite Pacino with his "S1m0ne" director Andrew Niccol. "I read Andrew Niccol's script. It's a terrific script. That's a role I've been wanting to play for a while, and I think it's coming," explained Pacino.
Salvador Dali of course is best known for his wiry antenna-like moustache and for his painting "The Persistence of Memory," which features several melting clocks on the beach.
A word to Pacino Worldwide from Stan Lauryssens:
Dear Jackie,
.... I arrive at the Pacino Worldwide website!.....Well, obviously I'm a number one fan of Pacino; I'm also a fan of Larry Grobel: I've read his Brando, Capote, Michener etc books and I'm rereading his Conversations with Al Pacino at this very moment. I am honored and delighted that Pacino is attached to star as Salvador Dalí in Dalí & I: The Surreal Story that I wrote.
Best regards,
Stan