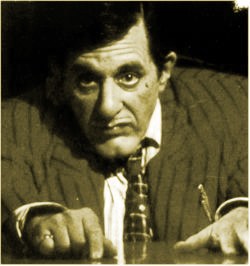 All Tess Trueheart (Glenne Headly) wants is to settle down to a quiet life with her boyfriend, detective Dick Tracy (Warren Beatty). But there's something pretty rotten going on in town, with someone pretty rotten behind it, and Tracy has his hands full with the likes of villain Big Boy Caprice (Al Pacino) and with the almost irresistable Breathless Mahoney (Madonna).
Based on a comic book.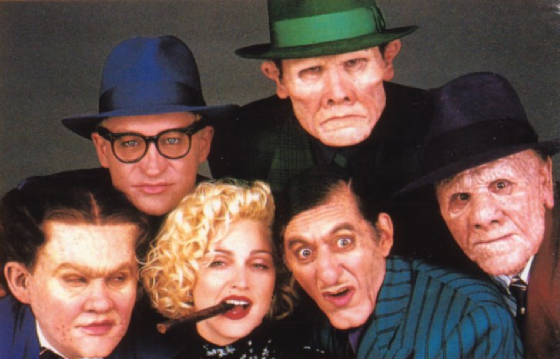 Tracy was the first comic strip I encountered after I outgrew funny animals, and what struck me was that the physical appearance of the characters always mirrored their souls, or occupations. They looked like what they were, and what you saw was what you got, from the square-jawed Tracy barking into his wrist radio, to Pruneface, Flattop and the others.

**from Roger Ebert of The Chicago Sun Times review dated June 15, 1990
The make-up used for all of the villains was based directly how they were drawn by Chester Gould in the original comic strip. This is especially evident in Little-Face, Pruneface and Influnce. The only exception was Big Boy Caprice, whose make up was designed by Al Pacino himself.

Fifteen villains from the Chester Gould comic strip appear in the movie.

Big Boy Caprice, Lips Manlis, Flat-top Jones, Itchy
Pruneface, The Influence, Mumbles, Spud Spaldoni
Little Face, The Brow, Shoulders, Stooge Viller, Numbers, 88 Keys, Breathless Mahoney.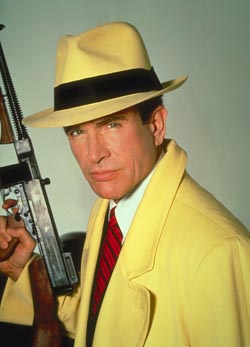 Warren Beatty's production of "Dick Tracy" approaches the material with the same fetishistic glee I felt when I was reading the strip. The Tracy stories didn't depend really on plot - they were too spun-out for that - and of course they didn't depend on suspense - Tracy always won.
**from Roger Ebert of the Chicago Sun Times review dated June 15, 1990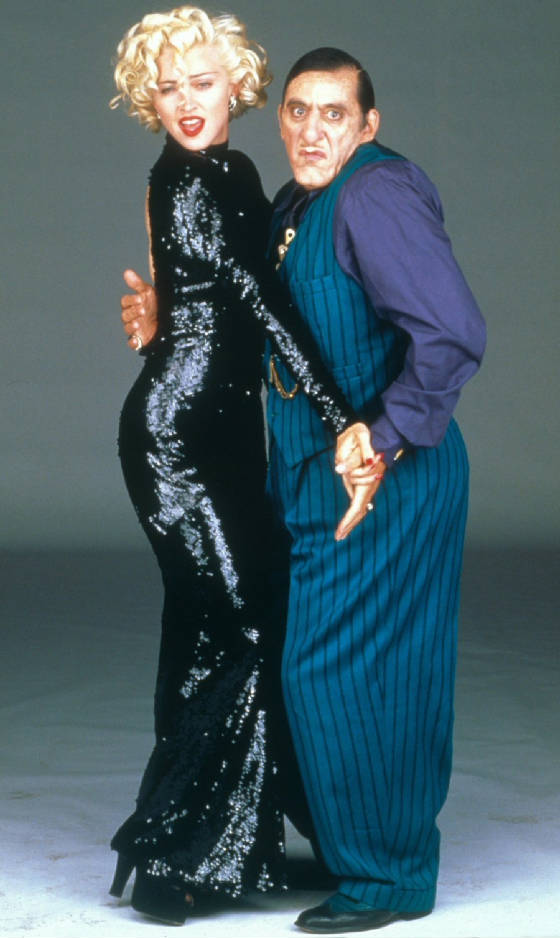 Big Boy Caprice: Around me, if a girl don't wear fur, she don't wear nuttin'.
Breathless Mahoney: Well, I look good both ways.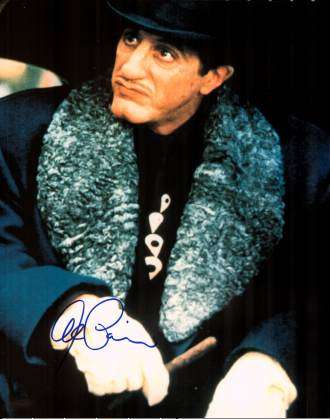 There is an edge of cruelty to Big Boy's behavior, and later we see that some of his cruelty is directed toward himself. Unlike most of the villains of modern movies, he does not flaunt his evil, but is ashamed of it, and this Victorian trait makes him more interesting.