The Devil's Advocate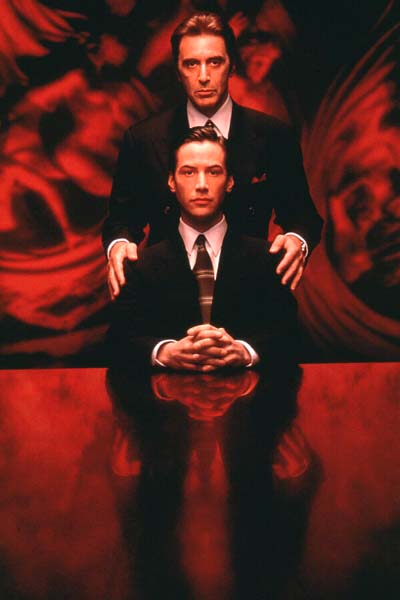 Kevin Lomax (KEANU REEVES) is a success in the courtroom and out of it. He's a young Florida defense attorney who's never lost a case. No matter how repugnant the crime, no matter how guilty the defendant, Kevin Lomax has the power to mesmerize the jury into accepting his arguments, buying into his logic, being convinced by his charisma - and freeing his clients.

Lomax enjoys a happy marriage with his sexy young wife, Mary Ann (CHARLIZE THERON), and even has a good relationship with his straitlaced, churchgoing mother (JUDITH IVEY), despite her pursed lips over his small-town-boy-makes-good lifestyle. In fact, things seem just about perfect for Kevin - nearly Heaven on Earth.

But not exactly.

One day Lomax is in court defending an alleged child molester. In order to win his case he has to break down the victim's composure just enough to make the jury wonder if a teenage girl might have lied about her teacher's slimy advances. And win Lomax does - despite his own awareness that his client is guilty as sin.

Soon after, Lomax receives a visitor - an urbane New York attorney (RUBEN SANTIAGO-HUDSON) who explains that his powerful law firm has become aware of the Florida hotshot's acquittal record and would like to meet with him personally - at their very lavish expense.

Over the urgent objections of Lomax's mother, who asserts that New York City is the world's nexus of sin, Kevin and Mary Ann head for the Big Apple and a look at the astounding luxury that life in the big city can offer the fortunate.

And Kevin Lomax meets John Milton (AL PACINO), the man who has summoned him in this extraordinary fashion.

Milton, an earthy, brilliant and charismatic man, is the founder and head of Milton, Chadwick, Waters, a powerful, mysterious law firm with interests and clients all over the world. He's been watching Lomax and he wants him at the firm. He can make Kevin a very enticing offer, he says - a home, a salary, a position in life that no one else can top.

Lomax, dazzled by the gorgeous apartment he's shown, the beautiful women and powerful men at Milton's parties, and the brilliant, accomplished partners in Milton's firm, grabs the brass ring. He and Mary Ann move into their elegant new home and begin a new life.

But as Lomax tastes the power of being a wealthy New York attorney, something in him changes. Winning is no longer just a goal - it becomes an obsession. When Mary Ann starts telling her husband that the other partners' wives are not what they appear, that their life is not a good as it seems, that she's having frightening experiences she can't explain, he comforts her brusquely and ignores what she's saying.

And when Milton's interest in him seems inexplicably generous, Lomax decides not to question it. So by the time he finds himself defending a wealthy real-estate developer (CRAIG T. NELSON) who's accused of three brutal murders, Kevin Lomax is thrilled by the challenge, not frightened by his growing belief that his client is guilty of an even bigger crime.

Then Eddie Barzoon (JEFFREY JONES), the firm's managing partner, dies a sudden, horrible death. Mary Ann's terrified perceptions pull her away from sanity. Another law partner, the beautiful Christabella (CONNIE NIELSON), teases Lomax so seductively he can hardly think.

Kevin's mother comes to New York and warns him that the situation has gone too far and there are certain things he needs to know. And through it all, John Milton keeps reminding his protege that life is rich with possibilities for those who are unafraid to sample them. But Kevin is beginning to be afraid.

Lomax's existence in Heaven on Earth has ended. Now he's stepping into Hell. And standing at the gates to welcome him is John Milton.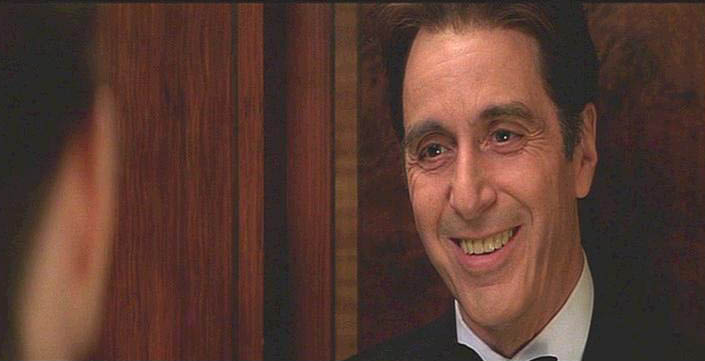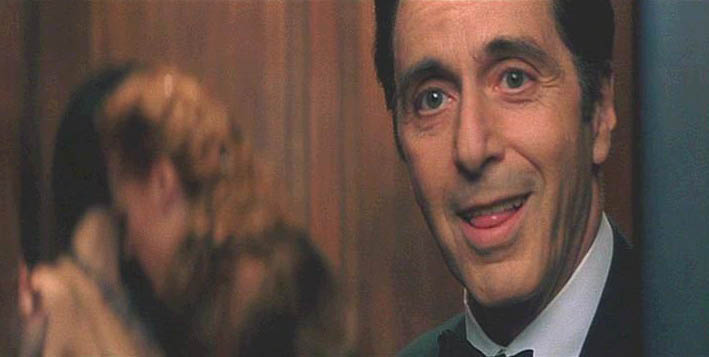 ...During the course of his long and varied career, Al Pacino has played the good (...And Justice for All), the bad (The Godfather), and the ugly (Scarface), but this is his first chance to play Satan, and he accomplishes the task with his usual panache. Of course, this is the kind of over-the-top role that Pacino plays best, and his virtuoso performance comes complete with a pair of the kind of monologues that he does better than anyone else working in Hollywood today. Of all the recent approaches to this role, Pacino's Dracula-esque method stands alongside the work of Jack Nicholson (The Witches of Eastwick) and Max von Sydow (Needful Things) as the most memorable.
**excerpt of review from James Berardinelli, dated 1997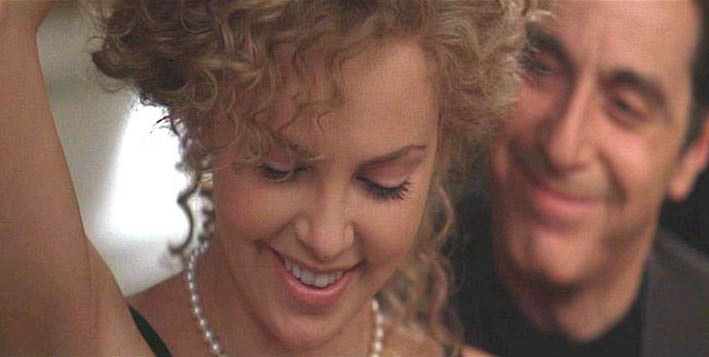 Milton: "A woman's shoulders are the front lines of her mystique...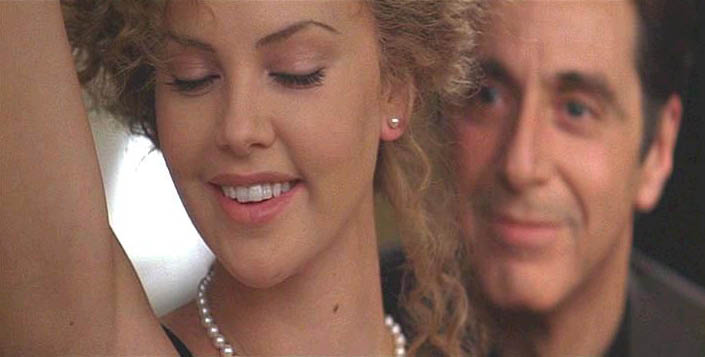 ...and her neck, if she's alive, has all the mystery of a border town. A no-man's land in that battle between the mind and body."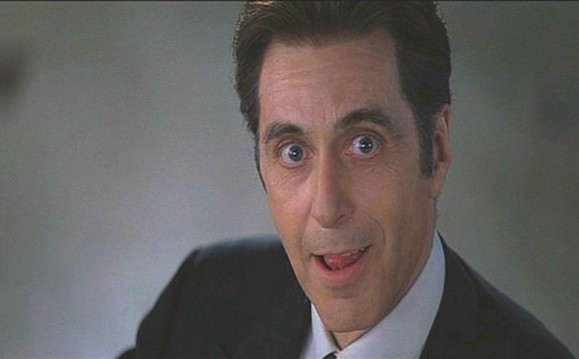 ..."This time it's the devil as head honcho at a law firm, with Al Pacino having great, wily fun with the screenplay's bons mots. 'Look at me, underestimated from Day One!' bellows this executive, who has a taste for fashionably urbane black. 'You'd never think I was a Master of the Universe, now wouldya?'
..."With a gratifyingly light touch, the screenplay....names Mr. Pacino's character John Milton, since he knows a thing or two about paradise lost. And it is in Gainesville, Fla., that they first find the ambitious Kevin, who thinks he has much to gain....
..."And it also helps that in this, the ultimate lawyer joke of a movie, it becomes so clear why Kevin's legal talents are the Devil's instruments of choice. Mr. Pacino's mischievous Milton eventually notes that nobody on earth could do his bidding better than a well-trained band of attorneys. If those attorneys are as pampered as Kevin threatens to become, so much the better. As Milton likes to point out, 'Vanity is definitely my favorite sin.'"
Above excerpt from The New York Times, Film Review - Joining Evil, Esq., At Satan & Satan, By Janet Maslin. Published October 17, 1997.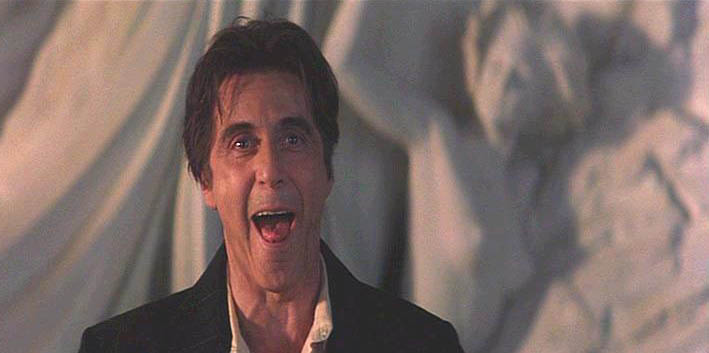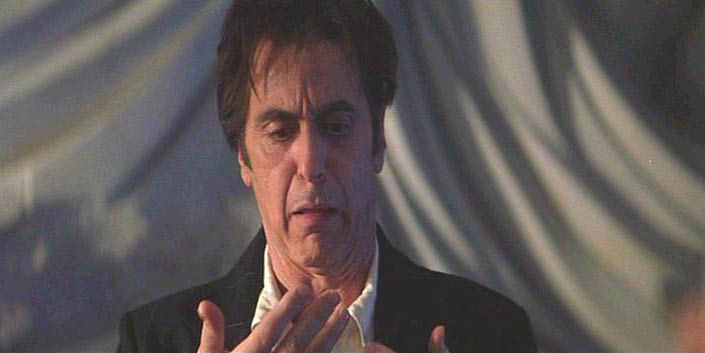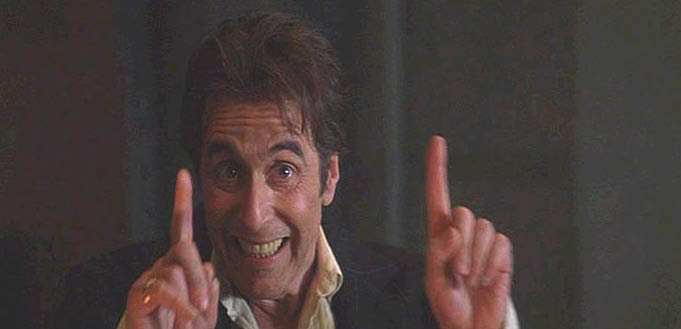 "In John Grisham's 'The Firm,' lawyer Mitch McDeere may have thought he had joined the law firm from hell, but he hadn't. In contrast, Kevin Lomax in 'Devil's Advocate' does and finds the perks in working for God's opposition to be seductively satisfying even if there are significant drawbacks. To be sure, he does not know that his boss John Milton is the Devil incarnate, and the beauty of the film is that it keeps this obvious secret from Kevin until the end....
"The story starts in a small courtroom in rural Florida. Kevin has a perfect record as a lawyer due to his omniscience in jury selection. A nerdy teenage girl...testified that her teacher sexually abused her. As Kevin is ready to rip her to her shreds in cross-examination, he sees his client's eyes lusting after her and fondling the desk exactly as the girl claims he fondled her. Realizing his client is guilty as sin, Kevin goes into a panic attack. In a cold sweat, Kevin resolves his conscience conflict in favor of winning....
..."As a consummate business manipulator, Al Pacino plays John, the head of a big Manhattan law firm that makes Kevin an incredibly lucrative offer to come to work for them....Pacino is in his prime during the show. Punching out lines both powerful and humorous. ('What about love?' Kevin asks him at one point. 'Biochemically overrated,' John explains. 'It's no different than a big box of chocolates.')....
"From the beginning John taunts Kevin even while serving as his mentor. John wants to know why he no longer goes to church with his mother. 'It didn't work out -- The book? The church?' John inquires. 'I'm on parole,' Kevin replies, smiling obsequiously. 'Early release for time served....'
"Pacino's street-smart and superrich Devil has such credibility because of his likability. With his charisma, his money, his power and the beautiful and sexy people surrounding him, he has all the temptations in the world to offer a young protege. If you're not careful, you'll find yourself wanting to hang with John. But if you go astry, it's not his fault. 'I only set the stage,' he argues. 'You pull your own strings.' John is a big fan of free will.
"In a long and somewhat surprising ending sequence that blends the sublime with the outlandish, John reveals himself to Kevin and explains why it was so easy to entrap him. 'Vanity, definitely my favorite sin,' John tells Kevin as one reason why Kevin was so vulnerable. And boy, are there others."
Excerpts from review written by Steve Rhodes for AllMoviePhoto.com