Scarface
"In the spring of 1980 the port at Mariel Harbor was opened, and thousands set sail for the United States. They came in search of the American Dream. One of them found it on the sun washed avenues of Miami... wealth, power and passion beyond his wildest dreams. He was Tony Montana but the world will remember him by another name... "Scarface"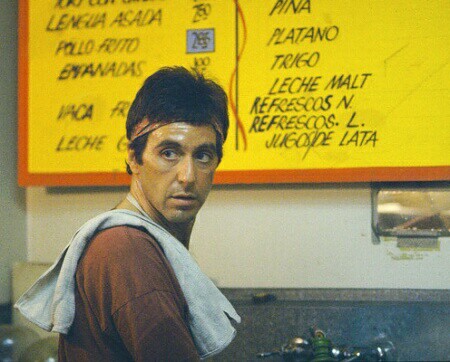 "SCARFACE," Brian De Palma's update of the 1932 classic...is the most stylish and provocative - and maybe the most vicious - serious film about the American underworld since Francis Ford Coppola's "Godfather." In almost every way, though, the two films are memorably different...."
"This "Scarface," which was written by Oliver Stone, contains not an ounce of anything that could pass for sentimentality, which the film ridicules without mercy. "The Godfather" is a multigenerational epic, full of true sentiment. "Scarface, "which is actually a long film, has the impact of a single, breathless anecdote, being about one young hood's rapid rise and fall in the southern Florida cocaine industry...."
..."Tony Montana is played by Al Pacino with such mounting intensity that one half expects him to self-destruct before the film's finale. Though a busy performance, it's not a mannered one, meaning that it's completely controlled...."
**Vincent Canby for the New York Times, Published: December 9, 1983.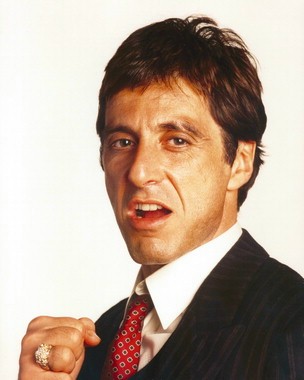 ..."This movie is LONG. But it never really drags, because Pacino is being very entertaining. He wears women's hats, watches his friends make obscene gestures to women, buys fancy cars with leopard cushions, walks around with a white nose - Pacino has a BALL. He makes the movie, and his dialogue is among the most memorable in recent memory.
.....from review by "hawkboy" @ efilmcritic.com 2/99

..."Tony Montana's character is above all a performance artist, a man who exists in order to gloriously be himself. From the film's opening shots, in which he is one more disposable Cuban ex-con in a Florida detention center, his whole drive is to impress his personality and will on others. He begins with no resources or weapons, except for his bravado, and fakes out more powerful men simply by seeming dangerous and resourceful. His act is a bluff, so there is no sense in underplaying it..."
--Roger Ebert for The Chicago Sun Times, review dated September 28, 2003
MOVIE "SCARFACE" RECEIVES X RATING
'Scarface', Universal's $23.5 million Christmas movie, was given an X rating this afternoon by the rating board of the Motion Picture Association of America.
Martin Bregman, the producer of the contemporary gangster movie, starring Al Pacino, said 'we have been officially designated as a pornographic film. We'll accept the X rating and appeal...'
"Brian DePalma, the director of 'Scarface,' re-edited the movie four times in an attempt to satisfy the seven member rating board's objections, but the board still found the movie to be excessively violent...Mr. DePalma...said...that he thinks what has happened 'is kind of good. If we win the appeal, the whole world can see what the board considers an X picture....'
Alan Friedberg, the President of the...Sack chain in Massachusetts, said that the case of "Scarface" showed the need for an "M for Mature" or "A for Adult" rating that would not stigmatize a film the way an X rating does. Mr. Friedberg...said that...it...'should not be lumped with "Debbie Does Dallas."
*Aljean Harmetz, Special to the New York Times, October 30, 1983.

'Scarface' Gets R Rating On Appeal
"The X rating given to "Scarface" last week by the ratings board of the Motion Picture Association of America was overturned on appeal today..."
An appeals board composed of studio executives and independent distributors...'awarded "Scarface" a less restrictive R, which allows children under the age of 17 to see the film when they are accompanied by an adult...'
**Aljean Harmetz Special to the New York Times, Published November 9, 1983.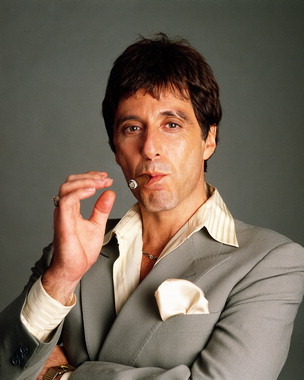 ..."Cultural absorption would be just as critical to Pacino's performance as his physical training, which included time spent with a night combat expert. He'd already decided that full authenticity wasn't his goal; the Cuban accent and mannerisms would be heightened to match De Palma's elaborate direction. Explaining this, the actor later said that because De Palma envisioned SCARFACE "as an opera in the Brechtian sense (and because we wanted to) to express the thing that goes with that world -- avarice, force and the craziness of the high -- Tony Montana was always perceived as two-dimensional. That was the style. It wasn't about why he does what he does. He wasn't meant to be reflective." With Tony, what you saw is what you'd get, with even the jagged facial scar evoking, in Pacino's words, "a kind of chaotic wildness in this guy..."
Excerpt from "The Making of SCARFACE," documentary written, directed and produced by Laurent Bouzereau (Universal, 1996).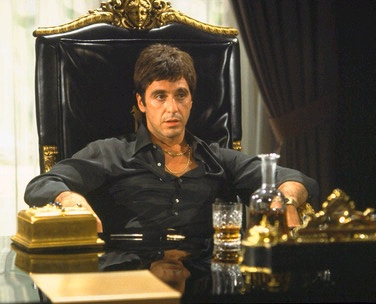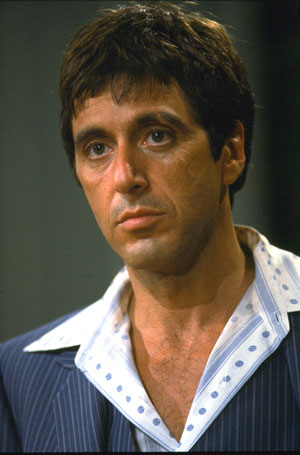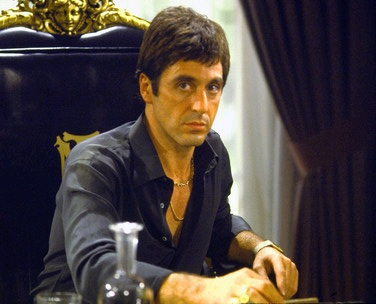 ..."Despite doubts by even Pacino, Pfeiffer won the breakthrough role of the beautiful but socially trapped Elvira, with an audition that assistant director Jerry Ziesmer remembers as being marked at first by extreme nervousness. Once she moved into a confrontation scene with Pacino, according to Ziesmer, she displayed the confidence of "a pit bull who held her own in the exchanges and was tantalizingly attractive." For Bregman, there was no question she could carry the part and he soon convinced Pacino. "When she got up on stage," Bregman said, "she brought Al to life -- he was magnificent. It's interesting because I don't think even he was aware of it. But it happened -- the relationship happened. It was right then and there..."
Excerpt from "The Making of SCARFACE," documentary written, directed and produced by Laurent Bouzereau (Universal, 1996).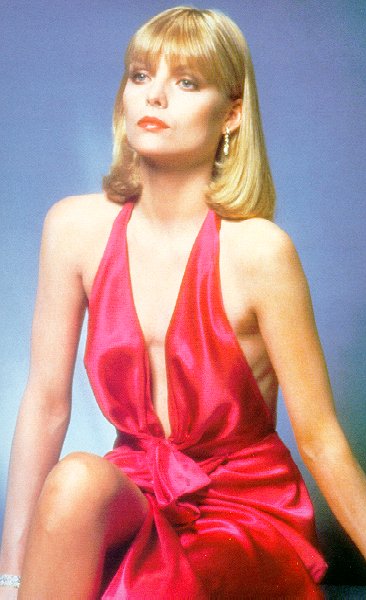 Did you know...Scarface 101
....A real injury did take Pacino off the set for more than a week. While filming the final shootout, the actor grabbed the blazing hot barrel of an M-14 machine gun and was rushed to the hospital with second-degree burns on his left hand..."

..."In the end, De Palma conceded it was a good scene and should stay. "Pacino has all sorts of ideas about how things should be done. So do I. We worked it out that he was right about some things and so was I. Collectively we were always right..."

...."What Pacino never questioned was De Palma's mastery of visual storytelling, which would be integral to giving SCARFACE a sense of foreboding drive. 'Al's very unaware of the camera when we're shooting,' said the director. 'When he was watching the rushes, he began to realize that I was doing interesting things with the camera movement, and suddenly said, 'Wow, something's going on there!'

**From "The Making of SCARFACE," documentary written, directed and produced by Laurent Bouzereau (Universal, 1996).


Otra Vez (2003)