Angels in America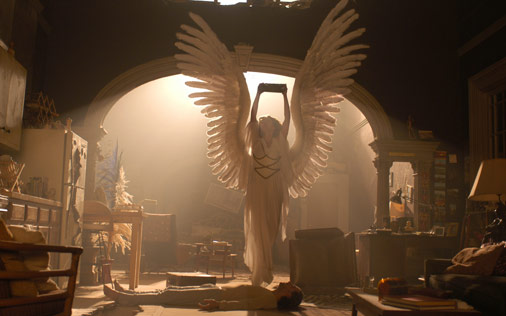 "God has abandoned Heaven. It's 1985: the Reagans are in the White House and Death swings the scythe of AIDS. In Manhattan, Prior Walton tells Lou, his lover of four years, he's ill; Lou bolts. As disease and loneliness ravage Prior, guilt invades Lou. Joe Pitt, an attorney who is Mormon and Republican, is pushed by right-wing fixer Roy Cohn toward a job at the Justice Department. Both Pitt and Cohn are in the closet: Pitt out of shame and religious turmoil, Cohn to preserve his power and access. Pitt's wife Harper is strung out on Valium, aching to escape a sexless marriage. An angel invites Prior to be a prophet in death. Pitt's mother and Belize, a close friend, help Prior choose."

Summary of 'Angels' from IMDB.com.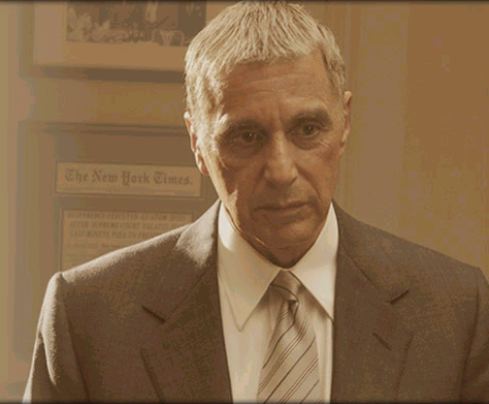 "The almost-real character is the infamous Roy Cohn (Pacino), who personifies all the hypocrisy, delusion and callousness of the official response to the plague. Nothing shakes Roy's riveting lack of empathy: Even on his death bed, he's fighting with his gay nurse (Wright) and taunting the woman he helped put to death, Ethel Rosenberg (Streep, in one of three major roles)."

Excerpt from "Believe in HBO's 'Angels'" By Robert Bianco, USA TODAY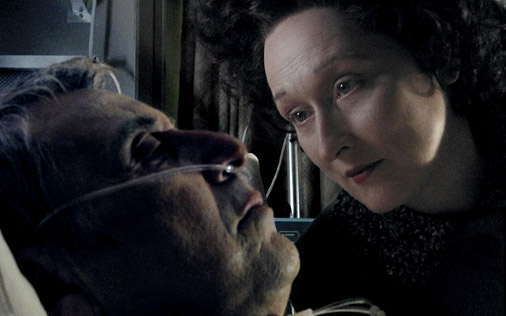 Ethel Rosenberg: The shit's really hit the fan, huh, Roy? Well the fun's just started.

Roy Cohn: What is this Ethel, Halloween? You trying to scare me? Well you're wasting your time! I'm scarier than you any day of the week! So beat it, Ethel! Boo! Better dead than red! Somebody trying to shake me up? HAH HAH! From the throne of God in heaven to the belly of hell, you can all fuck yourselves and then go jump in the lake because I'm not afraid of you or death or hell or anything!

Ethel Rosenberg: Be seeing you soon, Roy. Julius sends his regards.
Roy Cohn: Yeah, well send this to Julius! (Roy flips her the bird)
Ethel Rosenberg: You're a very sick man, Roy.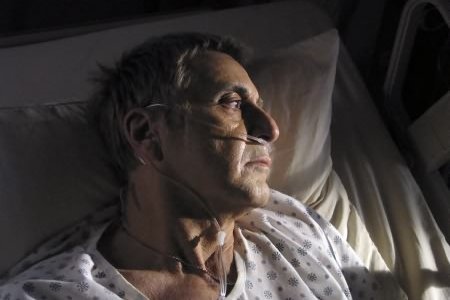 "....What a cast. It would be distinction enough for Angels to present the first teaming of Meryl Streep and Al Pacino, giving performances that rival the best of their legendary careers. But in addition, you get an angelic turn by Emma Thompson and astounding performances by five younger actors: Justin Kirk, Mary-Louise Parker, Jeffrey Wright (a Tony winner for the original), Ben Shenkman and Patrick Wilson. It's like this generation's Big Chill: You'll look back years from now and marvel that all these actors were in the same place at the same time."

Excerpt from "Believe in HBO's 'Angels'" By Robert Bianco, USA TODAY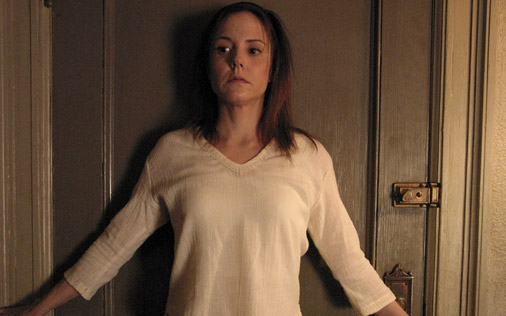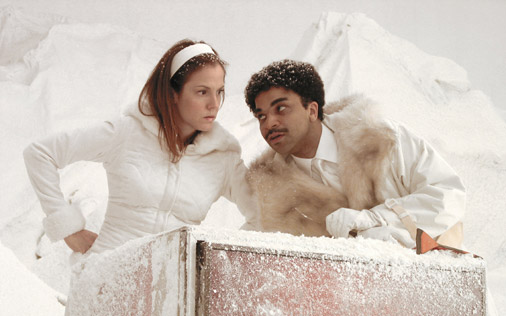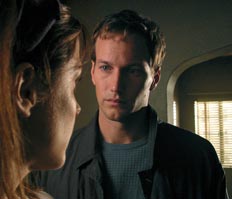 It's the moment when his character, married, straight-arrow lawyer Joe Pitt, places a tearful, confused call to his Mormon mother from a pay phone at a Manhattan park, confessing his homosexuality.
In practical terms, it meant Wilson would be pouring his heart out to a telephone receiver. His question: Who, if anyone, would be at the other end?
"I picked up the phone, and it was Meryl Streep on the other end of the line," Wilson said, still sounding amazed, months later. Director Mike Nichols had set up the phone so it connected to Streep's home, allowing him to play the scene with the renowned actor emoting back at him.
"It was that kind of movie," he added. "They didn't want to leave anything unturned."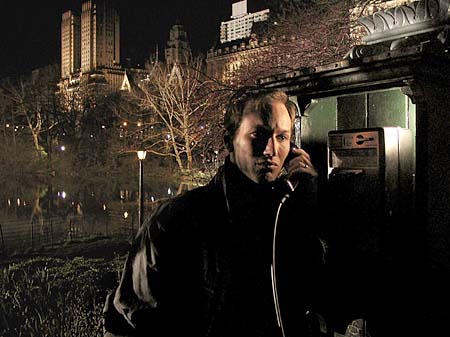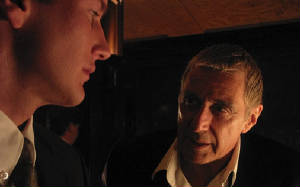 "It was so weird . . . when you're immersed in it, you don't understand the importance of it," said Wilson, who began rehearsals for the movie in 2001 and filmed his scenes between performances as Curly in a Broadway production of Oklahoma! last year.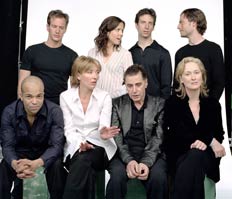 "I would go to rehearse two or three times a week with Al, just he and I," he said. "It would be tough to do this role in your living room by yourself, let alone next to Meryl Streep and Al Pacino in a Mike Nichols movie. But everybody really made an effort to give this thing everything they had."
By ERIC DEGGANS
Published December 7, 2003 (St. Petersburg Times Floridian)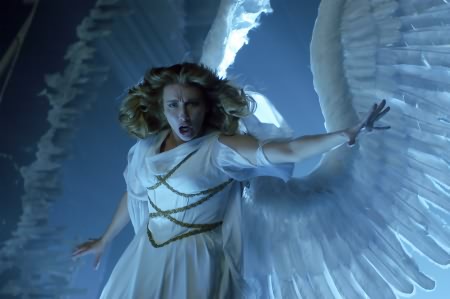 "In Kushner's fictional Cohn, we see the hypocrisy in the country's attitude toward AIDS. The real Cohn did die of complications of the disease, but the deathbed monologues directed at the ghost of Ethel Rosenberg (also played by Streep), whom he helped convict, are Kushner's brilliant invention. Cohn isn't the only character receiving ethereal visitations. A fiery angel (Emma Thompson) is scaring Prior out of his wits, while Harper is being guided through her strange trips by another kind of angel entirely.

Excerpt from DVD review entitled: File 'Angels in America' Under Definitive! By Rob Lowman.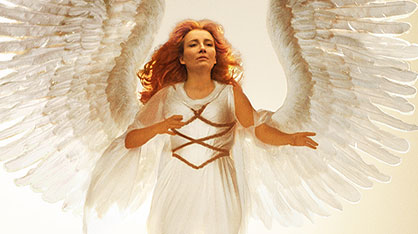 One face, lots of makeup and WOW!
from Meryl Streep.....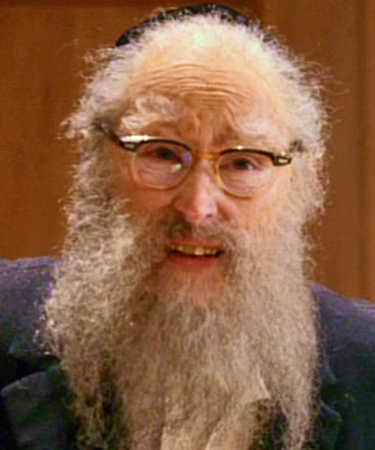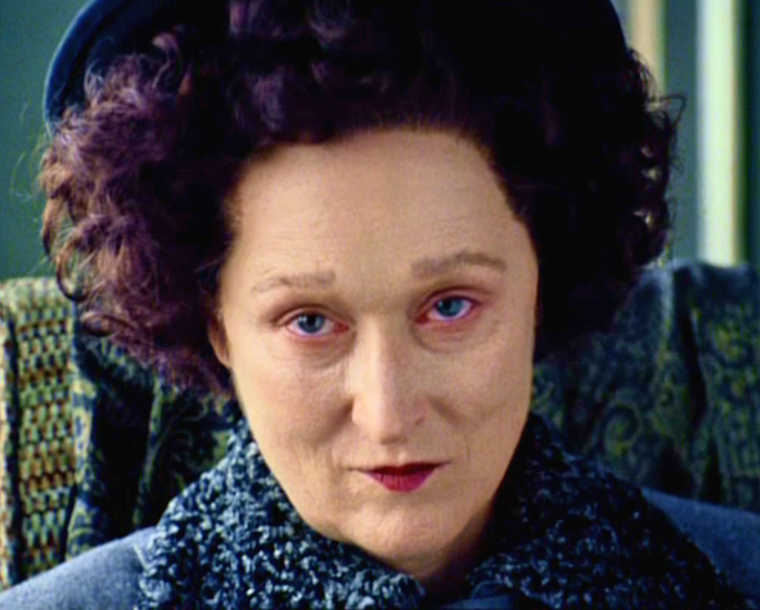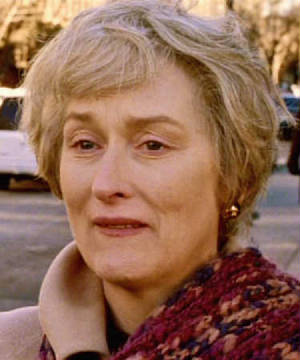 and the "angelic" Emma Thompson...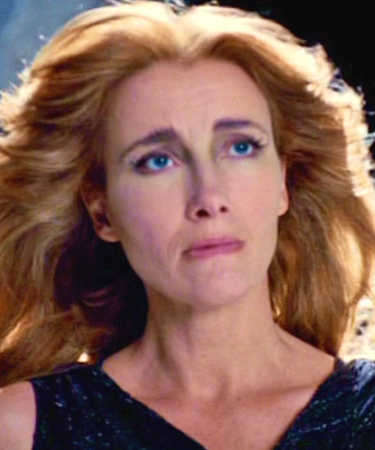 ....angel in "black" visits Meryl Streep in Part 3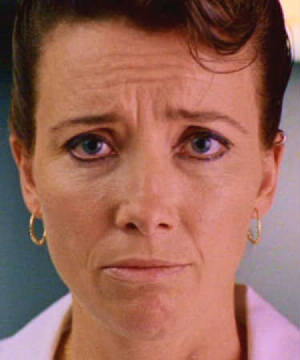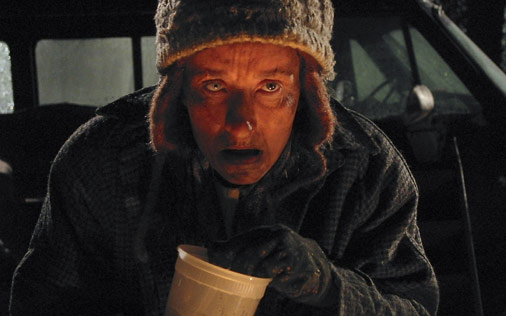 ...let's not forget Jeffrey Wright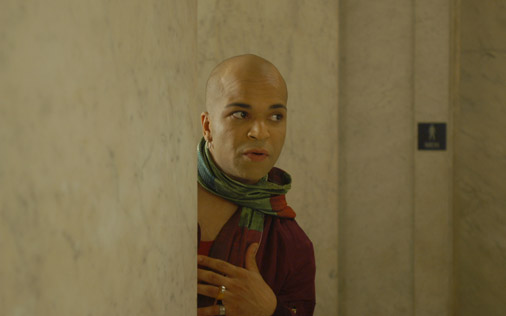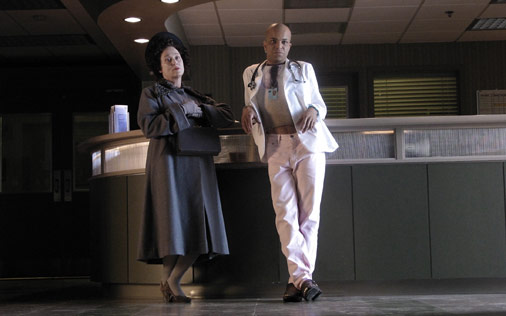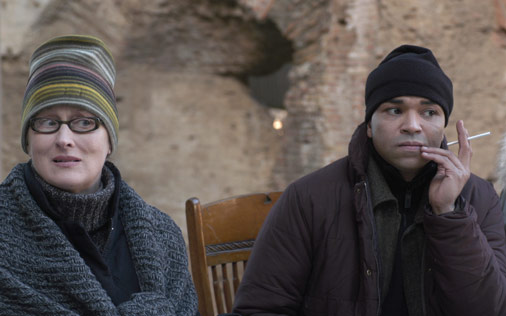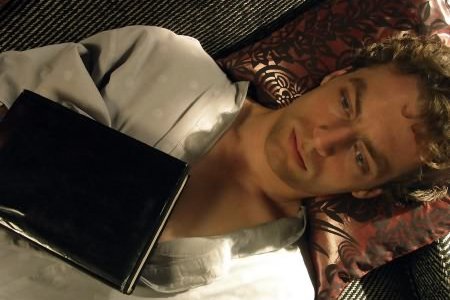 "Plot twists multiply and characters collide, set to dialogue that is in turn soaringly poetic, wonderfully witty and searingly direct. There is much anger in Angels, but the glory of Kushner's work, and the reason it has not dated, is that it reaches past anger toward understanding. Indeed, that's what makes Prior's final prophecy all the more moving. 'This disease will be the end of many of us, but not nearly all....We will not die secret deaths anymore. The world only spins forward. We will be citizens. The time has come.'"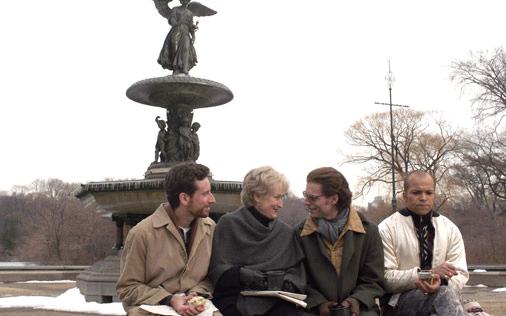 As the story unfolded on HBO....awards were handed to a cast that none of us will forget for a very long time...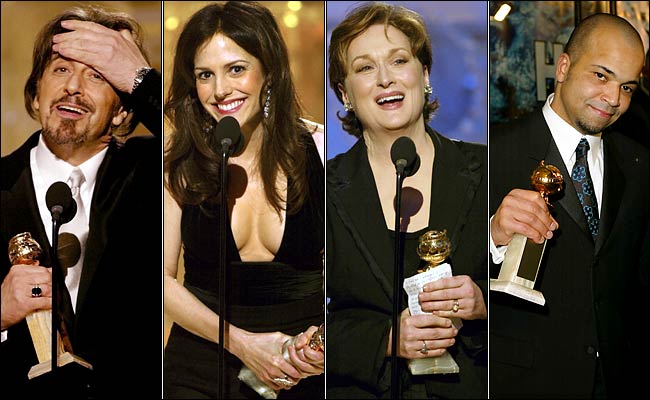 A "Golden" night for Angels: January 25th, 2004
The Golden Globes are handed out for television programs as well as movies. "Angels in America," the HBO dramatization of the Pulitzer Prize-winning Tony Kushner play, won five awards, including best miniseries and all four miniseries acting categories: actor (Al Pacino), actress (Meryl Streep), supporting actor (Jeffrey Wright), and supporting actress (Mary-Louise Parker).
10th annual SAG Awards held Sunday, February 22, 2004.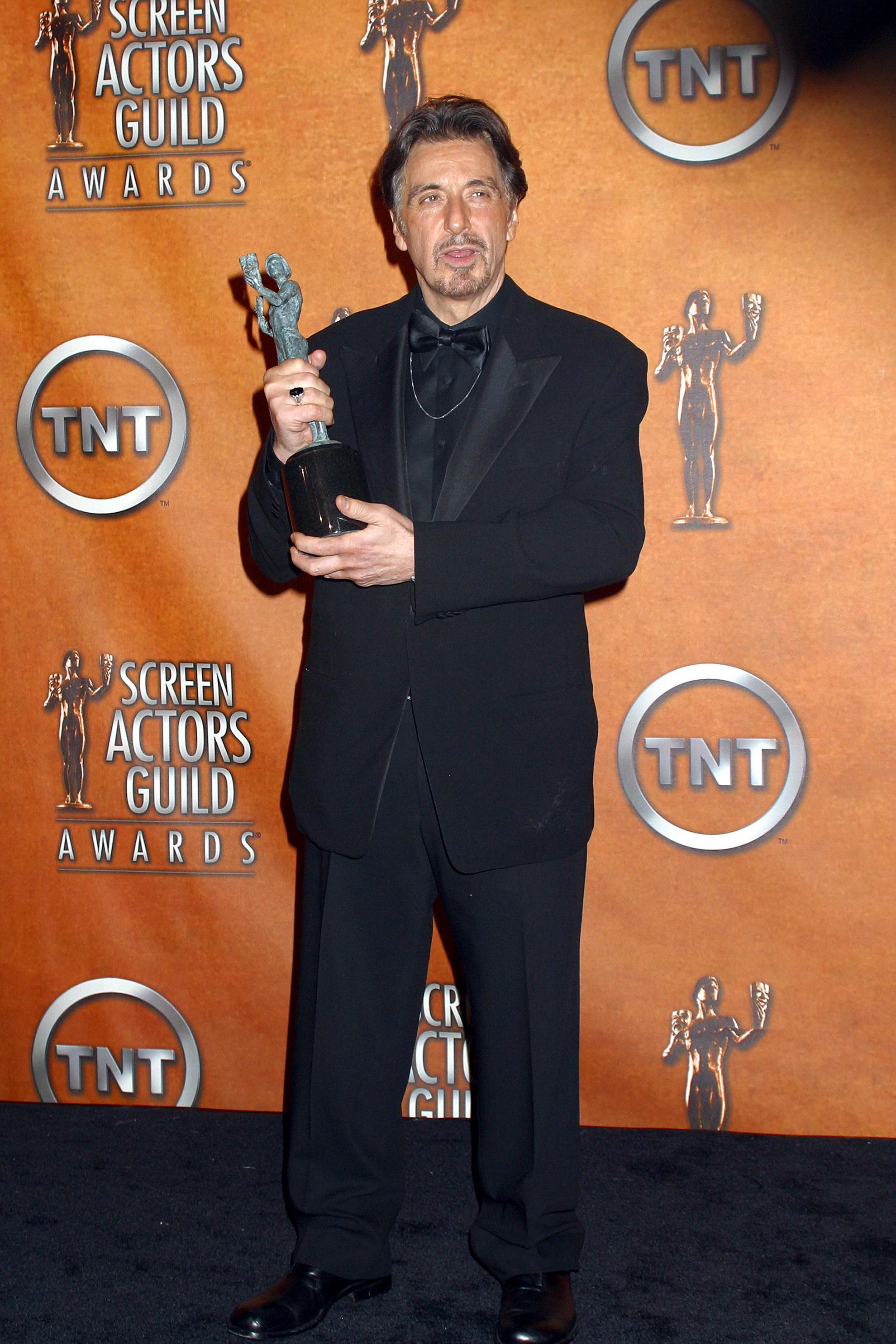 Outstanding Performance by a Male Actor in a Television Movie or Miniseries: Al Pacino--
(as Roy Cohn) ANGELS IN AMERICA - HBO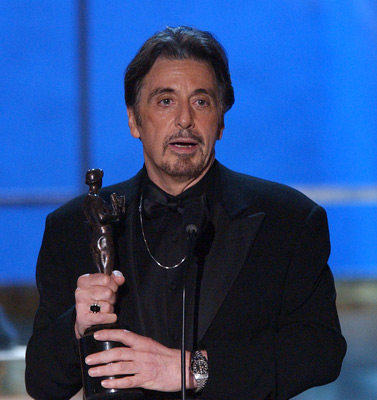 AL PACINO: Thank you. Thank you. I can't believe Jeffrey and Justin, and all the wonderful nominees here, I thank you. These are all new actors; I know it means so much to get any part, you know, and especially a great part. These are one of the things we live for, is that opportunity. And here it is with Roy Cohn, I had this great part. Tony wrote this magnificent character and it was a privilege to be involved with such an amazing piece of work as Angels in America. And I owe a great debt to Mike Nichols for casting me, and for helping me. I want to thank him, and I want to thank the wonderful cast and crew of Angels in America. And I want to thank you actors of the Screen Actors Guild members for honoring me with this. I wish you all luck, I hope you all can get a part that you really love - it's really great. I thank you all. Thank you. [applause]
The 56th Annual Primetime Emmy Awards--September 19, 2004--
And the Winners Were...

On a night of few surprises and too much Garry Shandling, HBO miniseries Angels In America made history with 11 Emmy wins, two more than former record holder Roots in 1977. Trophies for all four principal actors - Al Pacino, Meryl Streep, Jeffrey Wright and Mary Louise Parker - were also a first at the Emmys.
**taken from, Industry - Mediaweek.com Mon Sep 20, 8:19 PM ET