Ocean's Thirteen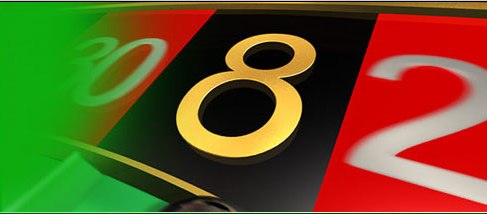 "....Al Pacino shows up as the new king of Vegas; a tough, no-nonsense businessman who won't think twice about doing bad things to the people who get in his way. But when one of those people just happens to be part of Danny Ocean's (Clooney) crew, then it appears as if a full-helping of revenge is on the agenda. In this third installment, it seems like Soderbergh and his gang are returning to what made the first flick so much fun to watch...."
Excerpts from Moviefone Cinematical Posted March 30, 2007
The film's new big gun is Al Pacino, who has his share of Al Pacino moments, including a nice little rant, to keep us from forgetting who he is.
-from June 7, 2007 review by James Berardinelli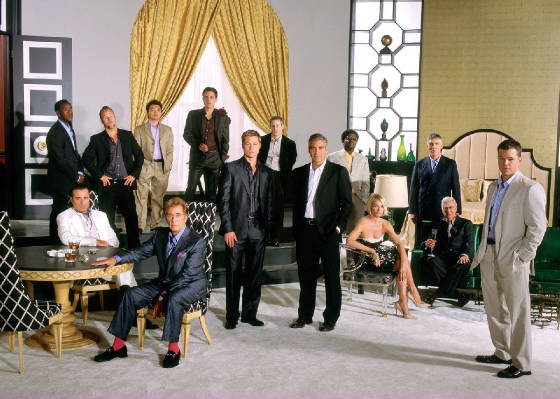 Ocean's 13 Cast
George Clooney, Brad Pitt, Matt Damon,
Andy Garcia, Don Cheadle, Bernie Mac, Ellen Barkin
and Al Pacino as Willie Banks
With Carl Reiner and Elliot Gould
Directed by Steven Soderbergh
Theatrical Release Date: June 8, 2007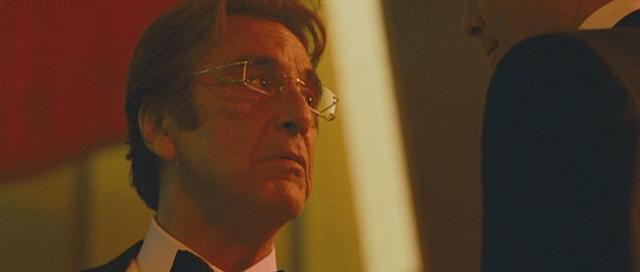 Willie Banks
: This town might have changed, but not me. I know people highly invested in my survival, and they are people who really know how to hurt in ways you can't even imagine.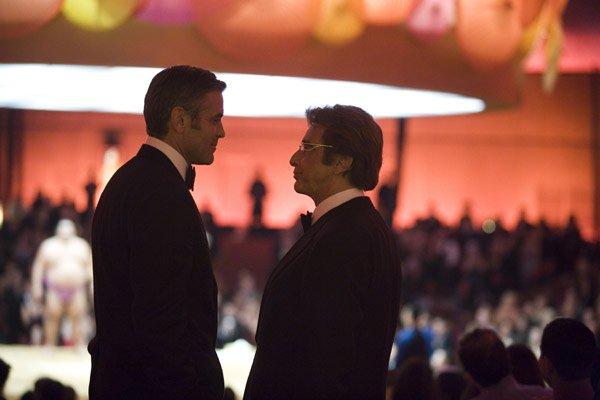 Danny Ocean
: Well, I know all the guys that you'd hire to come after me, and they like me better than you.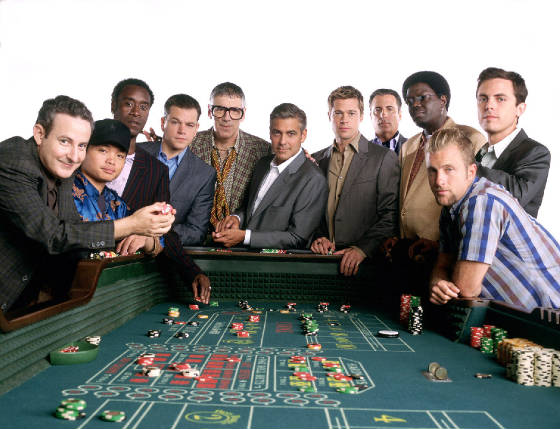 The genius of the past decays remorselessly into the routine of the present, and one example is the downfall of the caper picture. The classic caper genre had rules set in stone. It began (1) with an impregnable fortress (vault, casino, museum, or even Fort Knox). Then we met (2) a group of men who hoped to impregnate it. There was (3) a setup about the defenses of the fortress, and (4) a chalk talk in which the mastermind told the others what they were going to do and how they were going to do it. This had the advantage of also briefing the audience, so that the actual caper could proceed in suspenseful silence while we understood what they were doing and why.
Reuben Tishkoff: So... where's the partner's desk?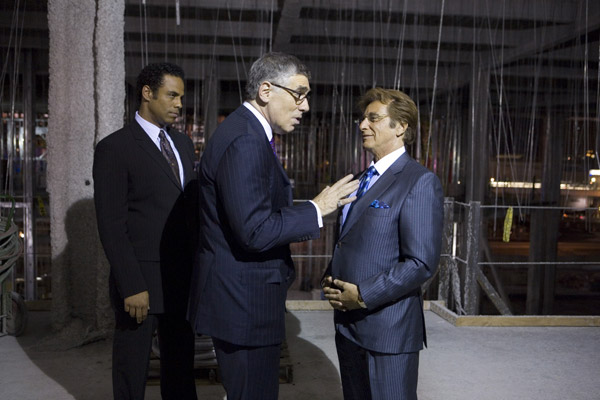 Willie Banks: Oh, there is no partner's desk, Reuben. You're out.

"Ocean's Thirteen" begins as aging and beloved casino legend Reuben Tishkoff (Elliott Gould) plans to open his latest and greatest Vegas casino. Alas, he has taken for a partner the devious double-crosser Willie Banks (Al Pacino, very good), who swindles him out of the casino and lands him in the emergency room with shock and grief. Then Reuben's loyal friends (played by George Clooney, Brad Pitt, Don Cheadle, Bernie Mac, Matt Damon, etc.) gather at his bedside and vow to sabotage the opening of the new casino.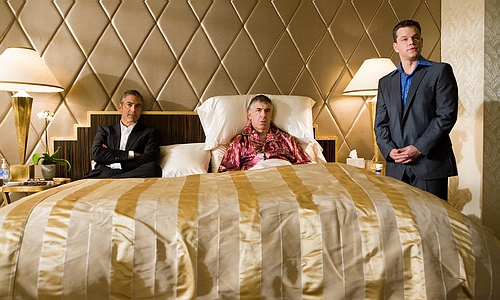 I don't know what kind of resources these rootless but glamorous men have, except that they are apparently unlimited.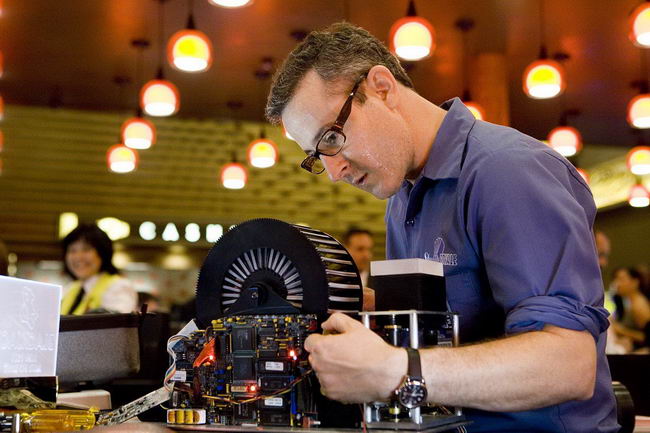 They manufacture trick-card shufflers, sabotage the roulette wheels and even give the man they think is the guru of casino ratings (
David Paymer
) something resembling the heartbreak of psoriasis!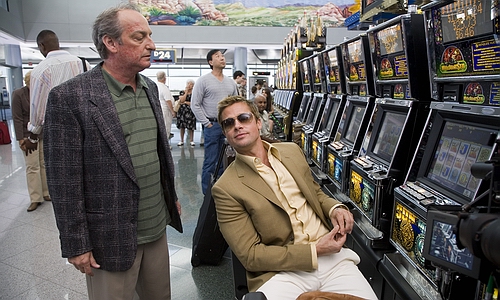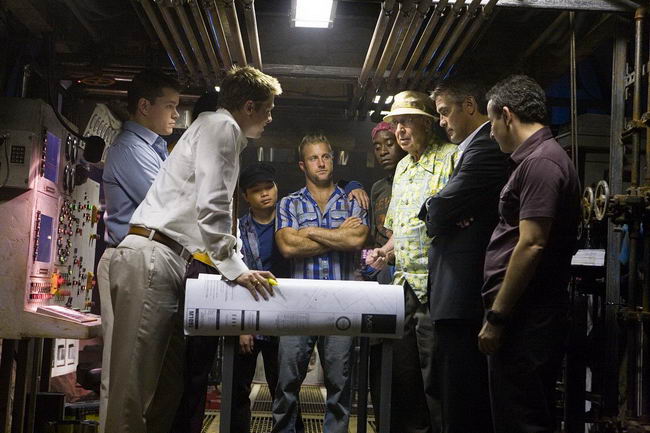 ...they decided to manufacture a fake earthquake to scare all the high-rollers on opening night. How did they plan to do this?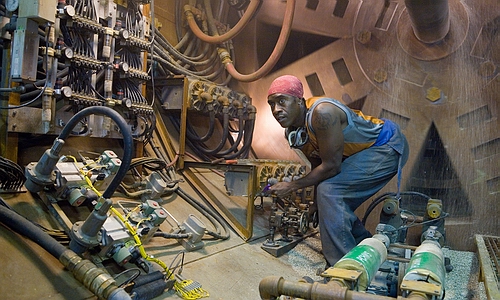 ...Why, by digging under the casino with one of the giant tunnel boring machines used to dig the Chunnel between England and France.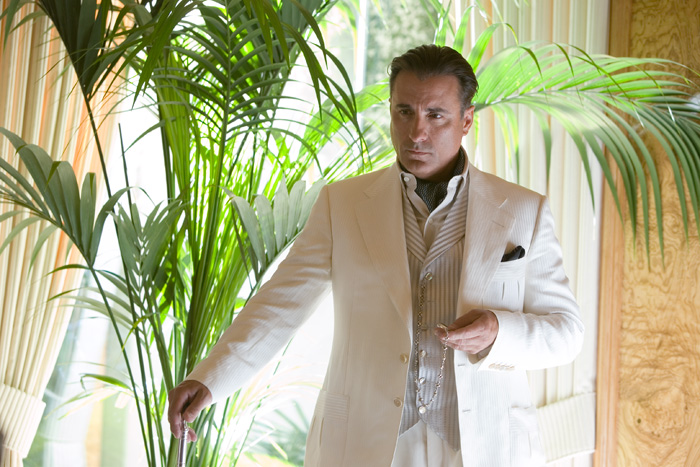 Their idea: put the casino deep in the red and steal $250 million in diamonds. It's a huge, risky, expensive proposition and it requires deeper pockets than Danny and his compatriots have, so they go to an unlikely source for funding: casino mogul Terry Benedict (Andy Garcia), their previous adversary. Terry is interested, but for a price: $72 million - a more than 100% return on his investment. But he's in this for more than the money. Like Ocean's crew, he wants to see Willie squirm.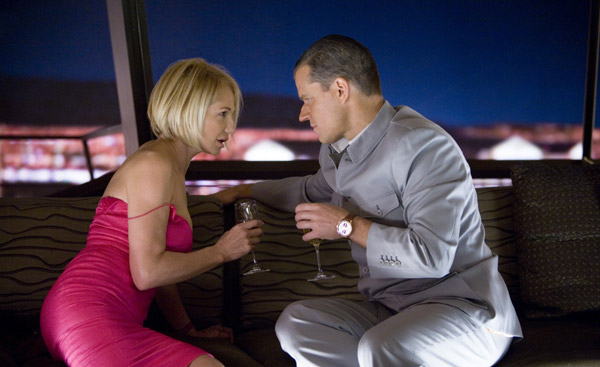 ...imperceptibly loaded dice manufactured at a Mexican plastics factory and an adjunct theft of Pacino's coveted diamonds. To facilitate, Matt Damon, sporting a prosthetic beak, puts the smush on Ellen Barkin, Pacino's icy Broad Friday. Early in "Thirteen" she's seen inspecting the flab on one of the cocktail waitresses before firing her for an improper body-mass index, per Pacino's instructions.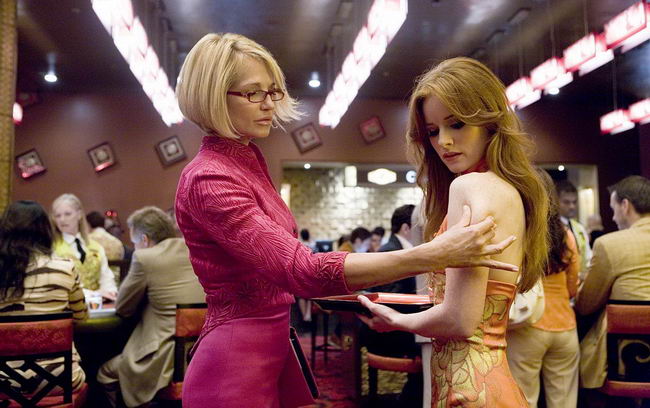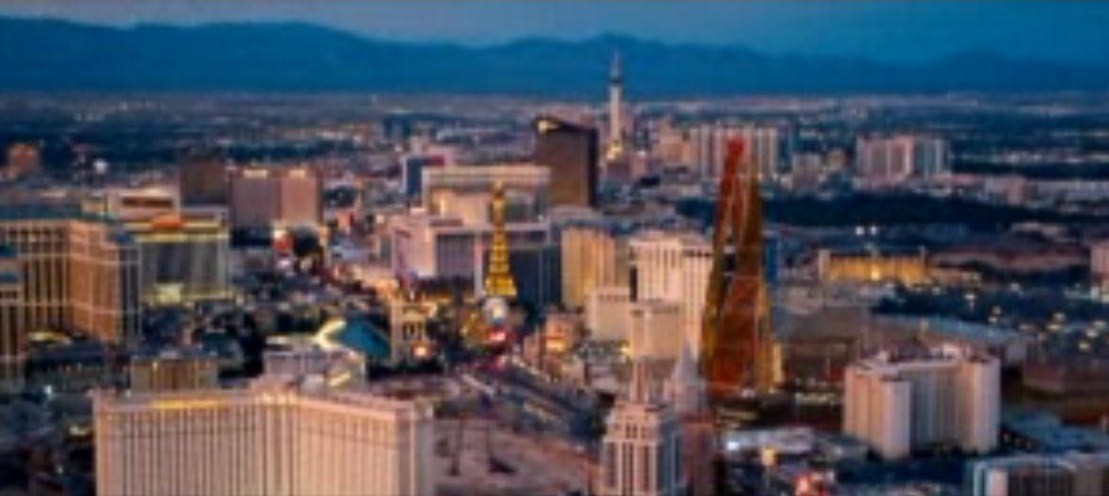 Production designer Philip Messina and art directors Tony Fanning and Doug J. Meerdink also deserve credit for the casino they created on a Hollywood back lot. While a couple of interiors and some exteriors—notably on the Strip in front of the Bellagio Hotel—were shot on location, the majority of the film was shot in this ersatz casino and it is a marvelous, evocative invention that perfectly captures that Sin City ambience of tacky luxury.

As Pacino prepared for his AFI Tribute Program to take place June 7th...the rest of the Ocean's Cast premiered at this year's 60th Cannes Film Festival...(photo below)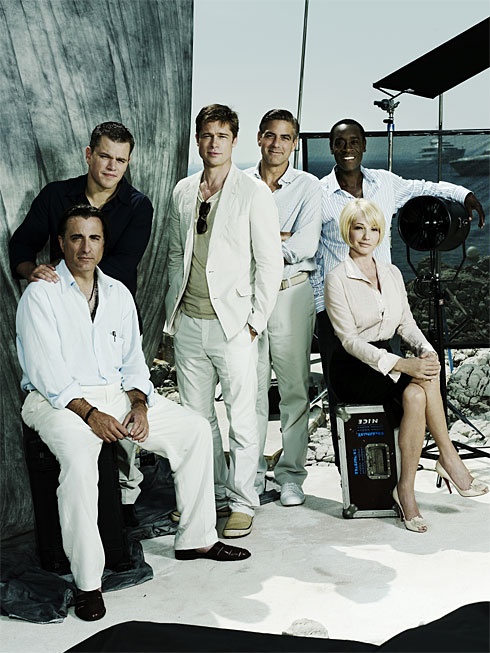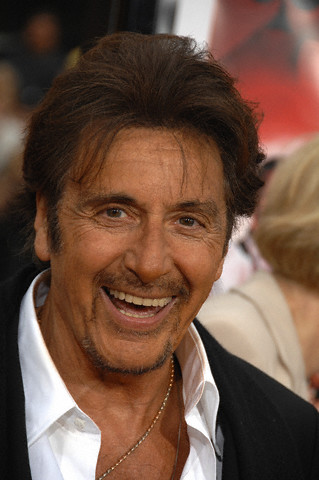 Ocean's Thirteen took Hollywood by storm with its U.S. premiere, as the famed Grauman's Chinese Theatre became the epicenter of a star-studded spectacle that drew thousands of screaming fans.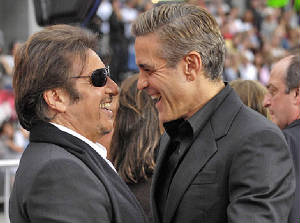 For the evening premiere, Hollywood Boulevard was shut down to accommodate a virtual parking lot of 30 limousines and town cars, and a block-long red carpet that rivaled that of the Academy Awards.