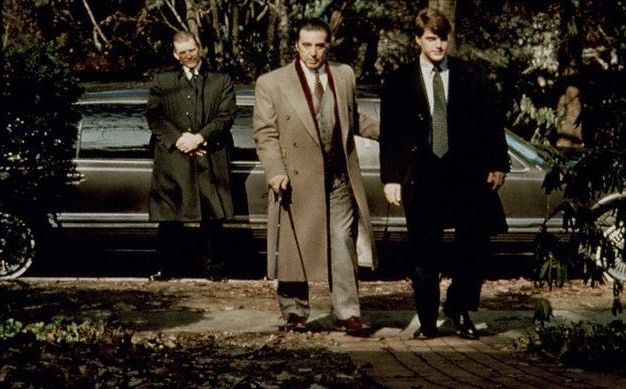 ...one of the film's best moments occurs when he and Charlie drop in on his brother uninvited for Thanksgiving dinner. Slade walks in the door and announces his presence with a roar, and his brother sitting upstairs immediately recognizes his voice with a start; it's obvious that he's been putting up with Slade all of his life...

**from SCENT OF A WOMAN a film review by Eric Walker of Yahoo Movies 1993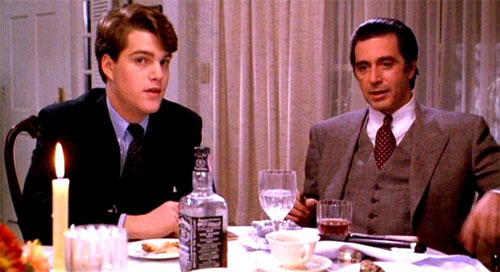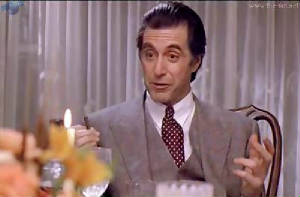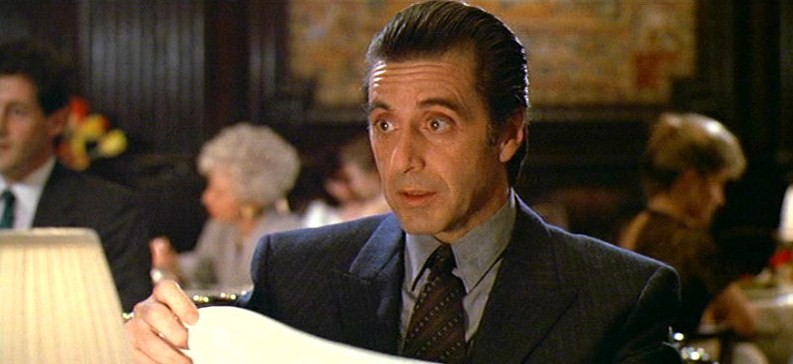 ...There are numerous dynamic scenes in Scent of a Woman, along with a surprising amount of comedy. Director/Producer Martin Brest knows how to blend humor with drama to good effect. His mix is nearly flawless, and he manages to do almost (and I do emphasize "almost") resorting to manipulative tricks.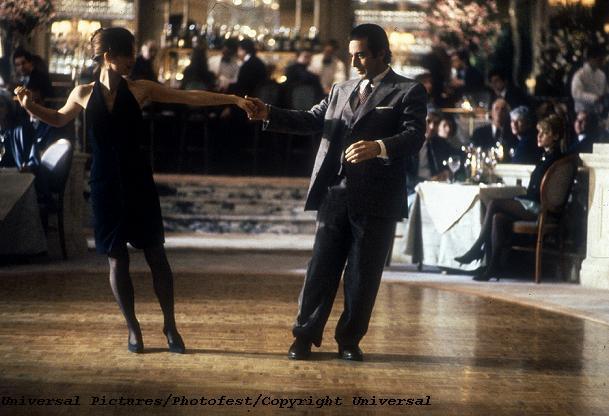 ...Pacino's tango scene with Gabrielle Anwar is one such magical moment-unfettered, unforced, and highly enjoyable.
**from the review by James Berardinelli dated 1993
There is something so touching with him. All of his life, he confides to Charlie, he has dreamed of waking up beside a good and beautiful woman.....we can guess that he regards woman as the undiscovered country of all good and reassurance, a country he will never live in.
**excerpts by Roger Ebert w/ the Chicago Sun Times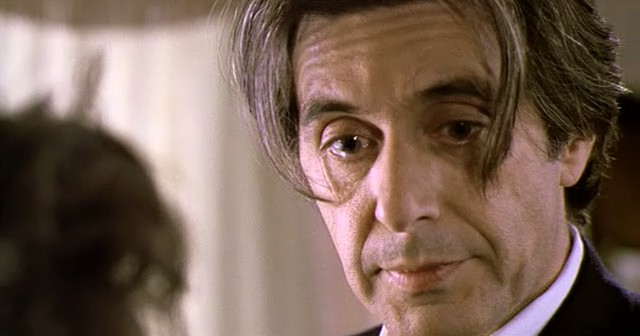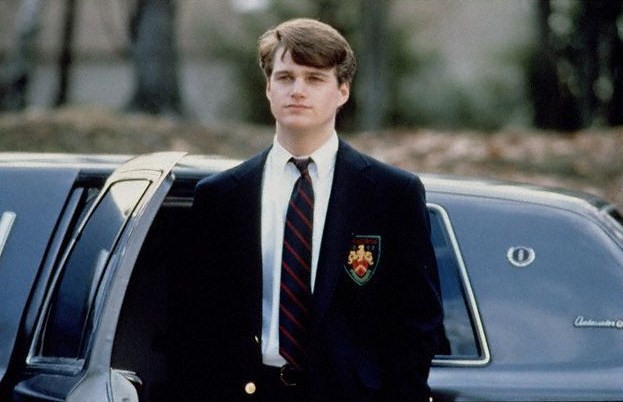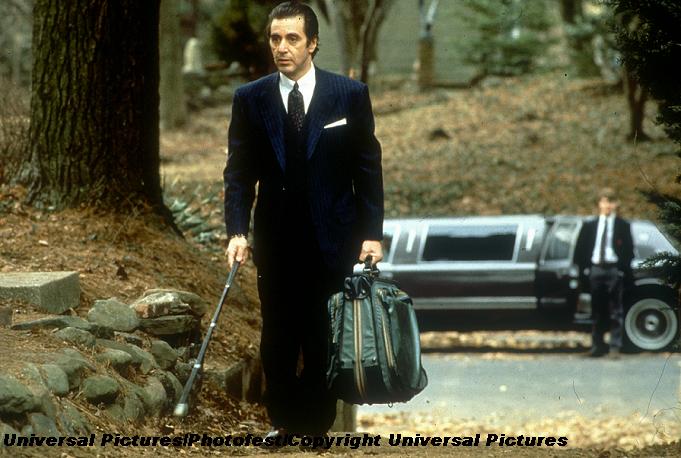 Memorable Quotes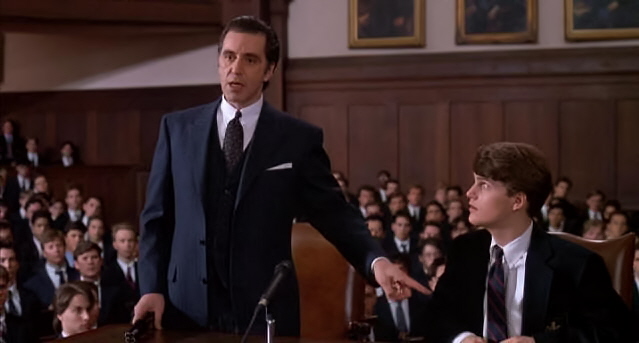 "I can tell ya this, he won't sell anybody out to buy his FUTURE, and that, my friends, is called integrity - that's called courage- now that's the stuff leaders SHOULD be made of."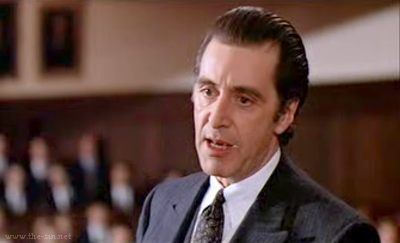 Col. Slade: "Well, gentlemen, when the shit hits the fan, some guys run and some guys stay."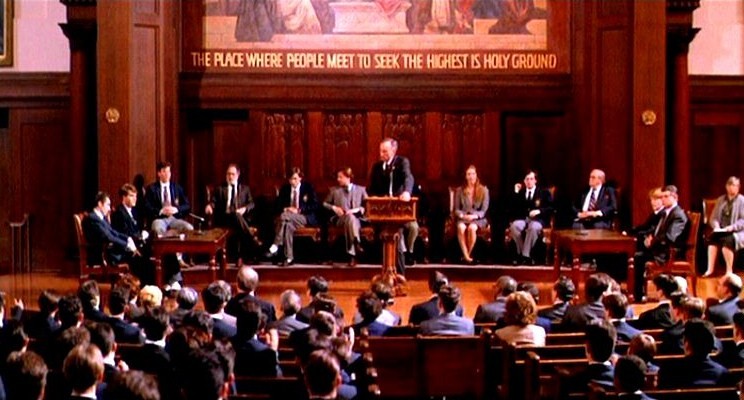 Mr. Trask: "Colnel Slade I will remind you to watch your language, this is NOT a barracks! You, sir are out of order!"
Col. Slade: "Out of order, I'll show you out of order! You don't know what out of order is Mr. Trask! I'd show you but I'm too old, I'm too tired, and I'm too fuckin' blind. If I were the man I was five years ago I'd take a flame-thrower to this place. Out of order, who the hell do you think you're talking to? I've been around you know?
There was a time I could see. And I have seen, boys like these, younger than these, their arms torn out, their legs ripped off. But there isn't nothin' like the sight of an amputated spirit, there is no prosthetic for that.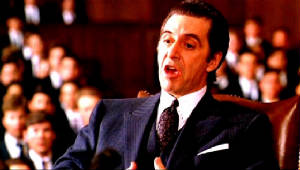 You think you're merely sending this splendid foot-soldier back home to Oregon with his tail between his legs but I say that you are executing his SOUL! And why? Because he's not a Baird man. Baird men, you hurt this boy, you're going to be Baird Bums, the lot of ya. And Harry, Jimmy, Trent, wherever you are out there, fuck you too!"


"....the great thing about the tango, Charlie....."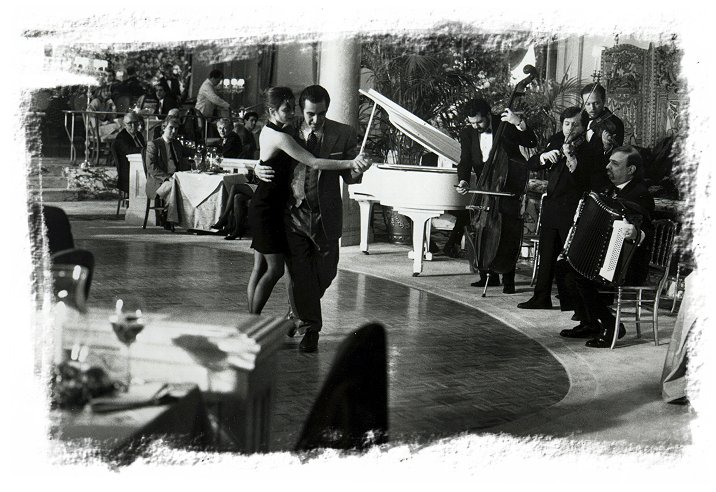 ......you get tango'd up, just tango on!"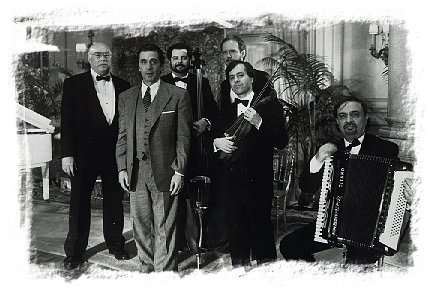 Hear the beautiful "Por Una Cabeza" as performed for the movie soundtrack by "The Tango Project" (pictured above with Al Pacino) and enjoy the soundtrack's review below.
From AMG Reviews.....A film involving a violently loud, retired, and suicidal blind man (played by Al Pacino) could have been stricken with a motion picture score to match the surface mood. Thomas Newman's score for Scent of a Woman delves beneath the surface, and what is found is a set that sounds not only classical but classy. There is a chilling calm in the music, a dreamlike state, that draws energy from the colors and feelings of autumn in New York City. Just as one track settles into a peaceful sleep, the stings and violins and drums come marching in, often too briefly, and fade away. While awaiting their return, the quietness of the "in-between" tracks pulls the listener in until what was being waited for is nearly forgotten. The soundtrack features "Por Una Cabeza" performed by the Tango Project; the piece served as the centerpiece of emotion in the film, in which the beautiful Gabrielle Anwar takes Al Pacino's hand and learns that seeing music through wide-open eyes is not half as important as feeling it with the other four senses. Newman's soundtrack believes that too.
~ Peter Fawthrop, All Music Guide
Click to hear "Por Una Cabeza"