Al Pacino (Arthur Kirkland); Jack Warden (Judge Rayford); John Forsythe (Judge Fleming); Lee Strasberg (Grandpa Sam); Jeffrey Tambor (Jay Porter); Christine Lahti (Gail Packer); Dominic Chianese (Carl Travers); Thomas Waites (Jeff McCullough); Robert Christian (Ralph Agee); Craig T. Nelson (Frank Bowers); Stephen Blackmore (Robert Winkle); Charles Siebert (Kane); Keith Andes (Marvin Bates); Sam Levene (Arnie); Teri Wootten (Leah Shephard); Larry Bryggman (Warren Fresnell).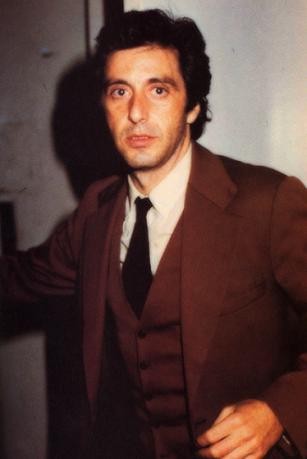 "Baltimore lawyer Arthur Kirkland (Al Pacino) is being kept very busy. His nemesis, Judge Henry Fleming (John Forsythe) has had him thrown in jail for comtempt of court. A wealthy client is trapped in his car with a hooker after an accident. Another client - whose arrest was due to a mistaken identity - must remain in jail because the statute of limitations has run out on presenting new evidence. Kirkland's partner suffers a breakdown and must be carted away, with Kirkland at his side, meaning a disinterested associate has to stand in for the sentencing of a transvestite. When the associate muffs the whole thing, the client commits suicide when he learns he has to go to jail.
"To cap it all, Judge Fleming is accused of raping, beating, and sodomizing a young lady and chooses Arthur for his lawyer. Arthur knows this is a case that can make or break a reputation, but when he learns Judge Fleming is guilty, he goes berserk in the courtroom and delivers a speech condemning the hypocritical Fleming, to all intents and purposes destroying his own career in the process.
"Pacino again received an Academy Award nomination for Best Actor for...and Justice for All; it is one of his most winning performances, with the actor at his most assured, confident, and charismatic. Arthur Kirkland is Pacino's most likable creations...."
Excerpts from "The Films of Al Pacino" By William Schoell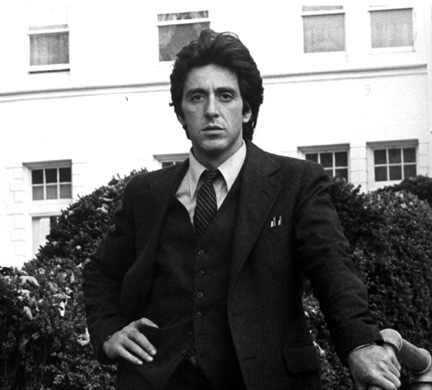 "Here's an angry comedy crossed with an expose and held together by one of those high-voltage Al Pacino performances that's so sure of itself we hesitate to demur. Pacino plays an aggressive young Baltimore lawyer who has worked within the system for 12 years or so - he's not a reformer fresh out of law school - but who, during the course of this movie, is driven to advise the American system of jurisprudence to stick its head where the sun don't shine.
"Pacino's immediate inspiration is a judge named Fleming (John Forsythe) who rather unexpectedly becomes his client...."
..."...and Justice For All has so many characters doing so many things to, with and against Pacino that it's a triumph of film making when all the stories end in the same movie...."
"These subplots are all thrown into the story's way without much regard as to whether they're serious and subtle or broad and comic; the movie is a compromise involving various approaches to the material. But Pacino's performance forces a kind of logic on the events.
"We somewhat suspiciously accept the movie's swings of tone because Pacino remains consistent, and because he seems to remember what the basic issues are even when the movie detours into irrelevant episodes like the helicopter flight.
"Then things thighten up just in time: When the movie seems about to become a series of sketches, it turns out that Forsythe is a prime suspect in the brutal rape and beating of a young girl...."
"Whether it works a little cynically is left for the audience to decide: ...and Justice for All has been so many things and struck so many tones by the ending that it's not a statement, it's an anthology. Maybe, when Pacino's courtroom scene gathers force, we just forget the farce and soap opera and romantic comedy that went before, and take the scene as self-contained."
Excerpt from rogerebert.com ...and Justice for All; Release Date: 1979; Ebert Rating ***; By Roger Ebert/January 1, 1979