Looking For Richard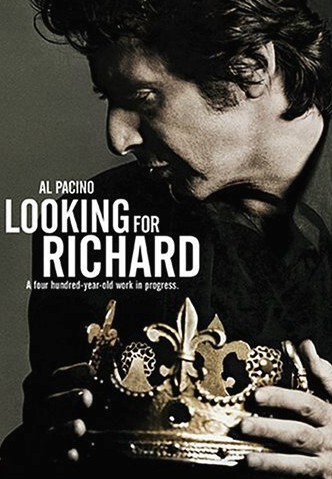 "And therefore, since I cannot prove a lover
To entertain these fair well-spoken days,
I am determined to prove a villain
And hate the idle pleasures of these days."
-W. Shakespeare, Richard III-Act 1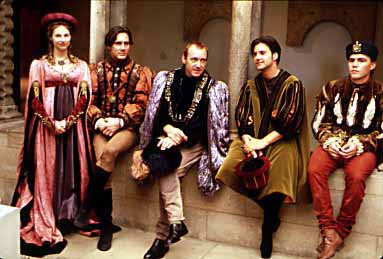 "The many characters in 'Richard III' would have been roughly as familiar to the groundlings in Shakespeare's Globe theater as the figures in the O.J. Simpson case are to us. But imagine 400 years have passed, and an audience is trying to remember exactly who Kato Kaelin was. If it's true, as Al Pacino claims in 'Looking for Richard,' that 'Richard III' is Shakespeare's most frequently performed play, it also is true that most people leaving the theater would not be able to pass a quiz on the family tree that Richard climbs (or chops down) on his way to the crown.
"'All the characters!" Pacino exclaims at one point. "'Who can keep it straight?'" His quick-witted documentary deals frankly with the problems of performing Shakespeare, but it also treats the work with respect and love. Going in, I expected some kind of popular vulgarization. Coming out, I had learned a lot about Richard, about Shakespeare, and about the choices that must be made in producing a play. 'Looking for Richard' is not a film version of the play about Shakespeare's hunchbacked villain. (For that, you can consult Laurence Olivier's 1955 version, or Ian McKelllen's 1995 film that transposed the action to a neo-Nazi 1930's England). If you add up all the line readings and scene snippets and occasional extended sequences, Pacino and his fellow actors do succeed in performing perhaps a fourth of the play, but their acting is mostly for the purposes of discussion and demonstration: This is a film about how to act and produce Shakespeare. It is also, not incidentally, a documentary about some days in the life of an actor who loves his craft and brims with curiosity and good humor.
"The camera follows Pacino for months or even years (his hair grows and is cut, his beard appears and disappears) as he discusses 'Richard III' in workshops and coffee shops, in Central Park and inside Shakespeare's birthplace in Stratford-upon-Avon (where the crew sets off a fire alarm).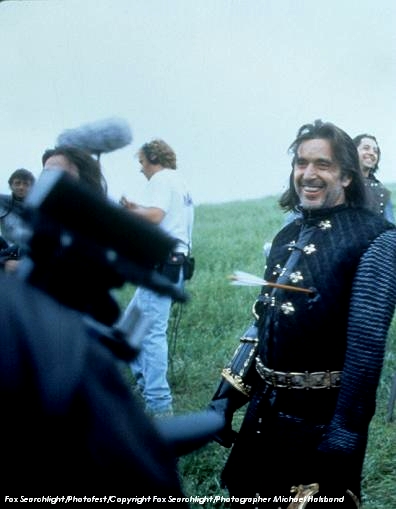 "He enlists many other actors in his ongoing seminar; we see Alec Baldwin, Estelle Parsons, Aidan Quinn, John Gielgud, Kenneth Branagh, Kevin Spacey, James Earl Jones, Vanessa Redgrave and Winona Ryder as Lady Anne (she and Pacino do the audacious scene where Richard murders Anne's husband and then proposes marriage to her as she accompanies the dead body to the grave).
"The actors are honest enough to admit that Shakespeare is an acquired taste. Familiarity with the words on the page and some experience in seeing stage and film productions will eventually allow any intelligent person to appreciate that Shakespeare is the greatest of all authors, but at first he can be discouraging and bewildering. Kevin Kline, who has played many Shakespeare roles, confesses that his first exposure came at a performance of 'King Lear' during which he made out with his girlfriend and they left at intermission. One of the wonderful things about Shakespeare is that many of his own characters might have done the same.
"Pacino conducts the film like a magician or impressario (I was a little reminded of Orson Welles presiding over '"F for Fake'"). He provides a running commentary, he discusses line readings, he does man-on-the-street interviews ("'It sucks,'" says one guy, whose choice of pronoun indicates he thinks of Shakespeare as a thing, not a person). And he acknowledges that a problem with Shakespeare's history plays is that the characters, who were as familiar as pop stars to the Elizabethans, are largely unknown to modern American audiences. ("'It's gonna take four weeks of rehearsal just to figure out which characters we're playing.'") The point is that the appreciation of Shakespeare is an ongoing project for any literate person. We pick up history and familiarity as we go along, and if we are lucky we eventually see the majesty, the humor, the sadness, the insight and the wisdom. 'Looking for Richard' is the portrait of a man and his friends doing just that. Having chosen to be actors, they know they cannot respect their craft without embracing its greatest writer. Having chosen to be readers and viewers, we cannot do less, and this film is a delightful inspiration."
Looking For Richard By Roger Ebert, Published Oct. 25, 1996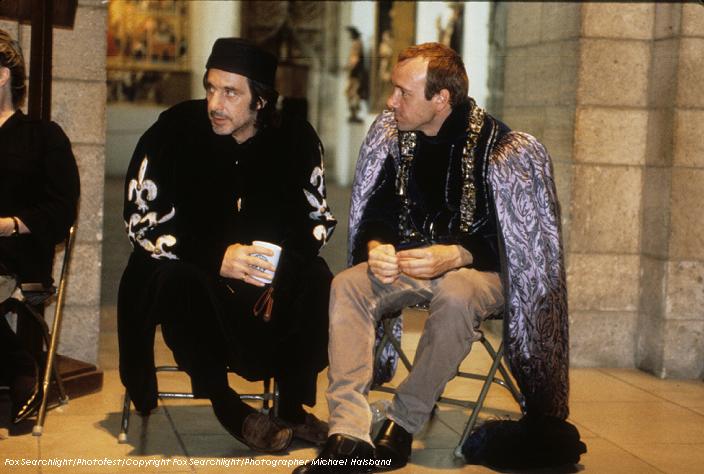 "Looking for Richard," which won the Independent Spirit Award in 1996 for best documentary, is one of the smartest and funniest movies every made about art, audiences and the creative process. It's also a rare window on the deep work of acting, as Mr. Pacino struggles to burrow his way into the soul of one of the theater's darkest villains. He gets there in the end, with bells on, but not before the process has left him gasping on the ground in not-quite-mock despair."
Excerpt from The New York Times September 12, 1999, By Karen Durbin.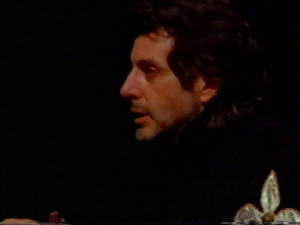 "Now is the winter of our discontent
Made glorious summer by this sun of York;
And all the clouds that lour'd upon our house
In the deep bosom of the ocean buried."
Pacino seeks to prove that everyone can enjoy Shakespeare, and that his tales are timeless in their exploration of human nature.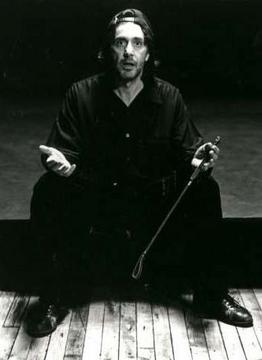 "You don't need to understand every single word that's said, as long as you get the gist of what's going on. Just trust it and you'll get it," says Pacino.

Bringing Shakespeare to Cannes' Film Festival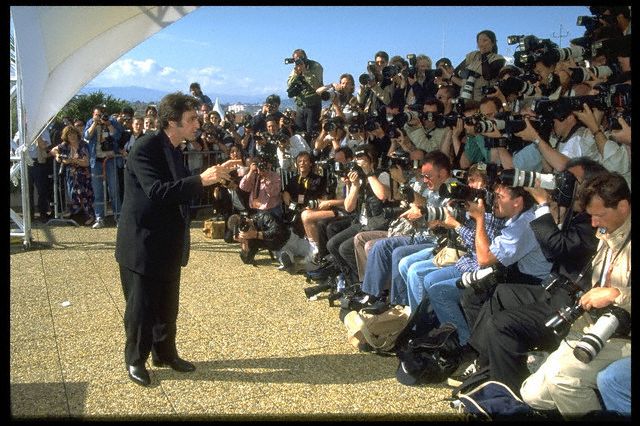 Al passionately presents Looking For Richard in May 1996.
Pacino notes, "by juxtaposing the day-to-day life of the actors and their characters with ordinary people, we attempted to create a comic mosaic - - a very different Shakespeare. Our main goal with this project is to reach an audience that would not normally participate in this kind of language and world."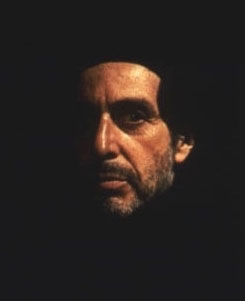 It goes without saying, that anyone who has been a fan of Al's for any amount of years--knows the love he has for Shakespeare. "Looking For Richard" was Al's first directorial film, done in a way that can only be done by Al.....truly a work of art! This is an extremely entertaining look behind the scenes as Pacino and friends -- including Alec Baldwin, Kevin Spacey and a frightfully miscast Winona Ryder -- prepare a production of Shakespeare's Richard III, from chaotic initial readings to full-costume performance. Simultaneously goofily loose and totally focused, he's the galvanizing force behind both the film and the production within the film. Pacino's muscular, man in the street take on Shakespeare in general and the murderous monarch in particular contrasts nicely with the observations of Derek Jacobi, Vanessa Redgrave and John Gielgud, who hold up the high-toned British end of things in interviews that are shrewdly interspersed with the action. That the film is a must for Pacino fans goes without saying; the surprise is how generally enjoyable it all is.

**Synopsis taken from IMD Movie Database.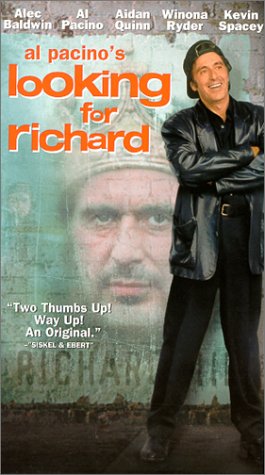 "What's this thing that gets between us and Shakespeare?"

"A person has an opinion. It's only an opinion. It's never a question of right or wrong."
-Al Pacino reflecting on the making of "Looking For Richard".