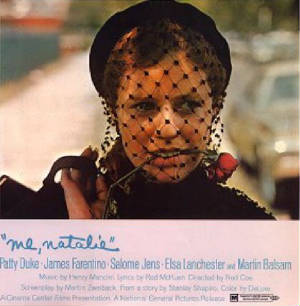 Since she was a child, Natalie Miller (Patty Duke) has always thought she was an ugly ducking. When a boy called her "clown face", the six-year-old knocked out his front teeth with a shovel. Despite her mother's encouragement that she will grow up to be pretty, Natalie has never believed it will happen. When her parents bribe a young medical student to date her, Natalie discovers the ruse and moves out of her parent's house. She rents a Greenwich Village apartment from an eccentric landlady (Elsa Lanchester) and gets a job at the Topless Bottom Club. She rides a motorcycle to work, decorates her loft with a moose head, and rides up and down a dumbwaiter to get to her apartment.
To this elementary description of the plot, only one thing needs to be added: It's good to see love in the movies looking like love in the movies for a change. "Me, Natalie" is as conventional and corny as warmed-over "Young at Heart" (fairy tales can come true -- it can happen to you).
The story involves Patty Duke, known as Clown Face in the neighborhood, who is promised by her mother that, never mind, when she grows up she'll be beautiful. But, alas, when she grows up she's still plain and gawky and should have had braces on her teeth.
"Take some advice from an old pro," the go-go girl tells Natalie. "Don't make the mistake of thinking love in real life is like love in the movies. You're in apple blossom time now, but a time will come..."
But love in real life is, of course, like love in the movies. And so Natalie moves out of Brooklyn and into a pad in Greenwich Village, and who should be living downstairs but a gorgeous 6-foot-2, black-haired, clear-eyed hunk of masculinity who was a rich and successful architect in Connecticut but has come to the Village to do some serious painting and Discover Himself. And who could inspire him more richly, more fully, than loyal Natalie, who may be plain on the outside but has a heart of solid throbbing gold.


Me, Natalie failed to make much noise at the box office and despite Patty's wonderful performance, and Al Pacino's feature film debut, the movie has been largely forgotten in the years since.
His first line on film, "Do you put out?", was in this movie. When the answer was no, he said "Listen, sombody like you ought to be asking me!"
That was his part in this tiny first appearance.




"Me, Natalie" is a pleasant film, very funny at times, and the evidence in the audience was that women liked it enormously. And Patty Duke, as Natalie, supplies a wonderful performance. "



**The above text taken from Me, Natalie, the Review by Roger Ebert of The Chicago Sun Times dated, August 8, 1969-Reprint in 2004 for All Movie Guide.com
"All I remember about that film is that Patty Duke was very nice to me." --Al Pacino (The L.A. Times, 1997, "Jumping into the Fire", By Jack Mathews)