Serpico
"Who can trust a cop that don't take money?" As detectives close in on a drug bust, one gets hung out to dry by his partners — then we find out why. Al Pacino, volcanic as hirsute real-life cop Frank Serpico, flashes back from his beginnings as a naive, idealistic police recruit to the bearded, undercover hippie detective whose unwillingness to be on the take and willingness to testify for the head-rolling Knapp Commission made him an alienated, justifiably paranoid freak — and target — among his fellow officers. The electrifying first film of Lumet's memorable — if unplanned — cops & crime trilogy...is a Balzac-like portrayal of New York's underside — the realism extending to the American screen's first avalanche of profanity, but with an actor and director who can catch the rhythm and get it exactly right...Filming on 107 different locations around the city, with over 100 speaking parts, Lumet finished shooting in 51 days — 4 ahead of schedule — powerfully delivering his first butt-kicking action picture, with Pacino's blowtorch performance vaulting him to the front rank of American actors...based on the book by Peter Maas."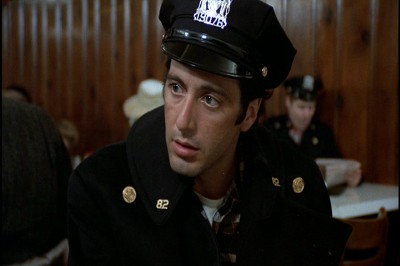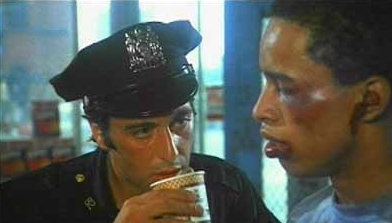 CAST
Al Pacino (Frank Serpico); John Randolph (Sidney Green); Cornelia Sharpe (Leslie); Biff McGuire (Captain McClain); Barbara Eda Young (Laurie); Jack Kehoe (Tom Keough); Tony Roberts (Bob Blair); Norman Ornellas (Ornellas); Ed Grover (Inspector Lombardo); Richard Foronjy (Corsaro); Mildred Clinton (Mrs. Serpico)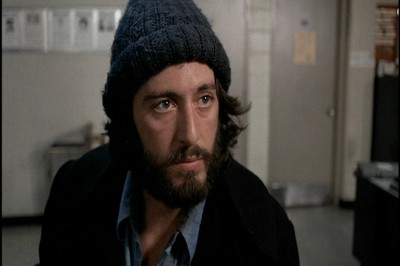 "Early in 1970, two New York City police officers, Detective Frank Serpico and Sergeant David Durk, put their careers and their lives on the line. After getting the runaround for months from their superiors, who preferred not to listen, they called on David Burnham, a reporter for The New York Times, to tell him their story of graft and corruption within the Police Department."
"Detective Serpico and Sergeant Durk had places, dates, and names, information that, when published, prompted Mayor Lindsay to appoint the Knapp Commission to investigate the charges, leading eventually to the biggest shake-up in the Police Department's history...."
"Sidney Lumet's Serpico...is a galvanizing and disquieting film adapted from the Maas book by Waldo Salt and Norman Wexler. It is galvanizing because of Al Pacino's splendid performance in the title role and because of the tremendous intensity that Mr. Lumet brings to this sort of subject. The method—sudden contrasts in tempo, lighting, sound level—seems almost crude, but it reflects the quality of Detective Serpico's outrage, which, in our society, comes to look like an obsession bordering on madness...."
"Mr. Lumet and Mr. Pacino manage to suggest such a lot of things about Detective Serpico that one wishes they could have enjoyed even greater freedom in exploring the character of this unusual man who, like the worker priests in France, tried to change the system by working within it."
"Serpico was photographed (by cameraman Arthur J. Ornitz) entirely in New York, a city that Mr. Lumet knows better than any other director working today. He also knows actors and has surrounded Mr. Pacino with a fine cast of supporting players of whom John Randolph, as an okay Bronx police captain, is the most prominent...."
Excerpts from "Serpico" by Vincent Canby for the New York Times, Published December 6, 1973.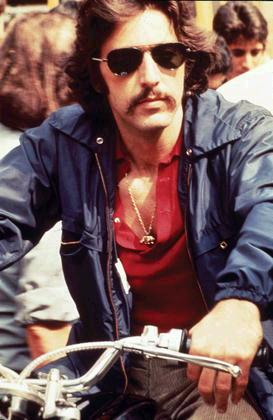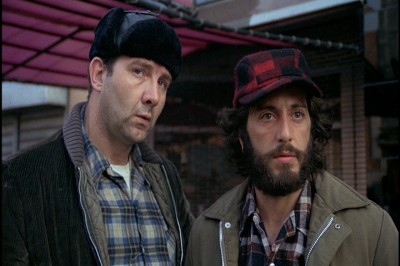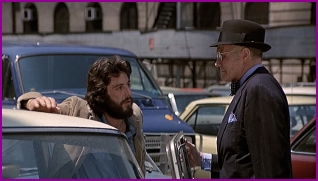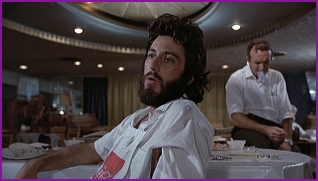 "Pacino received an Academy Award nomination as Best Actor; he copped the Golden Globe Award, however....Pacino was a star-the sole star-in his own right."
Excerpt from "The Films of Al Pacino" By William Schoell.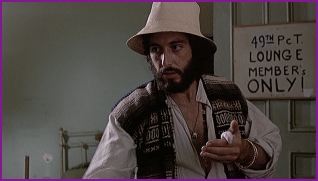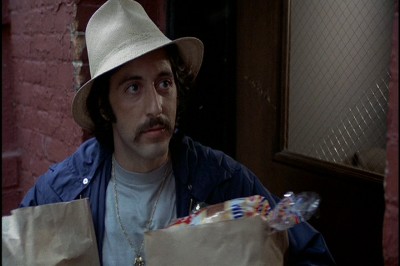 "....Shot on location with a gritty emphasis on documentary-style realism, Serpico presents a city in decay both literally and morally, as everybody is in on the take, and the cops and criminals are almost interchangeable. Released in late 1973, after months of revelations of Presidential malfeasance in the breaking Watergate scandal, Serpico's true story of bureaucratic depravity touched a cultural nerve, and the film became a hit with both critics and audiences, particularly for Pacino's complex performance as the honest, long-haired whistle-blower....Lumet and Pacino would reunite two years later for another true New York story, Dog Day Afternoon." ~ Lucia Bozzola, All Movie Guide