88 Minutes
After a fair run in theaters...88 Minutes hits DVD in September 2008! Cover art and release date revealed!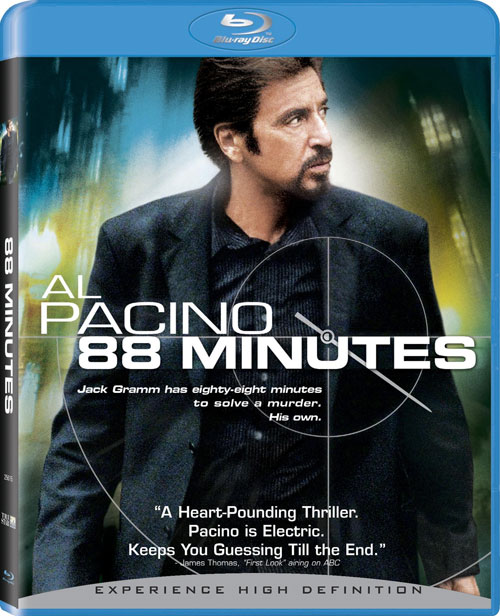 "A heart pounding thriller. Pacino is electric. Keeps you guessing 'til the end."
James Thomas / "First Look" on ABC
"Pacino is excellent... Very suspenseful and thrilling."
Greg Russell / MOVIE SHOW PLUS
Academy AwardŽ Winner Al Pacino Stars
in the Action-Packed Suspense Thriller
88 MINUTES
The Countdown Begins September 16, 2008
On DVD and Blu-ray™ High Def
Culver City, CA (7/7/08) – Academy AwardŽ winner Al Pacino (1993, Best Actor in a Leading Role for Scent of a Woman) headlines the action-packed thriller 88 MINUTES, arriving on DVD and Blu-ray High Def this September 16, from Sony Pictures Home Entertainment. Pacino stars as Jack Gramm, a forensic psychiatrist and college professor who receives a
phone
call telling him he has exactly 88 minutes to live. With the clock ticking, Jack sets out to solve his own intended murder and, in this deadly game of survival, no one is to be trusted. This smart, intricately plotted film is filled with so many unexpected twists and turns, Al Pacino fans and thriller fans alike won't want to let a minute pass before purchasing it on DVD and
Blu-ray for the SRP of $28.96 (
DVD
) and $38.96 (Blu-ray).

Special features on the DVD and
Blu-ray
include an alternate ending, the "Director's Point of View" featurette, "The Character Within" featurette, in which Al Pacino discusses his craft, and a Director's Commentary with Jon Avnet.

In addition to Pacino, the top-notch cast includes Alicia Witt (
TV's
"Law & Order: Criminal Intent", Urban Legend), Amy Brenneman (TV's "Judging Amy", Heat), Leelee Sobieski (The Glass House, Eyes Wide Shut), Neal McDonough (Flags of Our Fathers, Minority Report), Deborah Kara Unger (Silent Hill, White Noise) and Benjamin McKenzie (TV's "The O.C.", Junebug). 88 MINUTES was directed by seasoned helmer Jon Avnet (Red Corner, Fried Green Tomatoes) and scripted by noted action screenwriter Gary Scott Thompson (The Fast and the Furious, Hollow Man).
Synopsis
Al Pacino stars in this riveting thriller about a forensic psychologist who receives a phone call threatening that he has only 88 minutes to live. As the clock ticks away, tension mounts, suspicions rise and blood flows. With a serial killer he helped convict awaiting execution and a copycat killer on the loose, Jack Gramm has 88 minutes to solve the biggest murder of his career: his own.
88 MINUTES was produced by Millennium
Films
and distributed by Tri-Star Pictures. It has a run time of approximately 107 minutes and has been rated R for disturbing violent content, brief nudity and language.

DVD and Blu-ray High Def Bonus Material
ˇ Alternate Ending
ˇ Commentary with Director Jon Avnet
ˇ "Director's Point of View" featurette:
- Director Jon Avnet discusses the making of 88 Minutes and working with Al Pacino
ˇ "The Character Within" featurette:
- Al Pacino discusses what it takes to create the perfect character, his collaboration with director Jon Avnet and working with the film's other cast members


DVD Catalog #: 23578
DVD UPC Code: 0-43396-23578-6
DVD SLP: $ $28.96


He has 88 minutes to solve a murder. His own.

Dr. Jack Gramm is a shrewd womanizing Forensic Psychologist and professor working with the FBI in Seattle (actually filmed mostly in Vancouver, Canada). A tortured past makes him great at what he does. In this fast paced film, Jack's past is returning to pull him on another roller-coaster as a killer that he helped to put on death row approaches the last minutes of his life. On the eve of Jon's execution, Jack receives a phone call telling him that he has only eighty-eight minutes of life left. A modern "who-dunnit" keeps you guessing to the hair-pulling end.
From Plot Summary via IMDB.com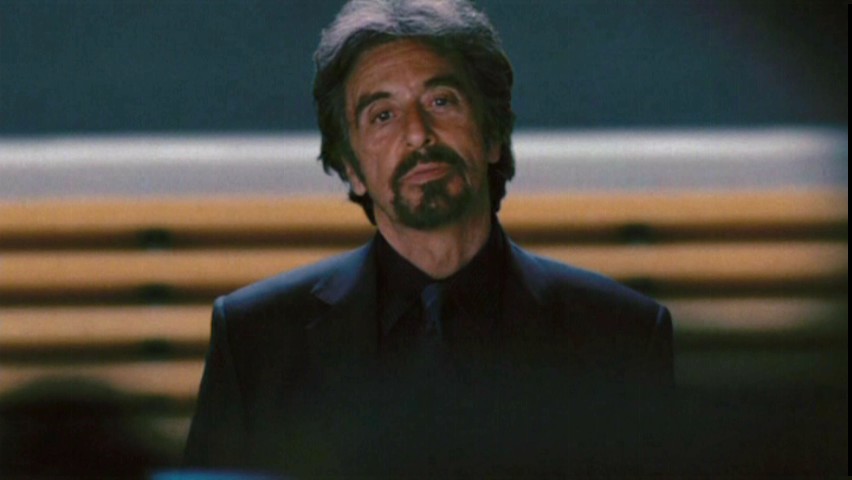 Alicia Witt, Leelee Sobieski and Neal McDonough have signed on to star opposite Al Pacino in Jon Avnet's crime drama "88 Minutes," which begins principal photography in Vancouver. Witt will play a teaching assistant and the romantic interest to Pacino's character, a college professor who moonlights as an FBI forensic psychologist.
Sobieski will play one of Pacino's students, and McDonough will play a death row inmate whom Pacino's character suspects is orchestrating his murder, which he has been, told will occur in 88 minutes. Gary Scott Thompson penned the screenplay.
The film is being produced by Avi Lerner, Boaz Davidson, Avnet, Randall Emmett and Michael Flannigan for Millenium Films, Emmett/Furla Films and Equity Pictures. Witt, who most recently appeared onscreen in "The Upside of Anger," next appears in Wayne Wang's "Last Holiday" with Queen Latifah for Paramount Pictures. Sobieski most recently wrapped Neil LaBute's "The Wicker Man." McDonough is filming Clint Eastwood's "Flags of Our Fathers" for DreamWorks Pictures and Warner Bros. Pictures.
**By Gregg Goldstein and Tatiana Siegel of New York and Los Angeles (article originally published and dated October 13, 2005)

Sneak peek at pictures from the film...Only until the official U.S. release of the DVD in 2008; enjoy these pictures (no spoilers, our policy!) More photos may be found around the web as the DVD releases in various countries worldwide starting in June of 2007; proceed to those sites with caution. Come back here for more updates and join our Yahoo Group by invitation only for private emails on this film and many more of Al's upcoming projects!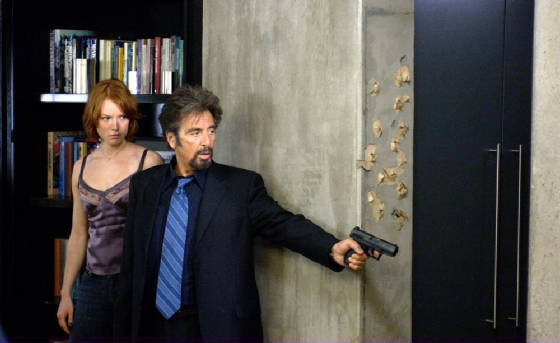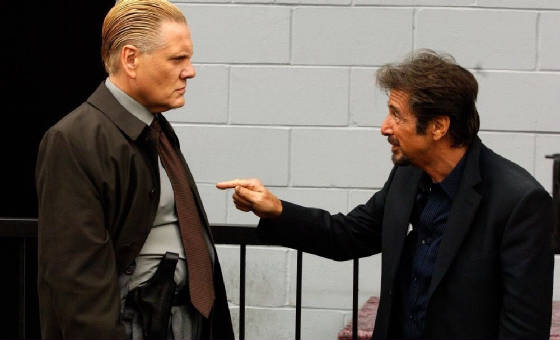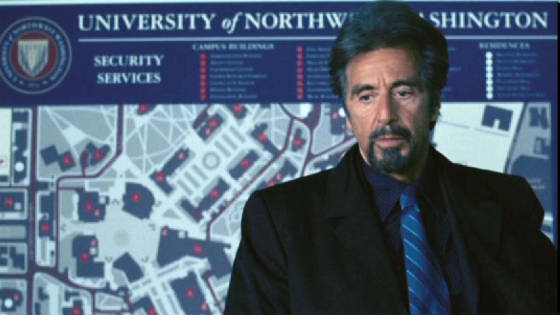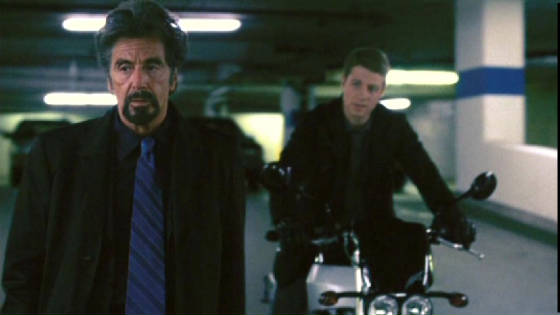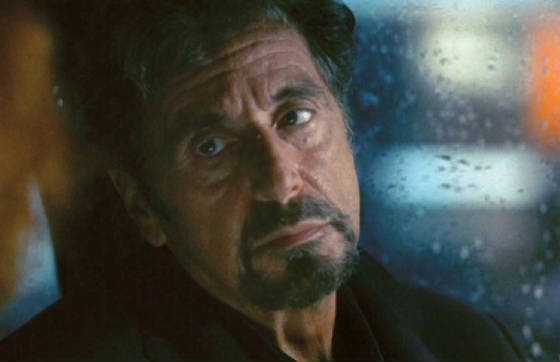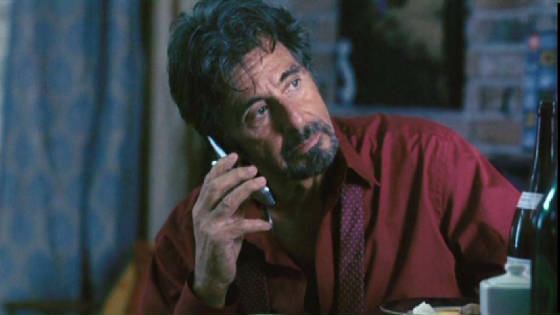 Watch the trailer at the link below!

...filming in Vancouver, Canada
With filming having begun October 15th, 2005 (officially) just shortly after the theatrical debut of "Two For The Money" on October 7th, 2005---the behind the scenes photos you see here show how much hard work and dedication it takes on behalf of not only Al and the major cast members, but from the crew that helps it all come together!
**Remember come back here often for updates as the DVD release date for the U.S. draws closer in early 2008!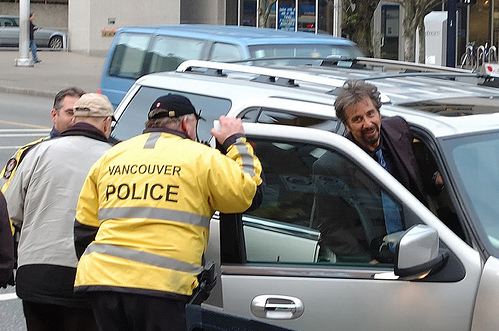 Al arrives to work on the Vancouver set...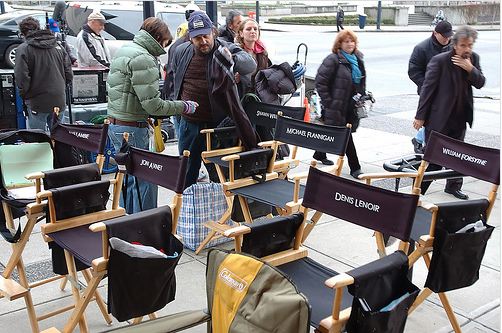 Places! Places, everyone! Work begins the minute you walk onto the set.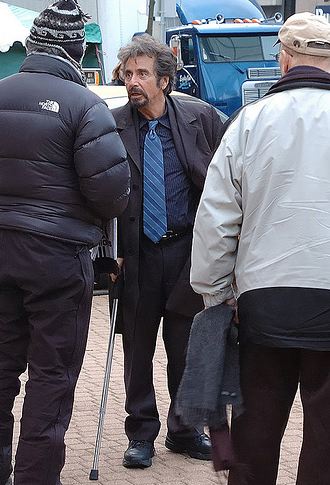 Walking with a cane from a twisted ankle, Al proves, the show must go on!
New Poster reveals also new American theater date of April 18th, 2008!