Insomnia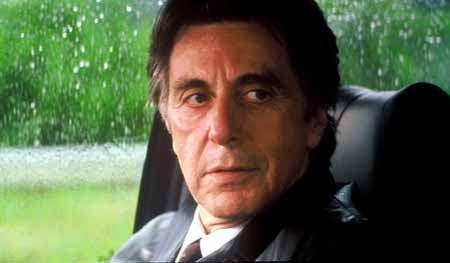 Shakespeare's plays are divided into comedies, histories and tragedies but those three categories, or genres, only begin to describe the rich variety of forms in contemporary movies. For example, the simple western can be broken down into sub-categories that include the Native American or the psychological western. Similarly, the crime film comes in many shapes and sizes, each with its own formal qualities that we instantly recognize. First in Memento and now in Insomnia, Christopher Nolan uses the crime film as a means to explore the moral and psychological extremities of human behavior. Insomnia isn't plot-driven in the usual sense. Like a Greek or Shakespearean tragedy, we know what's going to happen. At the same time, we're taken inside the characters so that we live through their dilemmas. Dormer is pushed to the edge by his nemesis, a mysterious crime fiction writer called Walter Finch, who somehow knows what's going on in his head. **taken from "Insomnia" the review, September 1, 2002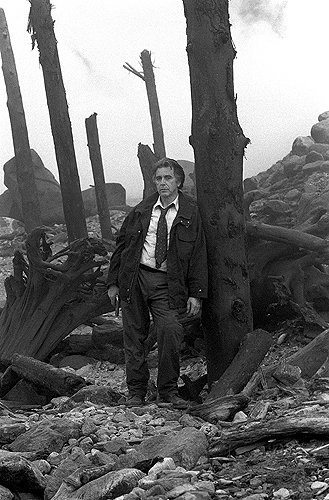 Al Pacino plays the veteran cop, looking like a man who has lost all hope. His partner Hap Eckhart (Martin Donovan) is younger, more resilient and may be prepared to tell the internal affairs investigators what they want to know--information that would bring the older man down. They have been sent up north to help with a local investigation, flying into Nightmute in a two-engine prop plane that skims low over jagged ice ridges. They'll be assisting a local cop named Ellie Burr (Hilary Swank), who is still fresh with the newness of her job.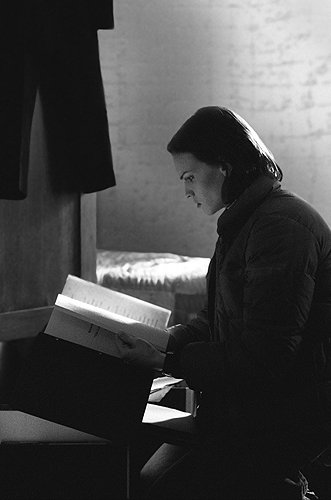 "Insomnia," the first film directed by Christopher Nolan since his famous "Memento" (2001), is a remake of a Norwegian film of the same name, made in 1998 by Erik Skjoldbjaerg. That was a strong, atmospheric, dread-heavy film, and so is this one. Unlike most remakes, the Nolan "Insomnia" is not a pale retread, but a re-examination of the material, like a new production of a good play......Pacino takes a more physical approach: How much longer can he carry this burden? The story involves an unexpected development a third of the way through, and then the introduction of a character we do not really expect to meet, not like this. The development is the same in both movies; the character is much more important in this new version, adding a dimension I found fascinating.
*from the review by Roger Ebert of the Chicago Sun Times dated May 24, 2002
"When does it get dark around here," Will Dormer asks the local cops in Nightmute, Alaska, the halibut fishing capital of the world, and they only smile. During the summer months this far north of the Arctic Circle, the only darkness, as the Shadow liked to say, lurks in the hearts of men, and there is plenty to go around.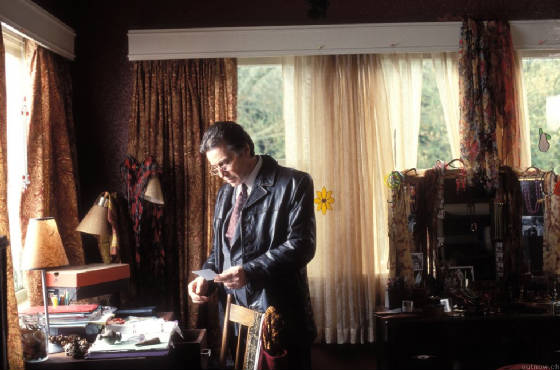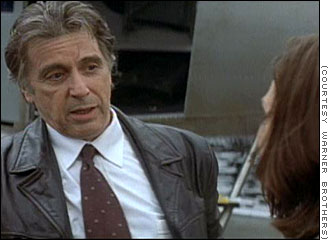 They have come to Alaska not only to aid the authorities of the small town of Nightmute in finding a killer, but to temporarily escape the spotlight of an Internal Affairs investigation. Will (Pacino) is greeted like a legend in Nightmute, especially by Officer Ellie Burr (Hilary Swank), who hero-worships him.
**A Film Review by James Berardinelli dated 5/24/2002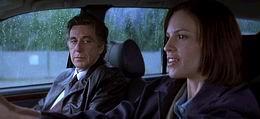 Dormer
: Randy, this whole thing you're doing, you know, this "fuck the world" act. Now that might work with your mama. It might even work with a couple of these local cops, who have known you long enough to figure you're too dumb ever to kill anyone without leaving a couple of witnesses and a signed confession.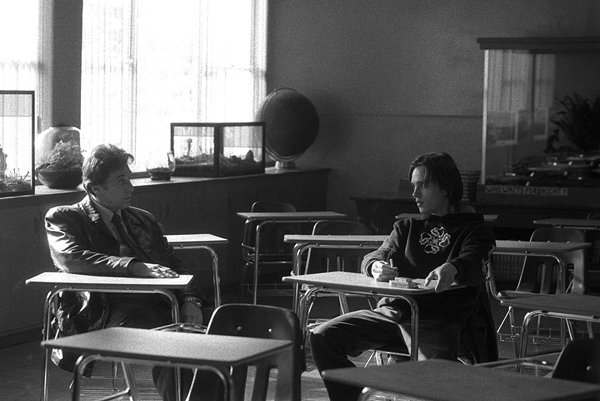 Ain't gonna work with me, because I know things, you understand? I know you beat your girlfriend. I know she was seeing somebody else. Somebody she might have even gone to see after she walked out on you Friday night. Now, you're gonna tell us who that somebody might be? Or are you so fucking stupid, you're going to leave yourself as the last person to see Kay Connell alive?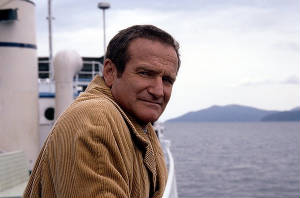 With his low-key approach to the part, Robin Williams manages to submerge his highly visible, volatile personality. Walter is not a ranting, over-the-top killer but a clear-eyed, logical individual.
**A Film Review by James Berardinelli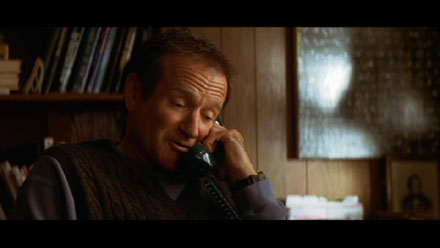 The face of the killer, the first time we see it, comes as a shock, because by now we may have forgotten Robin Williams was even in the film. He plays Walter Finch, who does not really consider himself a murderer, although his killing was cruel and brutal. These things happen. Everyone should be forgiven one lapse. Right, detective?
**from Insomnia the review by Roger Ebert of The Chicago Sun Times dated May 2002

Dormer
: You don't get it do you Finch? You're my job. You're what I'm paid to do. You're about as mysterious to me as a blocked toilet is to a fucking plumber. Reasons for doing what you did? Who gives a fuck?
Finch
: You have no evidence I killed Kay. You only know because I told you what I saw.