Two For the Money is a drama of high stakes set in the adrenalized world of wheeler-dealers whose fortunes are won and lost betting on sports. Matthew McConaughey stars as Brandon Lane, a former college football star whose uncanny ability to predict the outcome of a game introduces him to an unexpected new career when his gridiron glory is sidelined by a crushing injury.

Brandon's talent makes him a prime candidate for recruitment by Walter Abraham (Oscar-winner Al Pacino), the head of one of the biggest sports consulting operations in the country. Walter hires the small town ex-athlete and grooms him into a shrew front man. Brandon soon begins to enjoy his status as a Manhattan golden boy and finds himself growing comfortable with Walter's high-rolling lifestyle. The surrogate father/surrogate son relationship fattens Walter's business and personal accounts...until Brandon's golden touch begins to falter at the same time that Walter's manipulation of his protegege crosses the line.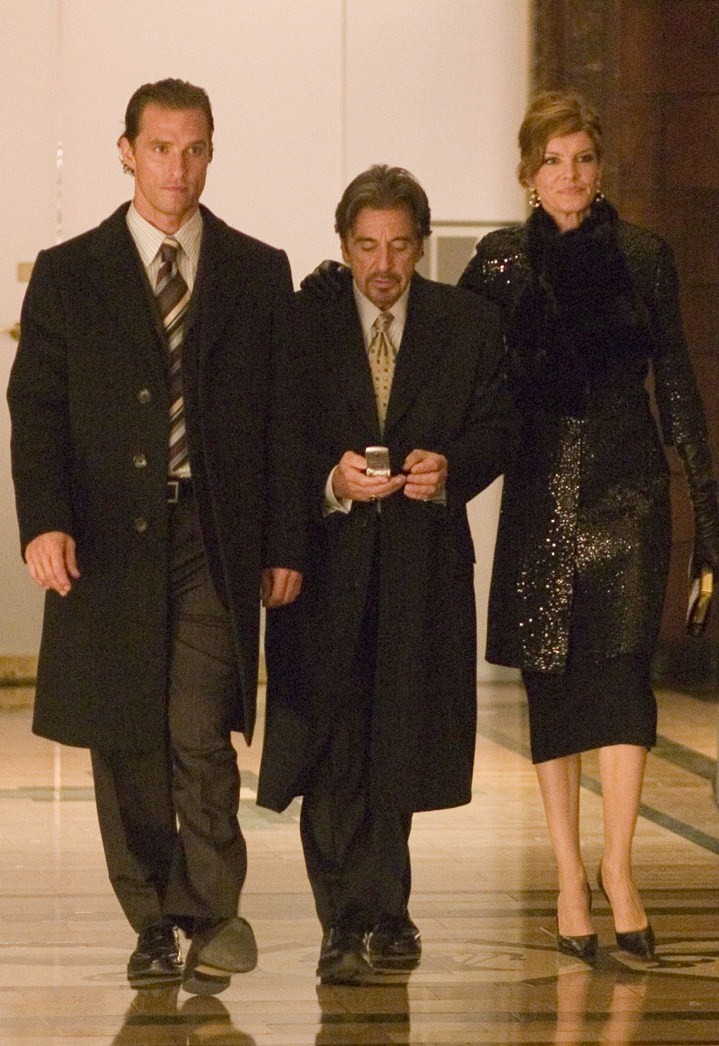 With millions of dollars on the line, Brandon and Walter engage in a deadly game of con versus con, each one trying to maintain the upper hand while everyone in their world, including Walter's wife, Toni (Rene Russo), are drawn into the escalating duel-where ultimately everything isn't what it appears to be.

A taut "who's conning whom?" drama, Two For the Money" is a Morgan Creek production, directed by D.J. Caruso ("Taking Lives"), written by Dan Gilroy and produced by James G. Robinson and Jay Cohen. The film is executive-produced by Guy McElwaine and David Robinson.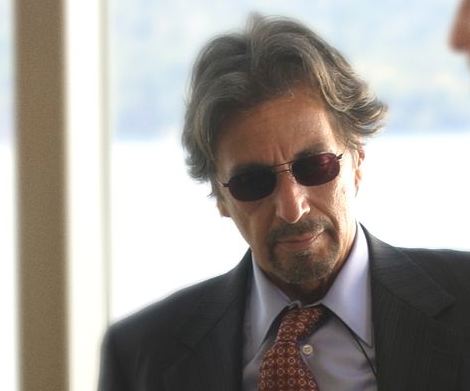 Two for the Money
Place your bets on Pacino
A review by Roger Ebert; dated October 7, 2005
"In D. J. Caruso's Two for the Money, you can see Al Pacino doing something he's done a lot lately: Having a terrific time being an actor. At 65, he's on a hot streak in one well-written role after another. In Insomnia, People I Know, Angels In America and The Merchant of Venice, he has given performances vibrating with tension and need, and now here he comes again....
"Matthew McConaughey and Rene Russo are wonderful, too, in a movie with three well-written and fully functional roles, but their characters are by nature more contained than Pacino's. He plays Walter, who runs a sports betting hotline. McConaughey plays Brandon, the Vegas oddsmaker he imports to New York, renames and turns into a star. Walter is a mesmerizer who assaults him with confidence and exuberance. Russo is Toni, his wife, who loves him and despairs of him. He dazzles Brandon and he worries Toni, a recovering junkie. He's recovering from everything: "'If it says 'anonymous' at the end, he goes,' she tells Brandon....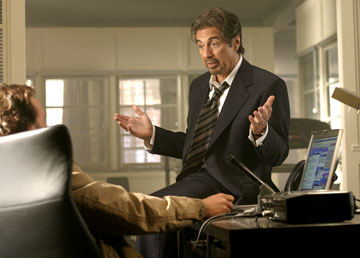 ..."Look at the monologue Pacino delivers at a Gamblers' Anonymous meeting. It's got the passion, if not quite the language, of his soliloquies in The Merchant of Venice. He tells his fellow degenerate gamblers that their problem isn't gambling, it's themselves: "'We're all lemons. We need to lose'....
..."I've been watching Pacino a long time. I saw him at the beginning, in 1971, in Panic in Needle Park. Already a great actor. His next movie was The Godfather. I could mention Dog Day Afternoon, Glengarry Glen Ross, Scarface, Carlito's Way, Heat, Donnie Brasco. I could keep going.
"But good as he already was, I think something rotated inside and clicked as he was directing his documentary Looking for Richard (1996), which was about how Shakespeare should be acted, and how an actor should play Richard III. Here was an actor in his mid-50's, asking undergraduate questions, reinventing how he approaches a role, asking what acting is. He chose Richard III, a character who looks in a mirror and asks himself how he should play himself. In his movies since then, Pacino seems to have found something in the mirror.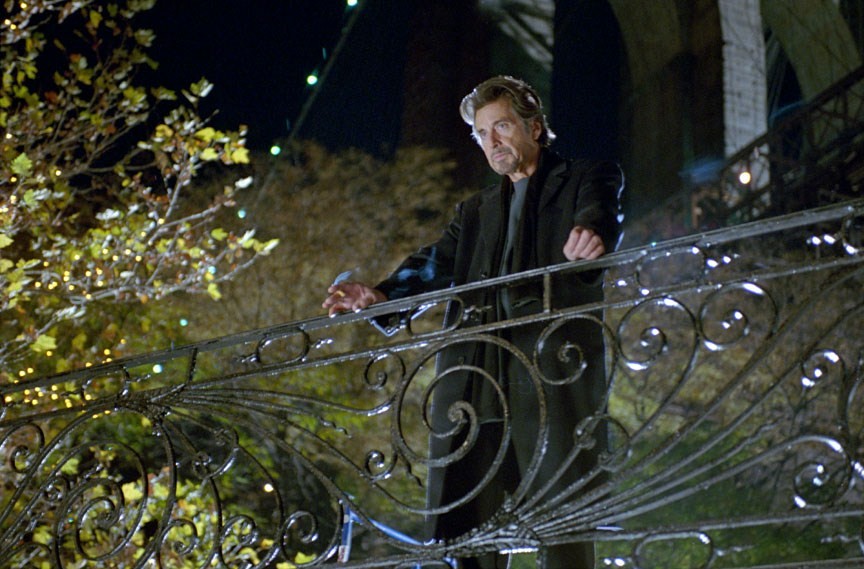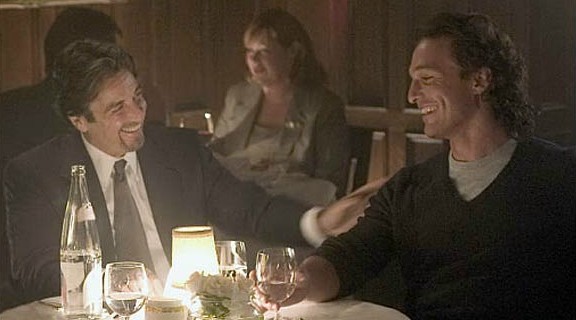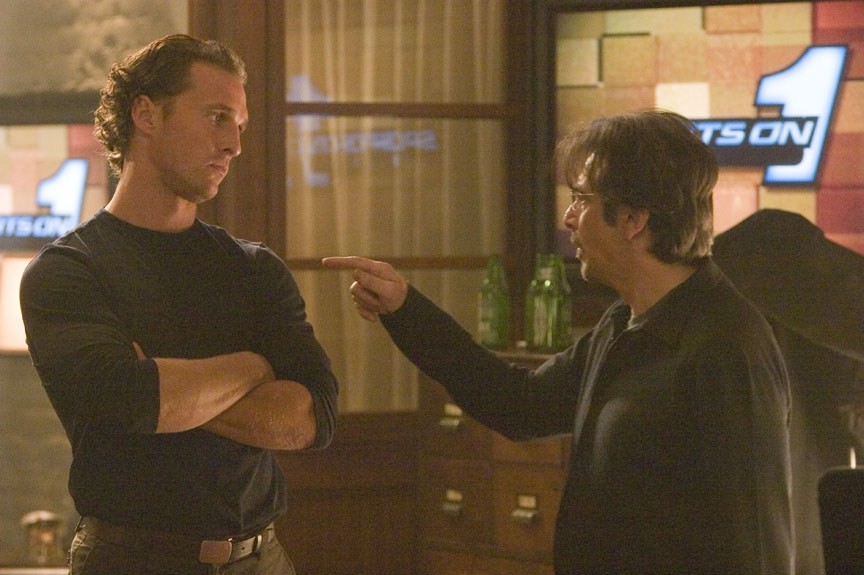 ..."This is one of the most creative dances I've ever had,' says McConaughey of going toe-to-toe with the Oscar winner. 'Every day was infectiously alive; there was never a dull spot. It was so much fun to - as he would say - fly together. It's very hard to explain, you work with somebody great like him, it improves your game...but how did it feel to be on the receiving end of a trademark Pacino-busts-a-blood-vessel tirade? 'It's just beautiful, marvels McConaughey. 'No one says f--- better than Al Pacino!'
Excerpt from Entertainment Weekly (8/12/05)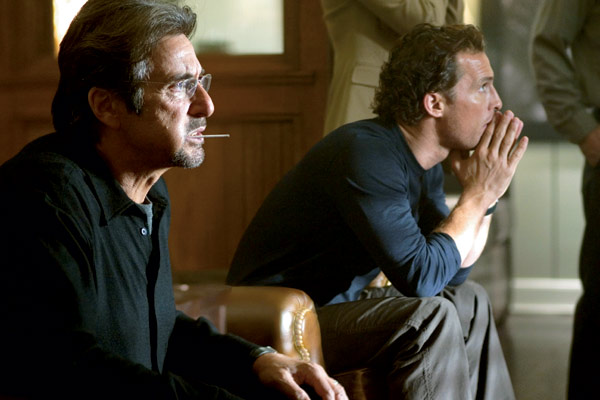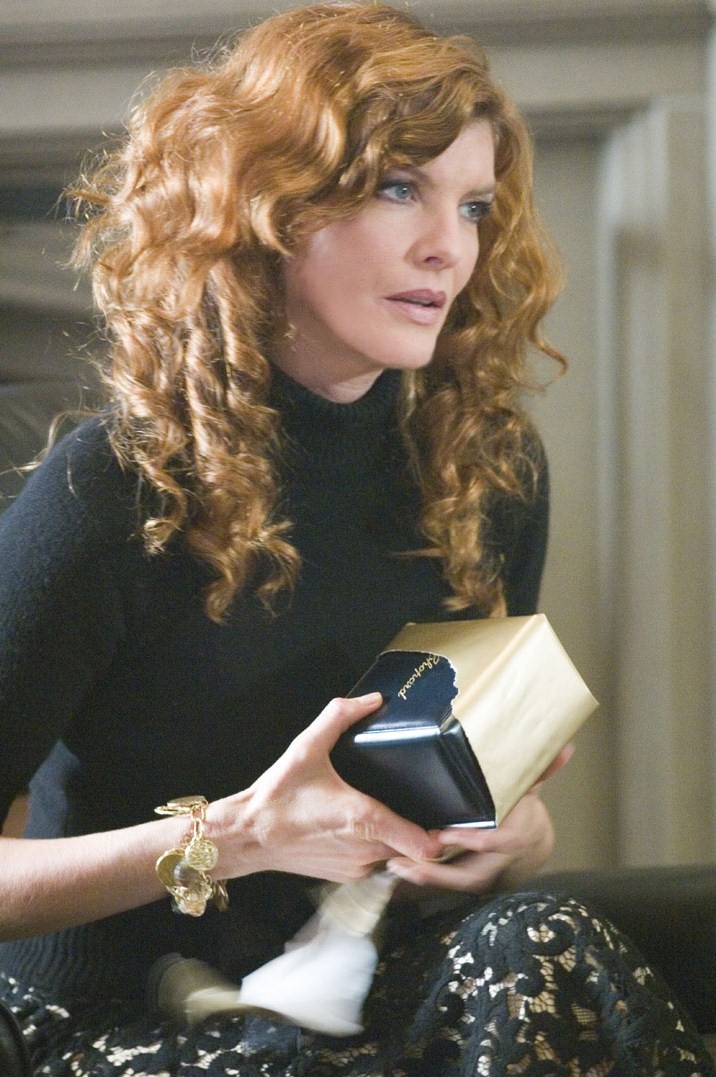 Rene Russo
's husband,
Dan Gilroy
, wrote the part of
Al Pacino
's wife Toni especially for Russo and tailored it to fit her perfectly. He even used Russo's real-life sister's name Toni as the name of the character.
*Film Trivia by IMDB.com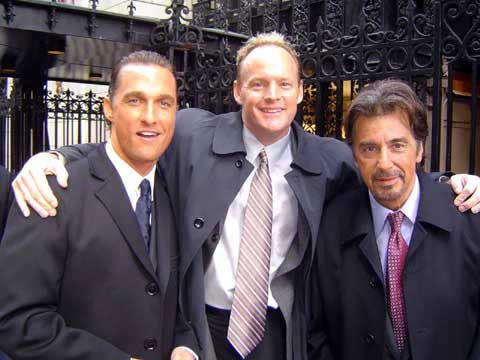 The film was based on the true story of Brandon Link who used the alias Mike Anthony. In the movie his names were changed to Brandon Lang and John Anthony. The real Brandon Link had a non-credited cameo appearance as "Man Greeting Brandon #1".
*film trivia by IMDB.com