Bobby Deerfield
...Pacino plays the title character, Bobby Deerfield; a reckless race car driver. As his fame grows, Bobby becomes increasingly full of himself, which seriously jeopardizes his performance on the track and his private life. Marthe Keller plays Bobby's aristocratic, enigmatic lady friend, whose tragic secret sets the stage for several tear-stained setpieces. Also on hand is Ann Duperey as a racetrack groupie. Originally released at 124 minutes, Bobby Deerfield was pared down to 99 minutes by director Pollack for cable-TV consumption.
**Plot description by ~ Hal Erickson, All Movie Guide
Deerfield buries his feelings and forgets his past until a reckless and passionate woman (Marthe Keller) who also lives in death's shadow shows him life's possibilities to the fullest.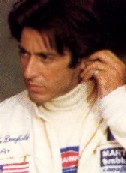 ***The race car used by Al Pacino in the movie is a Brabham Alfa Romeo BT-45, which belonged to the Brazilian Racer Josť Carlos Pace, who actually drove it during the race (South African Grand Prix, in 1976) scenes.