Frankie & Johnny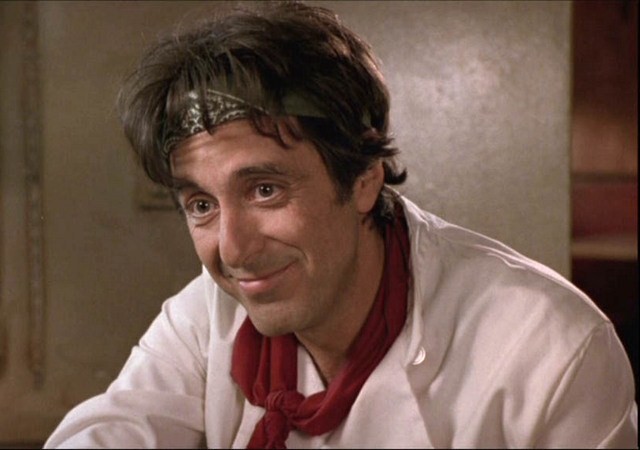 "New York City can be a dangerous, hostile place,'" the warden says to Johnny (Al Pacino) as the latter leaves jail after serving his sentence. '"It'll be a nice change,'" Johnny says.
"And indeed, the New York City of Frankie and Johnny-one of Pacino's nicest pictures-is not the New York of The Panic in Needle Park, with its drug addicts; The Godfather and sequels, with their elegant hoodlums; Serpico, with its corrupt police officers; or Cruising and Sea of Love, with their brutal serial murderers....
"Johnny has spent one and a half years in jail for forging a check. He goes to work as a cook at the Apollo Restaurant at Ninth Avenue and Twenty-Third Street and is almost immediately smitten with a pretty blond waitress, Frankie (Michelle Pfeiffer). But Frankie finds Johnny too intense and '"needy;'" she's had too much bad luck with men. Her gay friend and neighbor Tim (Nathan Lane) reminds her that her phone hasn't exactly been ringing off the hook. Agreeing to a date, Frankie is charmed by Johnny but reluctant to get involved in a full-scale relationship. At her apartment one night, the two admire a lovely piece (Debussy's "Clair de Lune") on the radio, and Johnny calls the station to ask them to play it again. Against all odds, the piece is reprised minutes later. Perhaps, the lovers think, their relationship will also work in spite of the odds against it.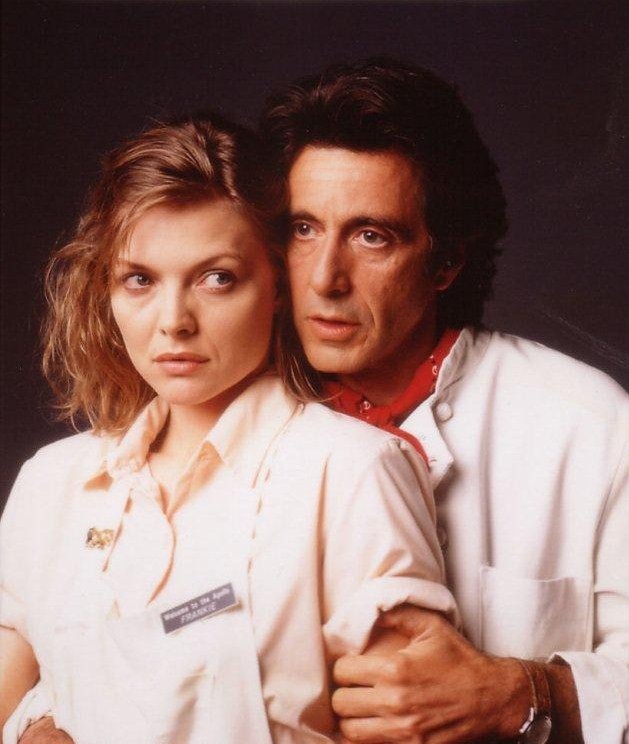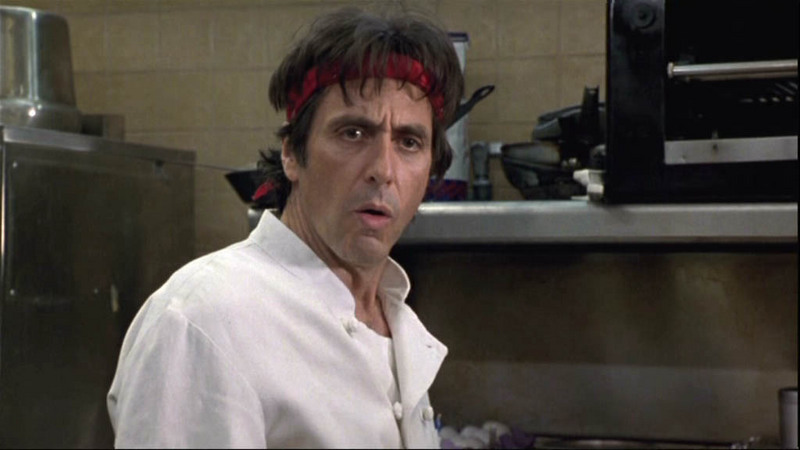 "Playing mid-forties at age fifty-one (and getting away with it), Pacino is simply terrific in one of his most delightful pictures. He and Pfeiffer give very realistic depictions of '"uncertain'" lovers-she, not wanting to offend him but with deep reservations; he, hoping he's charming her but afraid that he's not. Pacino is actually very charming in this picture, whether he's telling another waitress, Cora (Kate Nelligan) why he doesn't cry out or moan during an orgasm or assuring Tim that he, Johnny, has a gay cousin. To Cora, whom he beds, he explains that he was in a place where '"full-throated orgasm would have been inappropriate.'" '"Like a monastery?'" Cora asks. To Tim, he says of his cousin: '"I just found out he was gay a couple of months ago.'" '"I'll look him up in the directory,'" Tim says wryly. '"Under the new listings.'"
"Later, Pacino pulls out the stops when he expresses his full-fledged orgasm with accompanying verbalizations and his joy at having same. Pacino is also wonderful dancing to Greek music with the '"stiff'" but fun-loving waitress Nedda (Jane Morris) at a party celebrating a busboy's selling his first script to Hollywood. Morris and Pacino seem to be having so much spontaneous fun that they make the scene one of the standouts in the picture....
"...But it is hardly a typical Hollywood happy ending: Frankie and Johnny have only agreed to try and make things work, to open themselves to love and all its vulnerabilities and risk heartbreak. Who really knows what will happen in the months ahead? For that matter, who knows what will really happen to the battered wife who has left home?...."
Article from "The Films of Al Pacino" By William Schoell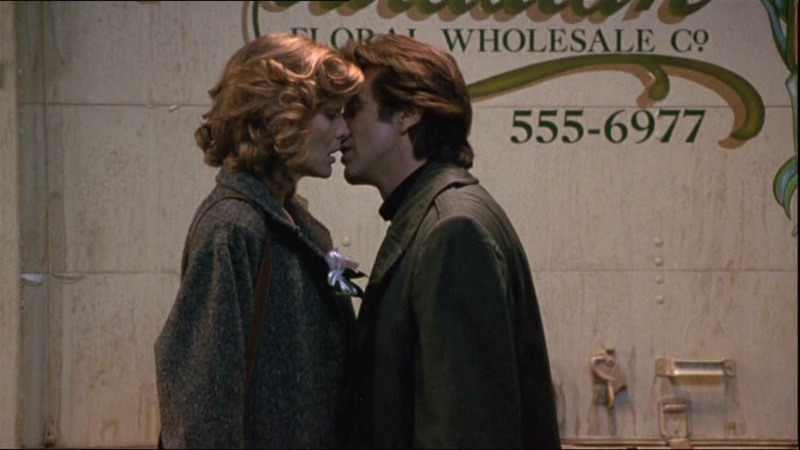 '"Frankie and Johnny in the Clair De Lune,'"" the one-set, two-character play by Terrence McNally, starts out where most love stories end up: in bed, with its newly united hero and heroine apparently in a position to start living happily ever after. In a more traditional play they might do that, but Mr. McNally regards the process of finding one's knight in shining armor as a lot more problematic than it used to be.
"And these days both men and women are likely to resist taking off their armor anyhow. '"Are you keeping some big secret from me?'" Frankie asks during the play. '"It's more like I'm keeping several thousand little ones,'" Johnny answers.
"Confined to Frankie's one-room apartment throughout the single night on which the play takes place, these two gradually fathom each other's fears. Eventually they reach a serene truce, thanks to a series of changes conveyed so quietly that even Johnny's burning himself while cooking qualifies as a significant event.
"There is practically nothing in this modest situation to suggest that a big, crowded Hollywood romantic comedy could be spun out of Frankie and Johnny's mating ritual. But in the skillfully manipulative hands of Garry Marshall, who has directed from a screenplay by Mr. McNally that amounts to a complete revision, '"Frankie and Johnny'" has been reshaped into foolproof schmaltz. '"Foolproof'" is the operative word.
"Mr. Marshall showed with '"Pretty Woman'" that he could find heart and humor in extremely unlikely places, and he shows it again with an overeager short-order cook (Al Pacino), a recalcitrant waitress (Michelle Pfeiffer) and a Greek coffee shop that houses a kind of Greek chorus. This film's determination to open up Mr. McNally's claustrophobic romance has brought forth supporting characters like Frankie's gay neighbor (Nathan Lane), her fellow waitresses (Kate Nelligan and Jane Morris) and her gruff employer (Hector Elizondo). According to production notes, this formerly spare story now features 94 characters in all.
"And there are newly added events, like Frankie's bowling night and a co-worker's party, where extras ranging from punks to new immigrants and old biddies join forces to share a festive time. The effect of all this is warmly, happily seductive in time-honored sitcom fashion. Rarely has a film about loneliness been mounted with such bustling good cheer. Rarely has the story of drab lives been attended by so much color. And rarely has a tale of two misfits been played out by such obviously attractive stars.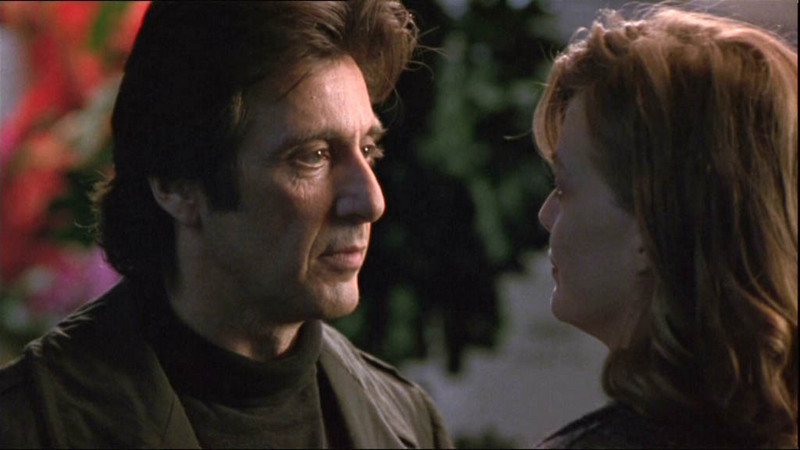 "But somehow Mr. Marshall, Mr. McNally and their superb leading actors are able to retain the intimacy of their material. They also retain the story's fundamental wariness about romance, even when everything about Ms. Pfeiffer and Mr. Pacino has the audience wondering why they don't simply fall into each other's arms. The names Frankie and Johnny gave Mr. McNally's play a sweet inevitability, an assurance that these two were fated to be together no matter how ill-suited they seemed. The movie, with this casting,, needs no such guarantees. Indeed, Mr. Marshall's main challenge is to spend as much time as possible keeping Frankie and Johnny apart.
"So the film takes an hour to work up to a first date, with half the staffers and patrons of the coffee shop craning their ears every time Frankie snaps '"Why do you wanna go out with me?'" at the irrepressibly upbeat Johnny. Ms. Pfeiffer, despite the film's elaborate efforts to make her look drab, will never be able to ask that question in a credible way. Ms. Pfeiffer's extraordinary beauty makes her fine-tuned, deeply persuavie performance as the tough and fearful Frankie that much more surprising.
"If Mr. Marshall does well with romantic teasing, he's equally adept at making sure it pays off. When Frankie and Johnny do finally go out, there is an elaborate prelude featuring the funny, wisecracking Mr. Lane (who helps the desperately antisocial Frankie get ready and refers to Johnny as her'"gentleman caller'"). There is the busily staged party itself, and there is a trip to the flower market that culminates, at long last, in a kiss. Mr. Marshall's penchant for pulling out all stops on such occasions allows him to pose Frankie and Johnny next to a truck and let the truck's door fly open to reveal a sunburst of flowers at the proper moment...."
"Mr. Pacino has not been this uncomplicatedly appealing since his '"Dog Day Afternoon'" days, and he makes Johnny's endless enterprise in wooing Frankie a delight. His scenes alone with Ms. Pfeiffer have a precision and honesty that keep the film's maudlin aspects at bay. It also helps that Mr. McNally's expanded screenplay supplies so many workable one-liners, and that the supporting cast is funny and well used. Jane Morris displays flawless comic timing as the frumpiest of the waitresses, and Kate Nelligan, nearly unrecognizable, is outstandingly enjoyable as the gum-chewing, man-crazy one. '"You see something cute in every guy,'" she is told. '"I know,'" she beams. '"I'm lucky like that.'"
"Al Pacino: Regular Guy Among Ordinary Joes" By Teresa Carpenter for the New York Times, Published October 6, 1991.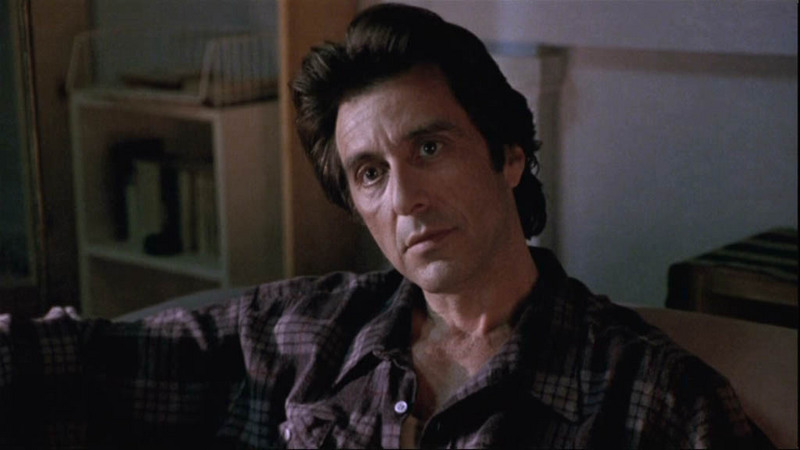 Al Pacino.....Johnny

Michelle Pfeiffer.....Frankie

Hector Elizondo.....Nick

Kate Nelligan.....Cora

Nathan Lane.....Tim

Jane Morris.....Nedda



The play that inspired Frankie & Johnny opened on October 27, 1987 at the Manhattan Theatre Club and was transferred to the Westside Arts Theatre in early December that year. Frankie & Johnny in the Clair de Lune won the Dramatists Guild's Hull-Warriner Award for Best Play and was nominated for the Outer Critics Circle Award. Terrence McNally's play opened in Los Angeles at the MarkTaper Forum in November 1988 and, since then, has been staged in hundreds of productions worldwide.