Pacino opened it up to audience questions. One woman proclaimed herself a huge fan of Scent of a Woman, and wanted to know if he would mind...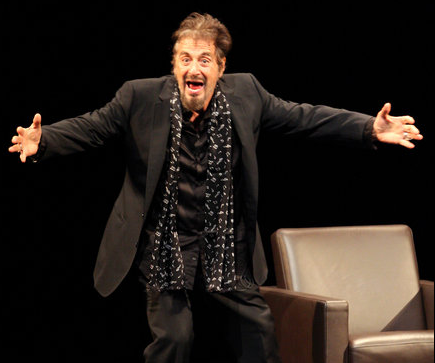 "HOO-ah!" Pacino interrupted, to delighted crowd applause. (He went on to describe how the famous line originated: A military instructor was tasked with teaching him how to take apart and reassemble a .45 auto. When Pacino began to get it right, the soldier let out a "HOO-ah!" Inspired, Pacino incorporated it into his portrayal.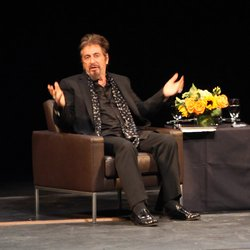 "Films are hard to do for me," said Pacino. "Always have been. There's a distance to film. A coldness to it."
Which might be why Pacino's most celebrated directorial effort — Looking for Richard — is based on a performance of Shakespeare's Richard III. We saw a pair of clips from that independent film (which won a Director's Guild award in 1997), along with one from an obscure and peculiar indie in which Pacino appeared in 1990: The Local Stigmatic.
Pacino wound up the evening with a series of dramatic readings. "You know, I wish I was taller," he quipped, abandoning his chair for a podium. Pacino read a poem from e. e. cummings; a scene from The Basic Training of Pavlo Hummel, by Rabe; a scene from Eugene O'Neill's Hughie; something from American Buffalo, by David Mamet; and the bit about the legless bird from Tennessee Williams' Orpheus Descending.

Orpheus Descending reading reference to the legless bird:
"They live their whole life on the wing, and they sleep on the wind … they just spread their wings and go to sleep and … never light on this earth but one time when they die!" The image suggests a kind of freedom, to which human life may aspire but not be able to reach.

Hollywood actor brings cast of his characters to Carmen's
excerpts from Jeff Mahoney's article for The Spec.com in Canada dated November 23, 2010
At 9:30 Monday night, Al Pacino shambled onto the stage at Carmen's Banquet Centre almost modestly, a little stooped, a little tired-looking but with a smile that was lit by the thunderous standing ovation from a crowd of 1,200!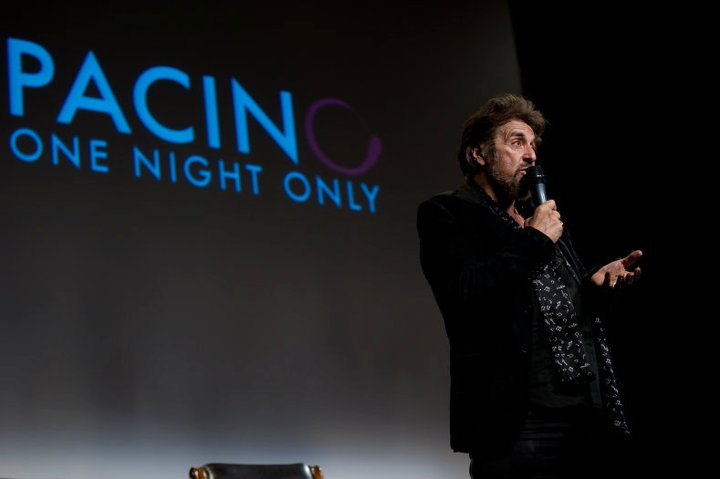 "I can't see you out there," he said, squinting into the audience. "But I can feel you. I have been here since 4 this afternoon and what I feel here is such warmth."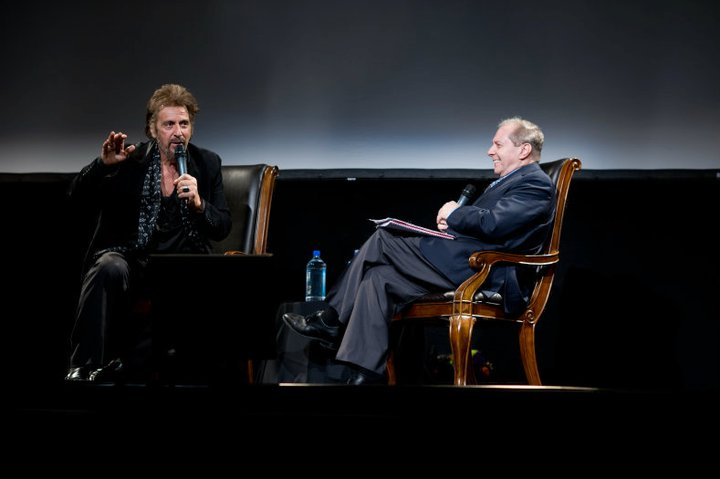 Pacino sat on a chair beside Richard Brown, a film professor at New York University who plied the star with a variety of questions about acting and the differences between movies and live theatre.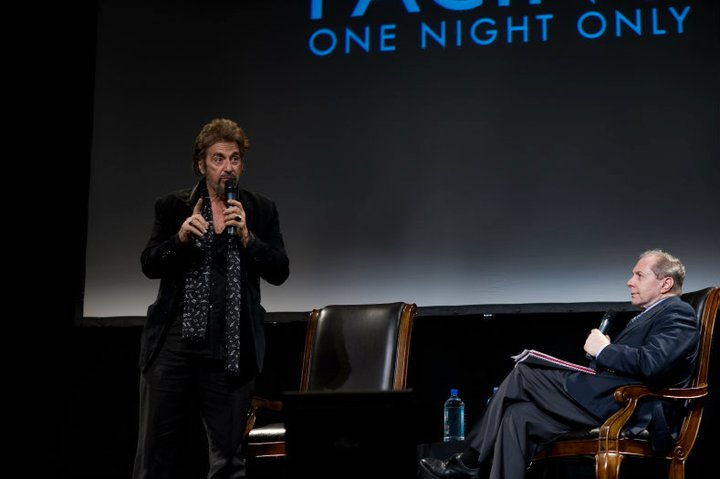 Pacino would answer from his chair and then, as the spirit took him, he got up and walked around the stage, his voice growing stronger, his posture more erect and robust, it seemed, with each breath, as he warmed to the subject. All the while, the crowd was riveted by that unmistakable Pacino face, framed under fly-away hair, the large expressive eyes set over cheekbones that seem carved by time itself.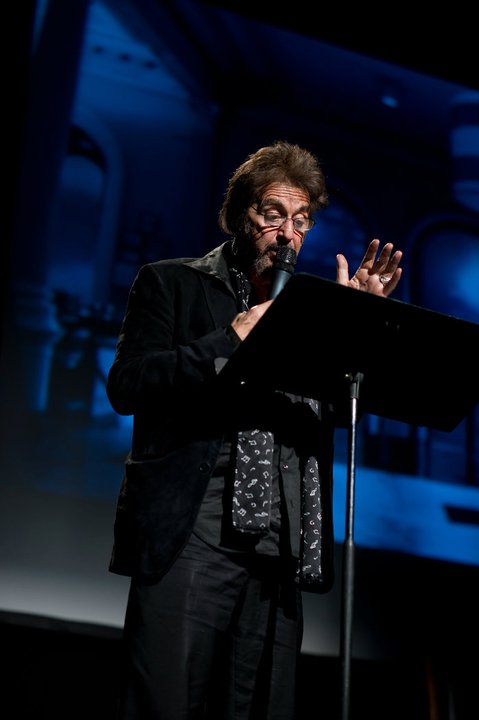 "An actor depends on the adrenalin. Live theatre does something to your biochemistry. What it does to you is physically different than movies where you spend 15 hours a day waiting for them to light your scene."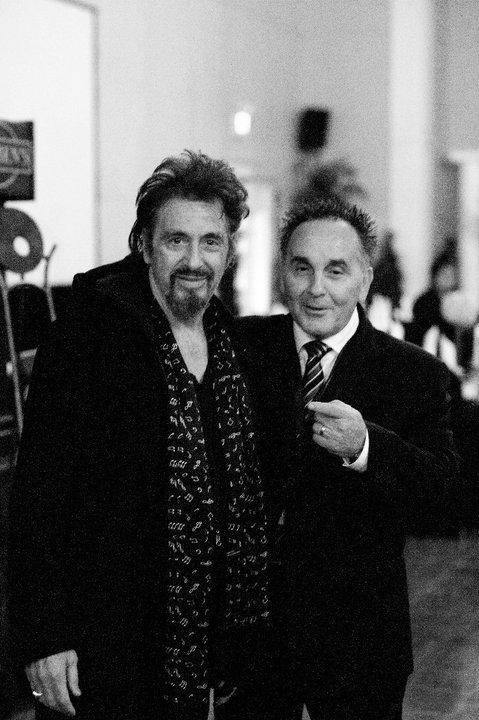 "This is the best night we have ever had at Carmen's," said Peter Mercanti of Carmen's Banquet Centre, host of An Intimate Evening with Al Pacino, a fundraiser for Empower Global and Good Shepherd Centres of Hamilton. "We've had Bill Clinton, Sophia Loren, many others but no one compares to this."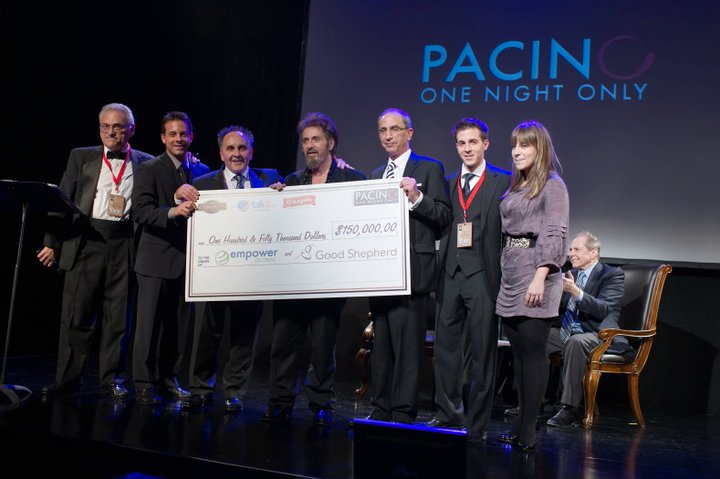 The event was also a fundraiser; The $250-a-plate dinner fundraiser raised over $150,000 for Empower Global and Good Shepherd Centres of Hamilton.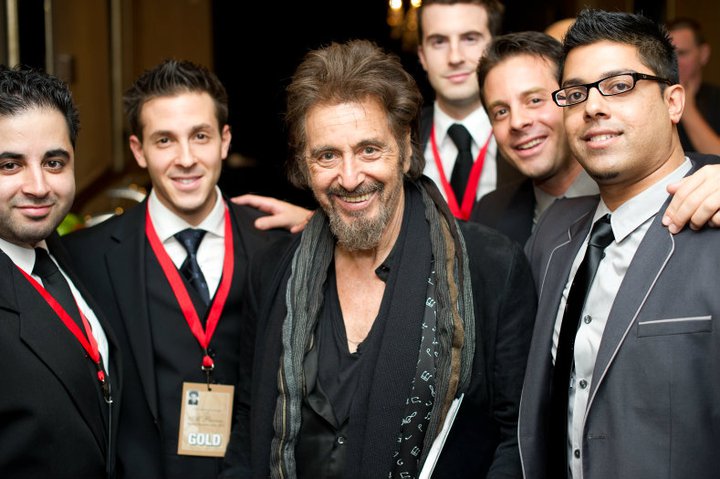 Mercanti family members were still on Cloud 9 Tuesday from the success of the gala. Not only did it see the most money raised at a Carmen's fundraiser, but with 1,100 people attending, it was the second largest gala crowd. The largest, about 1,150, came out in 2001 to see former U.S. president Bill Clinton.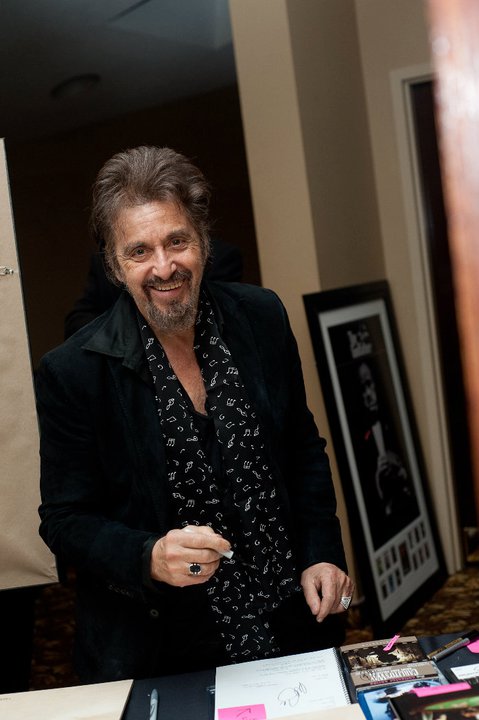 Peter Mercanti and his family, who hosted the 70-year-old actor at a charity fundraiser at their east Mountain banquet centre, are beside themselves that he liked their homemade lasagna so much and actually wanted to take a piece home.
The 10-layer lasagna is from a recipe created by Mercanti's 90-year-old mother.
"He enjoyed the lasagna so much," said Mercanti, who runs Carmen's Banquet Centre with his two sons, PJ and Joey. "He just said, 'Please, can I get a tray of lasagna to take back with me?' So, we did. I'm pretty honoured. New York City has some of the best restaurants in the world and he wanted our lasagna."

Join Pacino Worldwide on Facebook and hear fans' accounts of being at some of these appearances! "Like" us today!!