AL'S UPCOMING FILM AND STAGE EVENTS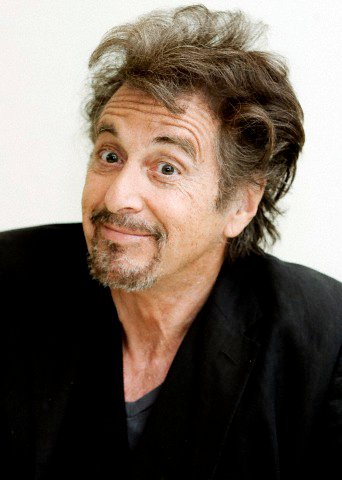 Pacino packs his bags for Fallsview Casino
Legendary actor Al Pacino is coming to the Niagara Fallsview Casino in June.
The Oscar-winning star of classics like The Godfather, Serpico and Scarface will spend two chatty nights with fans June 2 and 3. The interview format will include an interactive Q & A with the audience in the Avalon Ballroom.
Pacino won the 1992 Best Actor Oscar for Scent of a Woman, and appears in this year's police thriller The Son of No One.
"Having Al Pacino in our Avalon Ballroom is a great privilege," says Larry Gregson, the casino's vice-president of marketing. "Our audiences get to see one of the greatest actors in history in our intimate setting and may even get the opportunity to ask him a question."
Tickets start at $90 and go on sale noon Friday at the casino box office and all Ticketmaster outlets.

Virtuoso's Vision: Wilde Salome! In Post-Production!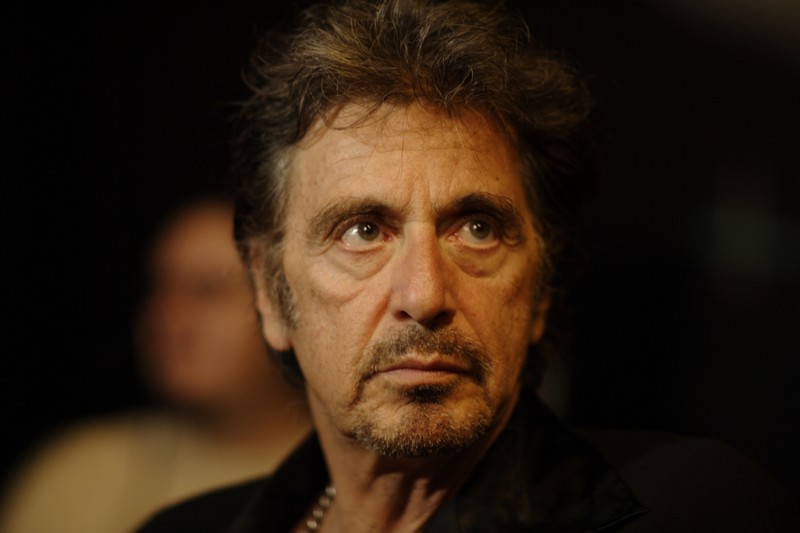 Pacino takes us on a journey as he unravels and re-interprets Oscar Wilde's once banned and most controversial work SALOME, a scintillating tale of lust, greed and one woman's scorn.
Working in the same style as his acclaimed LOOKING FOR RICHARD, Pacino uses an uncanny mix of documentary, fiction and improvisation to get to the root of WILDE SALOME.
From Barry Navidi, the Producer of THE MERCHANT OF VENICE, and Robert Fox, the Producer of THE HOURS, with gorgeous cinematography from Benoit Delomme (THE MERCHANT OF VENICE and THE PROPOSITION) WILDE SALOME promises to be a profound vision of religion, politics, violence and sexuality, from one of the greatest artists of our time.

PlayShakespeare.com Announces Falstaff Awards for 2010
San Francisco, CA (PRWEB) February 17, 2011
PlayShakespeare.com is pleased to announce the nominees and winners for the annual Falstaff Awards for 2010. With PlayShakespeare.com's international reach, reviewers worldwide have come together to honor the best in Shakespeare for the year of 2010. The Falstaff Awards recognize extraordinary achievement in the areas of Best Play, Best Director, Best Performance by a Male or Female Actor, among other performance and technical categories.
This year's winners include Al Pacino for his performance in the Public Theater's production of The Merchant of Venice on Broadway and Ping Ching for his direction of Throne of Blood, a stage adaptation of Akira Kurosawa's Japanese film adaptation of Macbeth. Throne of Blood premiered at the Oregon Shakespeare Festival in 2010 and also garnered awards for Best Scenic Design, Best Lighting Design, and Best Adaptation.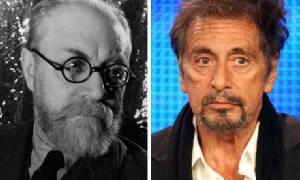 A Pacino Masterpiece? Perhaps!
Academy Award-winning actor Al Pacino will depart Venice for France. Variety reports that the current Merchant of Venice star will take on French artist Henri Matisse in a new independent film.
Deepa Mehta will direct "Masterpiece," which has a script by Donald Martin. The work will explore the modern painter and sculptor's relationship with his nurse and muse, Monique Bourgeois.
No start date has yet been picked for the project, titled Masterpiece, with producers still searching for two female leads. Bourgeois was hired by Matisse in 1941, when the painter was in his 70s. She later became a Dominican nun, and the pair re-encountered each other in Vence, France, where she inspired him to decorate the Chapelle du Rosaire, often known as the Matisse chapel and one of the most important works of art of the 20th century.
Bourgeois, or Sister Jacques-Marie as she was later known, died in 2005. She insisted her relationship with the painter had always been purely platonic. "I never really noticed whether he was in love with me," she told an interviewer in 1992. "I was a little like his granddaughter or his muse, but he was always a perfect gentleman."
*exerpts from Guardian UK and Playbill press release. Feb. 2011

(Al was not on hand to receive the award personally)
See Coverage for ALL the awards won for "Jack" at the Official Pacino Worldwide dedicated Film page. Click Picture below!

Al brings home the Golden Globe for HBO's: "You Don't Know Jack"!
Click on the picture above to see our exclusive coverage on the Globes...with some videos and pictures from the winning night!

A Merchant in LONDON??? Could be!
by the London Evening Standard, dated Dec. 24, 2010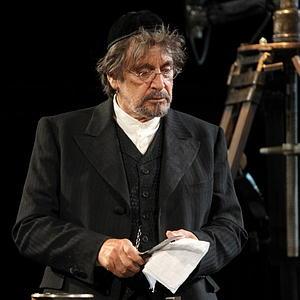 For that to happen Pacino needs to be persuaded of the merits of a London stint and a source at the Public Theater, which is staging the production, said the signs are that he is close to a formal agreement. "It was up in the air for a while whether Al Pacino would agree to transfer but it now seems he wants to do it," he said.
"We're hopeful that following the extension, Al and most of the cast will be in London in the second half of 2011. There's a degree of apprehension how any American production of a Shakespeare play will be greeted in London. But this is a classical production and we think it will work well."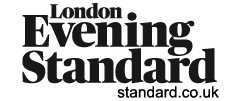 Click the link above for the entire article.

The Merchant of Venice Extends Broadway Run!!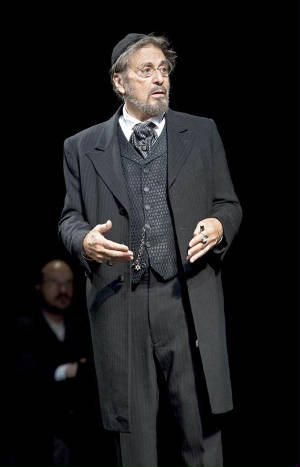 Ready at last!! See our Official Merchant in the Park and on the Stage page! Click on picture above and be sure to let us know how you liked it! Email us with your thoughts! rafowners@pacinoworldwide.com

from the Hufffington Post dated December 15, 2010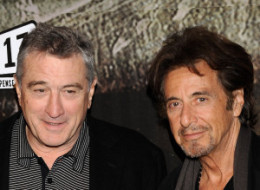 As Scorsese revealed recently, "The Irishman" is still on track, with financing currently coming together with an eye toward starting production next year. Based on the novel "I Heard You Paint Houses," the story follows a World War II vet-turned-mob hitman with rumored ties to the assassinations of President Kennedy and Jimmy Hoffa. In the same conversation, De Niro confirmed that Al Pacino and Joe Pesci will also be taking part in the first film.
"[W]e do have the one that we're definitely doing. Me, Joe Pesci, Pacino and Marty Scorsese directing," he said.

New Film! Pacino Signs "Arbitrage"!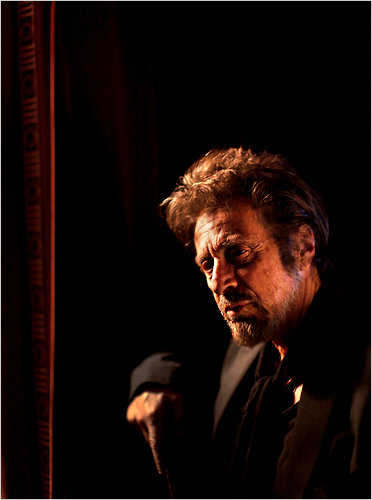 Al Pacino has set financial thriller "Arbitrage" as his next film. He'll star opposite Eva Green and Susan Sarandon. Writer-director Nicholas Jarecki is set to start principal photography in Gotham next spring. Michael Ohoven ("Capote") is producing and financing through his Infinity Media banner. Kevin Turen and Robert Salerno also are producers. Lisa Wilson's Parlay Films, an affiliate of GK Films, is selling international rights and will debut the project at the American Film Market. ICM is repping North American rights.
Laura Bickford ("Traffic") and Brian Young ("The Runaways") are exec producing the pic. "Arbitrage" stars Pacino as a hedge fund magnate who is in over his head and desperate to complete the sale of his trading empire to a major bank before his fraud is revealed. But an unexpected, bloody error forces him to turn to the most unlikely corner for help.
Foreign buyers have shown keen interest in financial dramas in the wake of the economic collapse of late 2008. Myriad Pictures has seen brisk sales for Kevin Spacey-Jeremy Irons-Zachary Quinto topliner "Margin Call," which will also be at AFM.
Source: Variety Online Magazine, author Pamela McClintock, dated 11/2/2010

Pacino to Play Phil Spector in Biopic
*source Rolling Stone.com dated October 12, 2010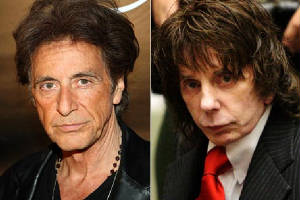 Al Pacino has been cast in the role of legendary producer and convicted murderer Phil Spector for an upcoming HBO Films biopic. David Mamet, who previously worked with Pacino on Glengarry Glen Ross, will write and direct the still-untitled movie, which is still in the early developmental stages, The New York Times, reports. Oscar-winning director Barry Levinson will be executive producer.
Spector is widely regarded as one of the greatest music producers of all time, having created the layered Wall of Sound technique and produced dozens of Sixties classics, ranging from the Ronettes' "Be My Baby" to the Righteous Brothers' "You've Lost That Lovin' Feelin'." Spector also produced the Beatles' Let It Be, John Lennon's Plastic Ono Band and George Harrison's All Things Must Pass before effectively retiring in 1981. Spector's achievements are only outweighed by tales of his infamous ego — he notoriously gave himself credit for songs he didn't write — and his history of gunplay. In 2003, Spector was arrested for shooting and killing an actress named Lara Clarkson in his Los Angeles home. The first trial resulted in a hung trail, but he was later found guilty, and in 2009, sentenced to 19 years in prison.

Another Emmy for Al and for "Jack"! Outstanding Actor in HBO's You Don't Know Jack!

G'day Mate....Your Coffee's Done!
Vittoria Coffee Commercial hits the air in Australia!!

READY NOW!! SON OF NO ONE OFFICIAL MOVIE PAGE WITH TRAILER & SUNDANCE REVIEWS! Click below for link to OUR page!!
***UPDATE***FEBRUARY 2011: Son of No One has recently experienced a showing at the Sundance Film Festival and has just found a buyer. As this film comes out in public showings/theaters we here at Pacino Worldwide will make sure that you are the first to know! Come back soon!!
Filming for "Son of No One" begins in Brooklyn, NY!
*release date as of this printing is sometime in 2011; come back here for more updates as they unfold! 4-27-10

Al Pacino, Barry Levinson and Buck Henry Team Up on a Roth Tale
*from NY Times-Art Beat by Brooks Barnes dated December 14, 2009
Three Hollywood legends — actually four if you count the publicist involved, the venerable Pat Kingsley — are working to bring Philip Roth's most recent novel to the multiplex. Al Pacino has bought the movie rights to "The Humbling," about an aging and irrelevant stage actor who finds hope of renewal through a younger woman. Mr. Pacino, who has never optioned a book before, will play the lead, according to Ms. Kingsley. In the director's chair, she said, will be Barry Levinson, who won an Oscar for "Rain Man" and was nominated for "Bugsy." (More recently, he has been producing television, including the gritty HBO prison series "Oz.") Buck Henry, who just turned 79, is writing the screenplay, Ms. Kingsley said. Among Mr. Henry's writing credits are "The Graduate," the original "Get Smart" television series and to "To Die For," which starred Nicole Kidman.
"The book is perfect for him" — Mr. Pacino — "because he has a love of the stage and, although he has never personally experienced these feelings, he understands them," Ms. Kingsley said. No studio is involved yet. Although "The Humbling" received mixed critical notices, Mr. Roth has won pretty much every writing honor available (except the Nobel Prize), including the National Book Award — twice — and a Pulitzer Prize.

For more pics...click on picture below to go to Pacino Worldwide's Film Gallery page on this and other films!

UPDATE: FEBRUARY 2011**King Lear has been openly discussed by Al himself at his various "One Night Only" venue appearances; however nothing new has been released publicly on this project. As information presents itsself to Pacino Worldwide,
we will be certain to announce here first. Remember to check us out on Facebook too!
"King" Pacino to play King Lear!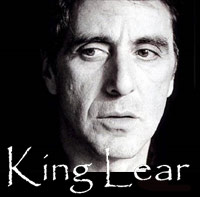 By Variety article dated 2/4/09
Al Pacino and Michael Radford, who previously collaborated on a film version of Bill Shakespeare's "Merchant of Venice", are teaming for a celluloid take on the Bard's "King Lear".
While Pacino has played many Shakespearean characters, he has never played King Lear, the aging monarch who selects his successor by parsing his kingdom in three parts, ruled by his trio of daughters. Two of them are scheming connivers who flatter their father, while the one loving daughter, Cordelia, refuses to play that game and is exiled. The king ultimately loses everything.
"King Lear" has been filmed several times with Laurence Olivier, Orson Welles and Paul Scofield among those in the title role, says Variety.
Radford will shoot the picture entirely in Europe, starting later this year. Pic is being financed out of the U.K. and Northern Ireland.
"Al has been offered this role many times over the years, but didn't feel ready," Navidi said. "He's ready now. The film will be true to its period, very similar to the classical look of 'Merchant of Venice.' Michael came up with the most brilliant adaptation and Al and I flipped for it."

Pacino collection comes out of the vault! Now available in stores worldwide!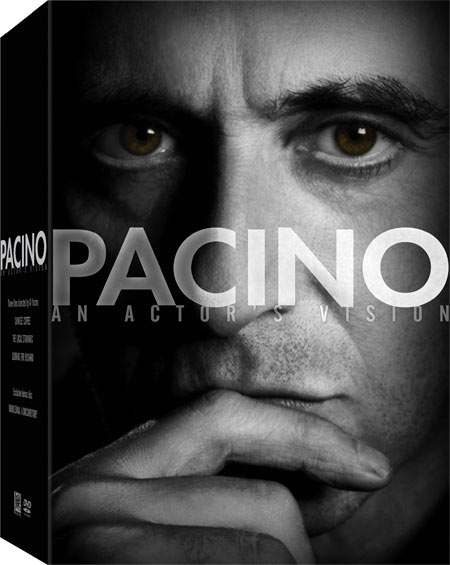 ....and speaking of Al Pacino....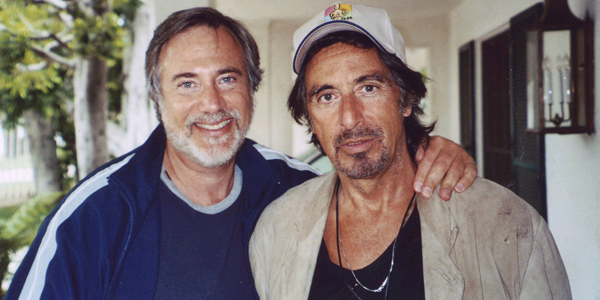 AL PACINO: In Conversation with Lawrence Grobel
FOREWORD
I met Larry Grobel in 1979. He came to interview me. I was of course mistrustful of him since he was a journalist interviewing me and at that time, I had never done an interview. I have since come to know him very well. We've shared many things over this period: successes, failures, encounters with situations both wonderful and unthinkable. Our friendship has survived it all. And, for that I am very grateful.
I had not yet said yes to our first interview but when I read his interview with Marlon Brando on Brando's island in Tahiti I was impressed. Knowing Marlon as I did, if he liked Larry, if he could speak to him so openly, I felt that I could. Larry walked into my apartment which was in shambles. I offered him my half eaten doughnut. He enjoyed it. We sat down to talk. And what was remarkable about Larry is, at the end of the interview I knew more about him than he did of me. I have learned to appreciate his manner, his style over the years. Some of which is shocking. But, you accept it because it's Larry. He persists but never with guile. He has a genuine interest in people which is why he's such a good writer. He has taken an interest in me for some reason.
Still, I'm trying to figure out why it's so easy to talk to him, to confide in him. That's his talent, I guess.
Larry and I know each other very well (as well as anyone knows anybody). We have forgiven each other many times. I have forgiven him for writing this book. I hope he forgives me for writing this foreword.
--Al Pacino
See this & more titles from Lawrence Grobel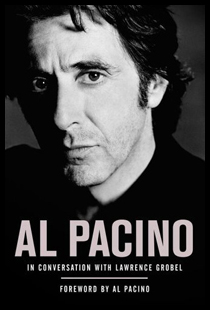 www.lawrencegrobel.com
***Al Pacino is an intensely personal window into the life of an artist concerned more with the process of his art than with the fruits of his labor, a creative genius at the peak of his artistic powers who, after all these years, still longs to grow and learn more about his craft. And, for now, it's as close to a memoir as we're likely to get.
Product Details
Simon Spotlight Entertainment, Available date: September 2006
Hardcover, 288 pages
ISBN-10: 1-4169-1211-8
ISBN-13: 978-1-4169-1211-8
_______________________________________________________________