The Oxford Prize Award
Al Pacino

Receives the First-Ever

Oxford Prize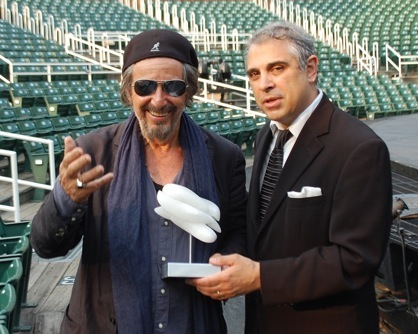 OSC director Ron Song Destro presents veteran actor Al Pacino with the first-ever Oxford Prize, an award given by the Oxford Shakespeare Company in honor of the actor's outstanding artistic achievements in bringing Shakespeare to the public. The award was given to Mr. Pacino on July 23, on the set where he is performing Shylock in Shakespeare in the Park's production of The Merchant of Venice.

Mr. Pacino said he was very thrilled to receive this award, especially in the house that Joe Papp built.

The Oxford Prize consists of an original sculpture created by New York City artist Joe Sorge, and a one-year scholarship named in honor of the award recipient given to a promising actor to the OSC school, allowing him/her at no cost to attend classes and performance workshops.
The recipient of the Al Pacino Scholarship is New York actor Frank Franconeri, who recently performed in the OSC production of As You Like It in the OSC's Tribeca theatre, as well as in Hyde Park, London.