AFI Lifetime Achievement Award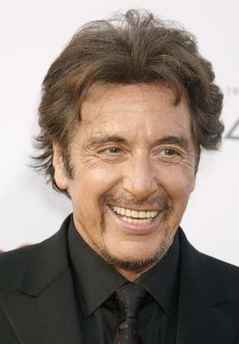 About the AFI Life Achievement Award
The highest honor given for a career in film, the AFI Life Achievement Award was established by the AFI Board of Trustees on February 26, 1973. It is presented to a single honoree each year based on the following criteria as mandated through a resolution passed by the AFI Board of Trustees:

"The recipient should be one whose talent has in a fundamental way advanced the film art; whose accomplishment has been acknowledged by scholars, critics, professional peers and the general public; and whose work has stood the test of time."

In 1993, the trustees extended the criteria to encompass "individuals with active careers and work of significance yet to be accomplished."

(see photos and read an account of the evening's event at the bottom of this page.)
AFI honoree arrives with desire intact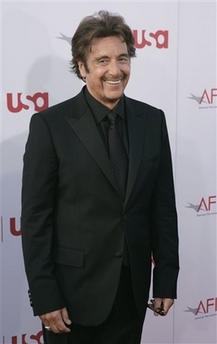 By DAVID S. COHEN
He half slides, half crawls into his booth, weary but cheerful, his ribbed black shirt and nutmeg silk scarf under a dark dinner jacket an artful balance of bohemian dishevelment and movie-star chic.
He'd been lurking at a more discreet table in the Polo Lounge patio, huddling with the producers of "Salomaybe?," the film he's been editing for months.
Now Al Pacino is out in the open.
"It's very complex," he says, "and I've been working on it for a year. Sometimes, you get sort of blocked."
"Salomaybe?," he explains, is in the vein of "Looking for Richard," a look at his exploration of Oscar Wilde's play "Salome." It's been edit some, shoot some, edit some more for a long time. "That's what I do on Saturdays," he says.
He's written the film and is acting in it as well as directing, so there's no one to fall back on. Another star might have written with a partner. Not Pacino.
"When you really don't know what you're doing, it's hard to work with someone," he says with a laugh. "It's great fun. But I just wish I had more talent."
It's a rather self-effacing admission from somebody who's about to receive one of filmdom's highest honors, the AFI Life Achievement Award, placing him among such contemporaries as Jack Nicholson and Dustin Hoffman.
He's quick to add, though, that there's nothing new about feeling like a beginner, even when he's acting. Maybe especially when he's acting.
"I don't really know anything about anything," he says. "And I don't know what to do. Absolutely, the canvas is empty."
Pacino likes art metaphors and often alludes to painters and painting: Picasso and Modigliani, Van Gogh (his favorite) and Pollock.
"I will just sit here and stare at the canvas," he says. "It's nice when you have a model, you know? Then you say, 'Well, I'll paint the tree.' Give it your interpretation, your vision of it. But, when you don't have a tree, you just have that empty canvas, you wait. It's what Picasso used to do. He used to sit at an empty canvas, sometimes 12 hours straight, just stare at it. I love that idea, that image."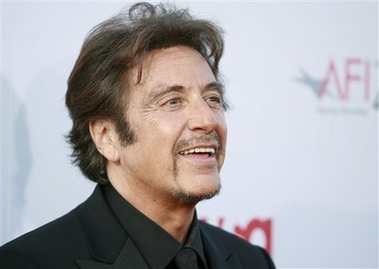 Given his love of the stage and his passion for the classics, one might assume the Gotham native was raised on a diet of Golden Age Broadway. In fact, this product of "a broken home" in the South Bronx says his earliest memories of performing involved imitating his mother's Al Jolson records. "I would mimic him and do the whole show."
Later, his mother, a single working mom, would bring him along when she sought escape at a picture show. Then, too, he would come home and play all the parts. "I would do it with every movie I saw," he says. "Now, when I'm not working, I still do it."
Pacino says he started doing standup, and insists he's been trying to get back to comedy ever since. "It didn't last long," he says, "but I enjoyed it." That sensibility helped lure him to join the "Ocean's Thirteen" gang.
"It's an entertainment," says the star of such classics as "The Godfather" movies, "Dog Day Afternoon" and "Serpico." "I've not usually been in a movie like this. That was what was so interesting to me, and exciting. And (director) Stephen Soderbergh is just fun to be around because he's so easy and he's so in control of the whole thing. You feel so supported, taken care of."
Along with the early comedy experiments came years of cafe theater from the mid-'50s into the early '60s, the birth of Off Off Broadway. Today his experimental films carry echoes of those years.
"It was a very fertile period to be an actor in New York City, in the Village, because you could actually live and be an actor," he recalls. "We would do 16 shows a week in the cafes, and you'd pass the hat around after each show, and that's how we ate. I was a part of a traveling troupe when I was 16.
"It was a livelihood literally. But without any idea that it was going to be successful or not successful. It was about a way of life. It was a way of life that gets a little obscured as you become more well known."
He's made his peace with fame, though. When fans come by his booth at the Polo Lounge to pay their respects -- "You're the best I've ever watched, and I'm sure you're a great man, too," says one -- he is gracious and patient.
He seems to mostly enjoy these fan encounters for the moments of humor they can provide. "I had a guy once say to me on the street, 'Are you Al Pacino?'" he says. "And I turned around and I said, 'Yeah.' He said, 'Congratulations. You look like you oughta.' "
Despite a reputation for being press shy and remote, Pacino will remind you how accessible he's been recently, including an October appearance on "Inside the Actors Studio" and as the subject of a series of conversations with author Lawrence Grobel that was published in book form last year.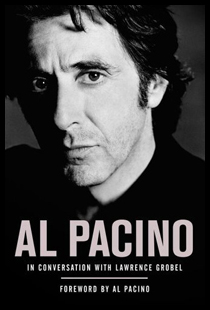 More book info --click here.
While he seems comfortable in the role of movie star, his personal films seem to be his way of trying to carry his passion for stage acting, especially in its most stripped-down form, over to the bigscreen. Without that, it seems, moviemaking doesn't necessarily excite him.
"Movies are a bit ephemeral to me," he admits. "They have to do so much with commerce and all the stuff that goes into that. They're very complicated and momentous to mount."
He doesn't go out of his way to complain about the scripts he's sent, but he clearly has to go out of his way to find roles that engage him.
"I can almost state this is a fact," he says. "The worse the script is, the more money you're offered. Show me a bad script, and I will show you a big payday. Conversely, show me a really great script and forget it. You're lucky if you don't have to pay for it."
Combine that with his I-don't-know-anything philosophy, and Pacino can be downright baffled by some of what he reads.
"My agent was talking to me about a part the other day, and I said, 'Well, would you do it?' He said, 'Excuse me? I said, 'Would you play the part?' He said, 'Well, no, I'm not an actor.' Well, I said, 'Well, neither am I!'"
He is philosophical, though, about the need to keep working.
"There's the two kinds of lives you have," he explains: "The one is where you're working because it's good to work. You like working, it's a way of life, you'll meet people and learn things. And the other one is where you feel this need to do this thing because it's something you want to express.
"And then, sometimes, you do nothing, right? And that's very good sometimes. I mean, I went four years without working. So, I know what it's like to do it and not to."
That period, between the misguided period epic "Revolution" (1985) and "Sea of Love" (1989), is often referred to as Pacino's lost years. In the wake of "Bobby Deerfield" (1977), "Cruising" (1980) and "Scarface" (1983) -- Pacino had seemingly gone from invincible to vulnerable, and the controversy the latter two films generated only added fuel to his detractors.
While it appeared that he had gone into hiding, he had in fact shifted his priorities from acting in studio projects to small theater workshops, and tinkering with small, self-produced films like "The Local Stigmatic," which has never been released theatrically but is part of a boxed set titled "Pacino: An Actor's Vision" (which also includes his two directorial efforts, "Chinese Coffee" and "Looking for Richard").
For Pacino, it has always taken the right part, and sometimes the right pitch from a director who really wants him, to get his juices flowing, whether it's Francis Ford Coppola convincing him he could play Michael Corleone or Steven Soderbergh enticing him into "Ocean's Thirteen."
"Steven wanted me. That's who he saw," he says, "and that's always good. I like that. Warren Beatty saw me in 'Dick Tracy.' He had asked me who I thought would be right for this role. And I went on with all these people. We met and we talked. And all along, he wanted me. But, finally, one day, I said, 'Warren, do you want me in this part?' And he had that smile, and I knew.
"You know, you say you don't want to do anything, and then all of a sudden a part comes along, and you look at the mechanics of it, you look at the craft of it, you look at what you do every day with it, and there's a certain appetite."
That appetite seems to have seized him again with "Righteous Kills," an indie pic in which he'll reunite with longtime pal and "Heat" co-star Robert De Niro. The two will play cops pursuing a serial killer. Jon Avnet directs from a script by "Inside Man" scribe Russell Gewirtz.
"I'm starting to think as I get older the desire is almost probably more important than talent," he says. "I've seen it, where people have this real need to do something, and then they do a thing. Maybe they're not as gifted as somebody else who's sort of blase about stuff, but they have this need. And they get it done."
Does he still have that?
"Yeah. I still have desire, I think," he laughs. "Last time I checked."
Date in print: Thurs., Jun. 7, 2007, Los Angeles-Variety Magazine
The Lifetime Achievement of an Artist
Pacino recognized with AFI honor
By Sandy Cohen, AP Entertainment Writer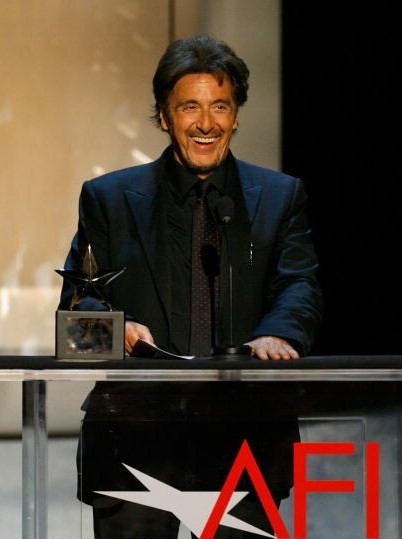 Al Pacino made grand speeches on screen as Michael Corleone and Tony Montana. But when the actor was honored with the American Film Institute's Life Achievement Award, he was practically speechless.
"I need a character," the 67-year-old actor said, overwhelmed with emotion. "I don't think of myself as being able to do anything."
Pacino didn't have to say much, though. A host of Hollywood heavyweights — including Oliver Stone, Kirk Douglas, Andy Garcia and Robin Williams — did most of the talking when Pacino was presented his award Thursday at the Kodak Theatre.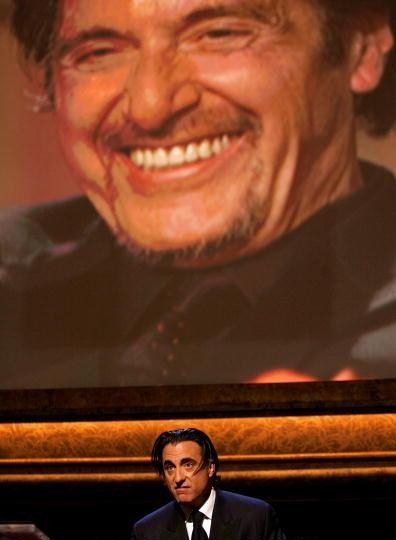 "The depth of your artistry is only more overwhelmed by the generosity of your spirit and your warmth," said Garcia, who worked with Pacino on "The Godfather: Part III." "You're Van Gogh. You're Modigliani. That's who you are."
The three-hour dinner program, set to air June 19 on the USA network, featured clips from Pacino's most famous films, including "The Godfather," "Scarface," "Dog Day Afternoon," "Serpico" and "Scent of a Woman."
"Seeing my life in the movies, I have one question," Pacino said. "And that is: Why aren't I in rehab?"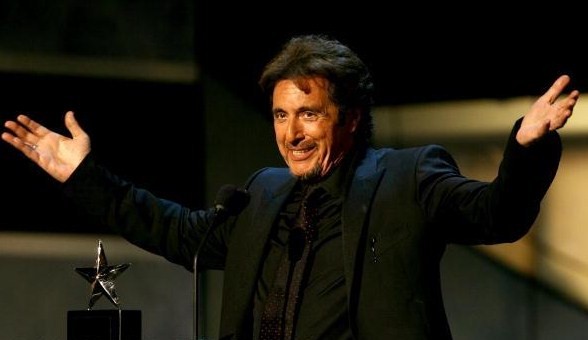 Growing up in New York, Pacino discovered acting at an early age.
"By age 3, I was doing Al Jolson," he said. "I found, in the theater, this place I could go to. I found this peace."
The two-time Tony Award winner has been nominated for eight Academy Awards. He won in 1992 for his role as Lt. Col. Frank Slade in "Scent of a Woman."
He was honored with a Lifetime Achievement Award in 1996 by the Independent Feature Project. The Hollywood Foreign Press presented Pacino with its Cecil B. De Mille Award at the Golden Globes ceremony in 2001.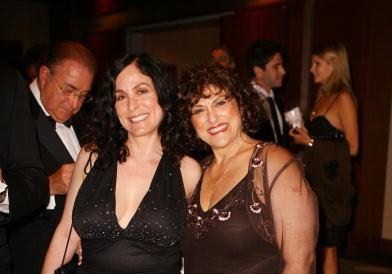 Pacino's sister, Roberta, said her brother always loved performing. She was on hand Thursday to celebrate his career, which has spanned nearly four decades.
"He's one of the greatest artists who ever lived, according to me," she said.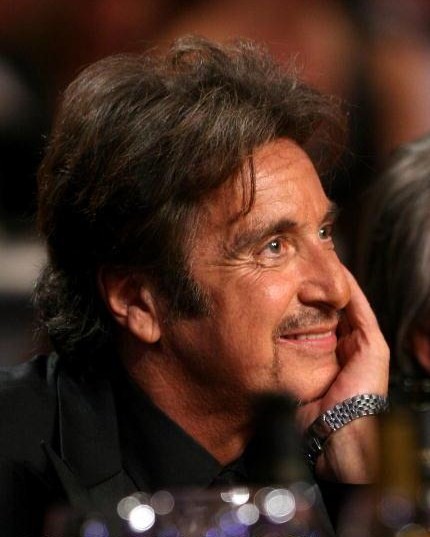 Oscar-winner Jamie Foxx, who worked with Pacino on "Any Given Sunday," called him "the greatest actor in the world."
Stone, who wrote 1983's "Scarface," lauded the actor's "wicked sense of humor" and "great, if misunderstood, heart."
"It is with great love and respect that I say goodnight to the bad guy," he said, recalling one of Pacino's famous "Scarface" lines.
The program also included tributes to Jack Valenti, who died April 26, and AFI chief executive Jean Picker Firstenberg, who is set to retire this year.
Pacino is the 35th recipient of the AFI Life Achievement Award. Past honorees include Sean Connery, Martin Scorsese, Steven Spielberg, Elizabeth Taylor, Alfred Hitchcock, Bette Davis and Jack Nicholson.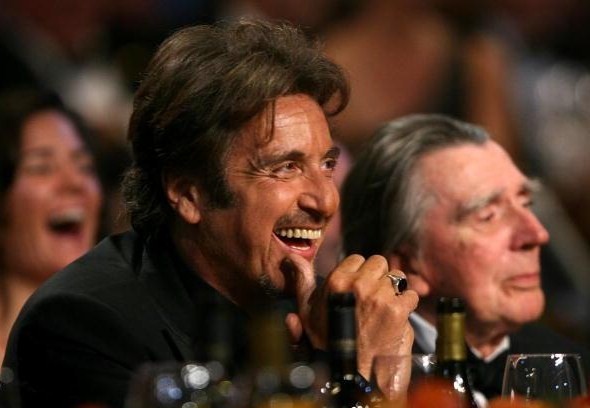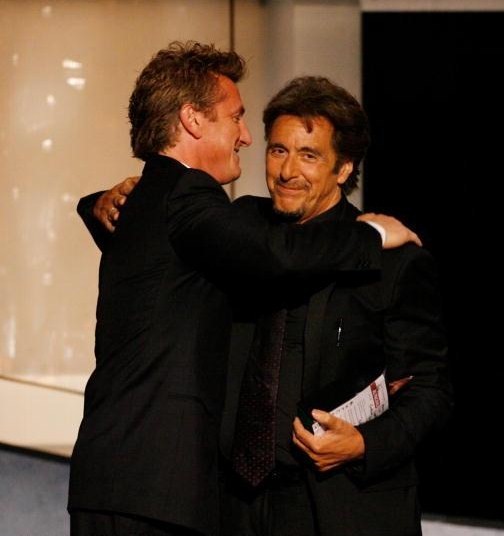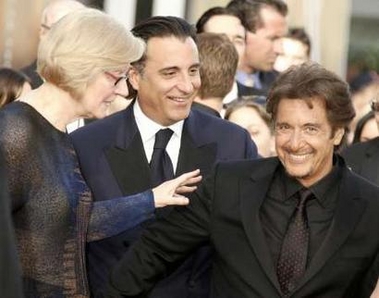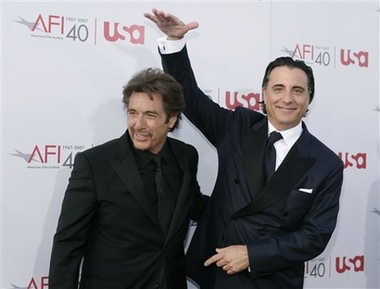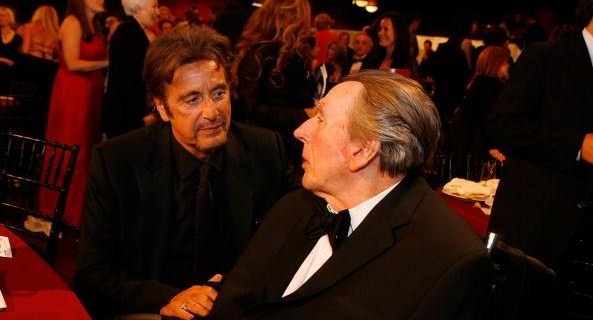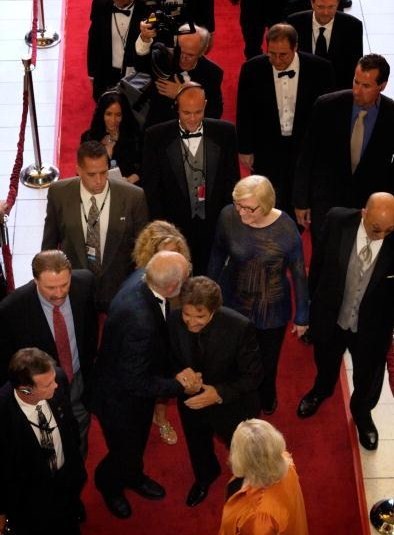 AFI Life Achievement Award Recipients
Al Pacino joins an esteemed group of individuals who have been chosen for this distinguished honor since its inception in 1973.
To see a complete list of the past recipients and coverage of past award programs click on the program left to visit the American Film Institute's exclusive site.