Note: It was a dream job, but somebody had to do it: Trinity student ANNA STEIN documents her time chaperoning Hollywood legend Al Pacino around Dublin during his visit here last week....
You know you're dealing with a big star when the immigration officials at the airport tell you that they've come to ask for an autograph. One of them informed me while we were waiting for Al to arrive that they usually just swipe the landing cards that must be filled out, but for someone as important as Al , it just had to be a proper autograph.

I was standing on the tarmac in Dublin Airport , waiting to welcome one of the world's greatest movie legends on behalf of Trinity College Philosophical Society, and feeling unsure as to how I was going to survive the next few days. Visions of The Devil Wears Prada were running through my mind, and I was coming to realise that I had no idea what the job of assistant entailed. However, before I knew it, there was no more time to ponder my predicament. Al arrived, immigration got their autographs, then we were all sweeping towards Dublin in a huge black limo.

I soon began to realise that my preconceptions about movie stars would not apply to Al . Anyone who offers without a second thought to go and buy coffee for everyone will not be demanding bowls of just the blue M&Ms. Despite his offer, I got the coffee, picturing riots in the Starbucks on Dame Street if Al did actually get them - but the point was, he offered.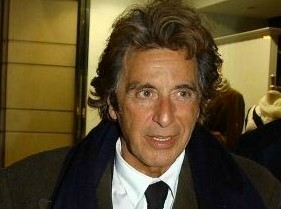 In the weeks before his arrival a truly comprehensive itinerary had been drawn up detailing every five minutes of Al 's stay in Dublin . Needless to say, five minutes after his (delayed) arrival, it wasn't worth the paper it was written on, and as assistant, it was this that gave me the most trouble. Constantly calling people to inform them that Mr. Pacino would be between half hour to an hour later than he already was became wearing. Fortunately, for someone like Al , people make allowances.

Trinity College played host to Al twice, although very few people realised it. On the first day he paid a visit to the house where Oscar Wilde was born, and then moved on to the Old Library. Unfortunately, the Book of Kells was not on display at the time, and the visit to the Long Room was interrupted by the intervention of the fire alarm. Despite these minor hiccups, the visit passed off without a hitch, and Al declared himself impressed with Trinity's hallowed environs.

Dinner that night presented a problem. Just what is a girl to wear when taking a Hollywood star out for a meal? Fortunately, when you're out with Al , no one is looking at you! Chapter One took excellent care of us. The food was wonderful, the conversation interesting, and it was becoming more and more difficult to remember that the man sitting opposite was Al Pacino, the Godfather, and not just a laid-back bloke called Al .

The next day there was more filming to be done in Merrion Square by the statue of Oscar Wilde, and it was decided that in order to keep away the crowds that would no doubt gather, a garda presence would be required. I'm not sure what the response would be if on any other occasion I marched into a garda station and demanded I be allocated a few gardai to wait at my convenience; I suspect they would think I was mad. However, armed with the name of Al Pacino, they were only too pleased to help. It was gratifying to see the long arm of the law bending far enough to request some photos from the great man himself once we arrived.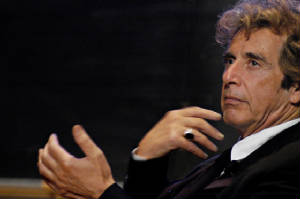 That evening, we returned to Trinity for dinner with the Provost followed by the award ceremony, and needless to say, things did not run smoothly. Having had it impressed upon me that it was of the utmost importance not to be late, we managed to get out of the hotel in good time, although I hadn't accounted for the Dublin traffic.

Al though the hotel was only a five minute walk from the Provost's House, it took us 15 minutes in the car, as the rain and rush-hour conspired to make us late despite our best intentions. The guests were already assembled when we arrived, but as I had already learnt, everyone waits for Al .

The presentation of the University Philosophical Society's Honorary Patronage went extremely well, and Al meant what he said about feeling welcome in Dublin ; it was something that he mentioned many times during his visit. After the presentation, I very nearly succeeded in getting myself sacked, as in my rush to keep Al dry, I gouged him in the eye with my umbrella. Fortunately, there was no lasting damage, and apart from establishing a running joke about my lethal umbrella wielding, the incident passed.

On the last day we went to the Gate Theatre, where Al wanted to film because it was there that the first English language production of Salome was performed. To have the opportunity to stand in an empty theatre and watch Al Pacino on stage is something that I will never forget, and for which I am extremely grateful.

The last few days have undoubtedly been an amazing experience, and I feel very privileged to have been in a position to be able to spend time with one of the best actors of our era. I do have some concerns, though, that after spending a few days living a superstar's life, the life of the student is going to seem terribly unglamorous by comparison. I did ask Al to pass my name on to any of his friends who plan to visit Dublin , so perhaps it won't be long until I'm living the high-life again.