Accepting Honorary Patronage Award of Trinity
University's Philosophical Society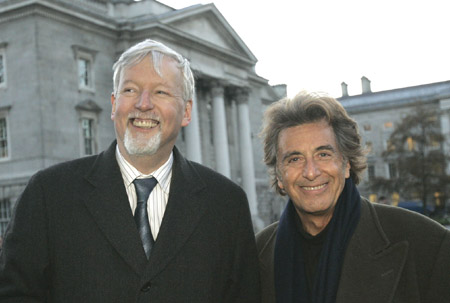 DISHEVELLED hair, a scruffy overcoat and a sensible navy scarf.

Al Pacino could have been mistaken for a middle-aged professor during his first visit to Dublin.

The hardest of Hollywood's hardmen looked every bit the mature academic as he took a tour of Trinity College with a team of philosophical experts.

But the Oscar-winning actor still stood out.

Students stopped dead in their tracks when they saw the familiar, expressive hand gestures and facial acrobatics. Heads turned in amazement as he negotiated the uneven cobbles of Trinity College in the cold campus air.

As he made his way from the Long Room to the Book of Kells with a learned entourage, he stopped to chat and pose for photographs. "I'm ashamed to admit it's my first time in Ireland," he said. "I'd really love to put on the Salome play here."

And that Salome play is the main reason he is here - the star of 'Scarface', 'Heat' and the Godfather movies has developed a passion for Oscar Wilde.

He has appeared as King Herod in Wilde's 'Salome' on Broadway and now plans to shoot part of a documentary about the Irish writer's work in Dublin.

'Salomaybe?' will be based on Pacino's quest to find out more about Wilde and his influences when he wrote the play. It will mirror the format of Pacino's documentary 'Looking for Richard', which was shot 10 years ago and concerned his approach to the title role in Shakespeare's 'Richard III'.

Yesterday, Pacino returned to Wilde's alma mater after flying from Paris, where the Irish playwright, novelist poet and wit spent his final days.

"He asked loads of questions about Wilde and was very keen to see Wilde's old rooms and birthplace," said the university's Philosophical Society president Daire Hickey. "He also asked for the Irish Independent's recent edition of JP Donleavy's 'The Ginger Man' because he said he knows Donleavy.

Tonight Pacino will receive an honorary patronage from the Philosophical Society, whose canny members have yet again outdone the most sophisticated public relations agents in luring yet another A-lister to the city. But it is unlikely that the notoriously shy New Yorker is merely interested in topping up an already monumental stash of accolades. The star of 'Scarface' and the 'Godfather' movies, and probably the most ruthless mobster in cinematic history, is fascinated by Dublin intellectual Wilde.

He was rapt as he listened to literary expert Professor Nicholas Grene describe Wilde's student days.

He looked as happy as he did on Oscar night 1992 when he was brought to Wilde's former lodgings in the residential square of Botany Bay on the northern edge of the campus.


Want more info on Salome?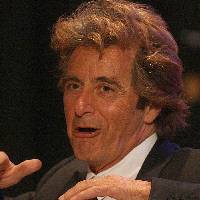 Visit Pacino Worldwide Main Site
Anne-Marie Walsh
http://www.unison.ie/
Wednesday November 22nd 2006