AL'S UPCOMING FILM AND STAGE EVENTS
AL PACINO TO RECEIVE AFI LIFETIME HONOR
"Al Pacino can add another acting accolade to his collection. The 66-year-old actor will receive the American Film Institute's highest honor, the AFI Lifetime Achievement Award, it was announced Friday.
Sir Howard Stringer, chairman of the AFI board of trustees, called Pacino 'an icon of American film.'
'His career inspires audiences and artists alike,' Stringer said.
The 35th AFI Lifetime Achievement Award will be presented to Pacino at a tribute dinner in Los Angeles on June 7, 2007...."
Source: washingtonpost.com 10/21/06
....and speaking of Al Pacino....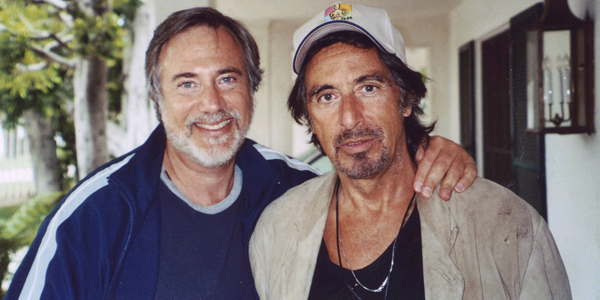 Excerpts from AL PACINO: In Conversation with Lawrence Grobel
FOREWORD
I met Larry Grobel in 1979. He came to interview me. I was of course mistrustful of him since he was a journalist interviewing me and at that time, I had never done an interview. I have since come to know him very well. We've shared many things over this period: successes, failures, encounters with situations both wonderful and unthinkable. Our friendship has survived it all. And, for that I am very grateful.
I had not yet said yes to our first interview but when I read his interview with Marlon Brando on Brando's island in Tahiti I was impressed. Knowing Marlon as I did, if he liked Larry, if he could speak to him so openly, I felt that I could. Larry walked into my apartment which was in shambles. I offered him my half eaten doughnut. He enjoyed it. We sat down to talk. And what was remarkable about Larry is, at the end of the interview I knew more about him than he did of me. I have learned to appreciate his manner, his style over the years. Some of which is shocking. But, you accept it because it's Larry. He persists but never with guile. He has a genuine interest in people which is why he's such a good writer. He has taken an interest in me for some reason.
Still, I'm trying to figure out why it's so easy to talk to him, to confide in him. That's his talent, I guess.
Larry and I know each other very well (as well as anyone knows anybody). We have forgiven each other many times. I have forgiven him for writing this book. I hope he forgives me for writing this foreword.
--Al Pacino
***Al Pacino is an intensely personal window into the life of an artist concerned more with the process of his art than with the fruits of his labor, a creative genius at the peak of his artistic powers who, after all these years, still longs to grow and learn more about his craft. And, for now, it's as close to a memoir as we're likely to get.
Product Details
Simon Spotlight Entertainment, Available date: September 2006
Hardcover, 288 pages
ISBN-10: 1-4169-1211-8
ISBN-13: 978-1-4169-1211-8

__________________________________________________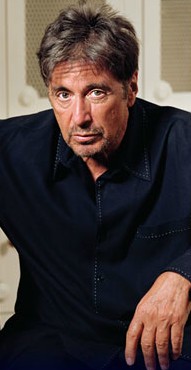 Al AND NICOLE KIDMAN TOGETHER IN "WITNESS FOR THE PROSECUTION"
"In December of 2004, the Hollywood Reporter revealed that Al Pacino would likely star in a remake of the classic Witness for the Prosecution. Now, 'Italian Daydreamer' tells us that Michael Radford will direct and that Nicole Kidman may join Pacino:
Italian Newspaper "II Giorno" told yesterday (July 12, 2006), that director, Michael Radford, while opening Italian "Global Film & Music Fest" in Ischia with the first screening of his film "Flawless" starring Demi Moore revealed also his next movie: the remake of Billy Wilder's 1957 masterpiece "Witness for the Prosecution" starring Marlene Dietrich, with the new involvement of Nicole Kidman and Al Pacino in the starring roles.
The film is based on the Agatha Christie play, which was filmed in 1957 with Billy Wilder at the helm and Charles Laughton as the lead attorney in a case in which a wife appears as a witness for the prosecution against her husband."
Source:ComingSoon.net
AL PACINO JOINS OCEAN'S 13 GANG
Al Pacino will star in director Steven Soderbergh's Ocean's 13, targeted for a June 8, 2007 release, reports Variety.
Pacino joins the cast -- headed by George Clooney, Brad Pitt, Matt Damon, Andy Garcia, Don Cheadle and Bernie Mac -- and their franchise's new leading lady, Ellen Barkin.
Jerry Weintraub is producing the film, which has a July 21 start date. Shooting is scheduled to take place in Las Vegas and Los Angeles.
Rounders screenwriters Brian Koppelman and David Levien wrote the script.
Details of the plot are being kept under wraps, but Warner Bros. revealed that Pacino will be playing Willie Banks, the owner of a high-profile casino and hotel in Las Vegas.
Source: Variety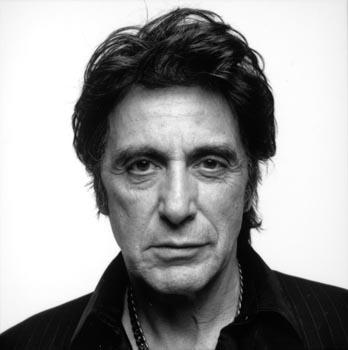 AL PACINO TAKES ON SALOMAYBE?
"Al Pacino is set to direct and star in Salomaybe? -- a feature film in the vein of his 1996 documentary Looking for Richard, says Variety.
The film will interweave behind-the-scenes footage from a current Los Angeles staging of Oscar Wilde's "Salome" with fictional elements.
Pacino plays King Herod in the biblically inspired tragi-comedy about lust and betrayal, which bowed last week at L.A.'s Wadsworth Theater. The production previously played Broadway.
Barry Navidi, a producer on Pacino starrer The Merchant of Venice, produces Salomaybe? along with the play's producer, Robert Fox.
Arclight Films will handle international sales and introduce the movie to buyers at the upcoming Cannes film market.
Others involved in the play will feature in the pic as well. Among the cast of characters are Kevin Anderson, who plays John the Baptist; rising actress and Juilliard grad Jessica Chastain, who takes on Salome; and the play's director, Estelle Parsons.
Navidi said the film would be completed this year."
Al Pacino: An Actor's Vision
BOXED SET DVD AVAILABLE ON 10/17/06!
Fox Home Entertainment has announced the Region 1 DVD release of "Al Pacino: An Actor's Vision." Included in this collector's box set are three films directed by Pacino, "The Local Stigmatic", "Chinese Coffee" and "Looking for Richard," plus a bonus disc which contains a documentary entitled "Babbelonia".

All films are presented in widescreen and come with commentaries by Al Pacino, a prologue, epilogue and theatrical trailer. The bonus disc also offers an undisclosed trailer for "Looking For Richard".

On the same day Fox will also release another two Al Pacino titles: "Author! Author!" and "Panic in Needle Park" priced at $14.98 each. Aside from some trailers these are barebones releases presenting the films in anamorphic widescreen with English Stereo audio, English, French and Mono audio options on "Author! Author!" and French Mono on "Panic in Needle Park." Optional English and Spanish subtitles will also be included while "Panic in Needle Park" will also offer a Pan & Scan transfer on the reverse side of the disc.

PACINO PREMIERES THE NEW SEASON OF "INSIDE THE ACTOR'S STUDIO" ON MONDAY, OCTOBER 2ND!
Bravo television will premiere it's 12th season of "Inside the Actor's Studio" hosted by James Lipton, with an intimate interview of Al Pacino on Monday, October 2nd at 7p.m. The program will be rebroadcast on Tuesday, October 3rd at 2a.m and 9a.m.
Please check your local listings for details and click the link below to go to Bravotv.com to view a segment of Al's interview!
For more information visit www.bravotv.com

Al Pacino and Charlize Theron to reunite.
"The Sign" we've been waiting for!
AL PACINO and CHARLIZE THERON are set to reunite on the big screen in a bid to save the world.

The Oscar-winners, who first teamed up in 1997's THE DEVIL'S ADVOCATE, will head an all-star cast in THE SIGN.

BEN KINGSLEY, KRIS KRISTOFFERSON, MICHAEL KEATON and HARRY CONNICK JR are also in negotiations to appear in the apocalyptic thriller.

According to the Fathom website, the film follows the efforts of a young couple trying to infiltrate the ranks of a cult to rescue a kidnapped Jewish professor and prevent religious zealots from ending the world.

The South African actress first shared the screen in 1997's The Devil's Advocate----for information, review and pics on this film see Pacino Worldwide's own Devil's Advocate page at the link below.

Filming to begin on Avnet's thriller, "88 Minutes"
**Source: The Hollywood Reporter, released October 10, 2005
Alicia Witt, Leelee Sobieski and Neal McDonough have signed on to star opposite Al Pacino in Jon Avnet's crime drama "88 Minutes," which begins principal photography Saturday (October 15, 2005) in Vancouver.

Witt will play a teaching assistant and the romantic interest to Pacino's character, a college professor who moonlights as an FBI forensic psychologist. Sobieski will play one of Pacino's students, and McDonough
will play a death row inmate whom Pacino's character suspects is orchestrating his murder, which he has been told will occur in 88 minutes.

Gary Scott Thompson penned the screenplay.

The film is being produced by Avi Lerner, Boaz Davidson, Avnet, Randall Emmett and Michael Flannigan for Millenium Films, Emmett/Furla Films and Equity Pictures.

Witt, who most recently appeared onscreen in "The Upside of Anger," next appears in Wayne Wang's "Last Holiday" with Queen Latifah for Paramount Pictures. Sobieski most recently wrapped Neil LaBute's "The Wicker Man." McDonough is filming Clint Eastwood's "Flags of Our Fathers" for DreamWorks Pictures and Warner Bros. Pictures.


BENJAMIN McKENZIE JOINS CAST OF "88 MINUTES"
Actor Benjamin McKenzie, best known as Ryan on Fox TV's The O.C., will join Al Pacino in the thriller 88 Minutes.
"McKenzie plays a grad student who is one of many suspects in a plot to kill Pacino's character, a college professor who is also an FBI forensic psychiatrist." (United Press International 11/7/05).
Brenneman joins Pacino in '88 Minutes'
Actress Amy Brenneman is joining Al Pacino in the thriller "88 Minutes," according to The Hollywood Reporter.

Brenneman will play Pacino's assistant in the film that will focus on a college professor (Pacino) who moonlights as a forensic psychiatrist for the FBI and receives a death threat claiming he has only 88 minutes to live.

Director Jon Avnet ("Up Close & Personal") is helming the movie, which is currently shooting in Vancouver.

Amy Brenneman starred for five seasons as Amy Gray in the TV drama "Judging Amy," and appeared with Pacino in the 1995 film "Heat."
*Source: Reuters/Yahoo posted 12/01/2005

Movies 101 with Professor Richard Brown presents new DVD Collection: "Pacino on Film".
Source: amctv.com (see link below) released September 24, 2005
Richard Brown began his teaching career at New York University in 1967. Movies 101 was launched in 1969. His unique programs, blending adult education and a love of motion pictures have sold out at The Smithsonian and the Library of Congress, at Oxford, the Sorbonne, and the Carpenter Center at Harvard University.

Richard has been an expert guest on Fox News and CNN, on PBS and A&E. He has written and directed numerous award winning television shows for the A&E Network, Lifetime and AMC. His critically acclaimed series, Reflections on the Silver Screen featured 50 in depth conversations with screen legends ranging from Gregory Peck and Audrey Hepburn to Jimmy Stewart and Katharine Hepburn. (Commissioned by the Library of Congress, it has been termed "the definitive archive on American film in the 20th Century.")

Prof. Brown's most recent project has been doing interviews for release on DVD collections of television series and feature films.

Most recently, he joined Al Pacino, at Mr. Pacino's request, for 20 hours of interviews for the Fox premiere release of the series "Pacino on Film". (This last set included in depth conversations with Alec Baldwin and Jerry Orbach, as well.)
Click here for link to the site's article.

Pacino Readies 'Rififi' Remake

Fri, Aug 19, 2005, 11:08 AM PT
LOS ANGELES (Zap2it.com)
Al Pacino and Harold Becker are expected to star in a remake of the 1955 heist classic "Rififi."

Variety is reporting that Scott Steindorff's Stone Village Pictures acquired the remake rights to Jules Dassin's French-language thriller, a film perhaps best known for a 32-minute robbery which plays without dialogue or musical cues.

"Rififi," which has been endlessly imitated in the 50 years since its release, focuses on a jewelry store heist that's planned and executed perfectly, at least until things start to go wrong. Pacino would presumably play the Jean Servais role, a recently freed con who gets out of jail and discovers his wife's infidelity, prompting a return to crime.

Pacino to play Napoleon
By the Baltimore Sun Times
dated August 12, 2005
A new film about Napoleon in exile on St. Helena is coming next summer, and Al Pacino will star as the dying, defeated, former emperor of France. What an opportunity for Oscar-winner Pacino to chew the scenery as only he can!

The director will be Michael Radford (Il Postino) and the producer will be Barry Navidi. The story will be based on diaries from Betsy Balcombe, a teenager who struck up an unusual relationship with Napoleon. In the end he became quite infatuated with her, before dying from either stomach cancer or poison.

From "Casting" by "Entertainment Weekly Magazine"
dated, WEDNESDAY, July 6, 2005


Al Pacino and director Michael Caton-Jones ("The Jackal") may team up in "City by the Sea," a drama about a cop who is torn by memories of his father (who was sentenced to death for killing an infant) when his own son is arrested for murder.

Is Al Pacino Planning a Broadway Return?

*by Andrew Gans, Published November 29, 2004 for Playbill.com

"Al Pacino...will likely return to the stage in August Strindberg's The Father...," a story of, "the relationship between Laura and her husband, The Cavalry Captain, and his descent into insanity when the paternity of his child is called into question."