It all started at the park!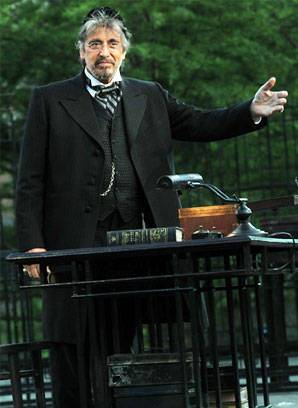 Pacino seeks his pound of flesh as Shylock in the Shakespeare in the Park production of The Merchant of Venice, which began performances June 12, 2010 at the Delacorte Theater.
Directed by Tony Award winner Daniel Sullivan (Proof), The Merchant of Venice follows The Winter's Tale, which began previews June 10. Both productions ran in repertory through Aug. 1, 2010.
Joining Pacino is Lily Rabe (Steel Magnolias, Heartbreak House) as Portia. Both Pacino and Rabe will exclusively appear in Merchant. The company also features Jesse Tyler Ferguson (Young Shepherd/Lord/Launcelot Gobbo), Jesse L. Martin (Polixenes/Gratiano), Max Wright (Old Shepherd/Prince of Arragon), Bill Heck (Lord/Lorenzo), Hamish Linklater (Autolycus/Lord/Bassanio), Marianne Jean-Baptiste (Paulina/Nerissa), Gerry Bamman (Antigonus/Duke of Venice), Francois Battiste (Florizel/Lord/Salerio), Byron Jennings (Camillo/Antonio), Heather Lind (Perdita/Jessica), Nyambi Nyambi (Lord/Prince of Morocco), Matthew Rauch (Dion/Jailer/Solanio) and Richard Topol (Lord/Tubal).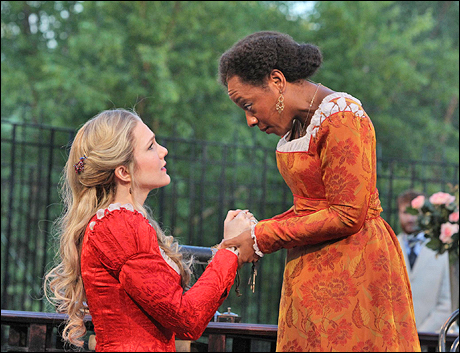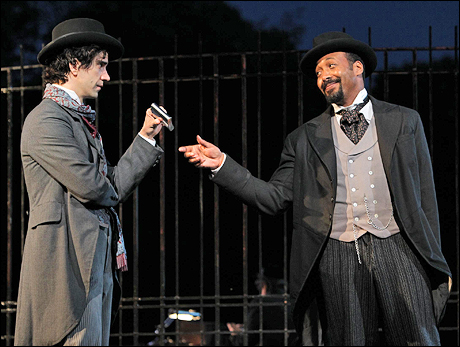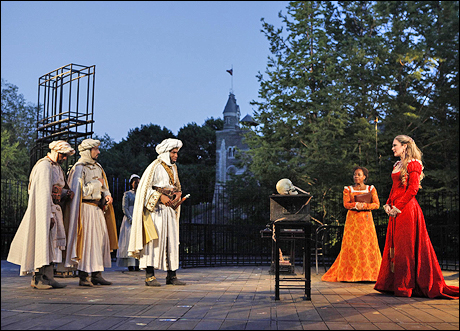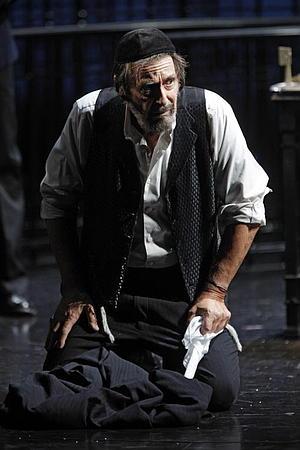 Sometimes waiting is half the fun! What's it like to wait in line for FREE tickets to a Shakespeare in the Park performance? Double that, when it stars Al Pacino!
What's it like to wait in line for the free, hot tickets of Shakespeare in the Park productions in Central Park? Well, it can be hot, but it's also an essential New York experience.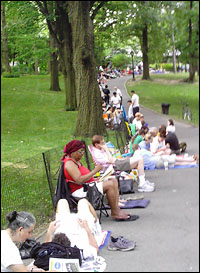 Books, games, food, drink, friends and plenty of blankets and mattresses. They were all useful distractions .....(for the complete article, click on the Playbill.com link below!)

...and THEN it went to "The Great White Way"!
The Shakespeare in the Park production of The Merchant of Venice, starring Academy Award-winning actor Al Pacino, transfered to Broadway's Broadhurst Theatre for a limited engagement beginning Oct. 19, 2010....then changed dates due to personal conflicts on the set.
After a heralded run this summer as part of Shakespeare in the Park, the Public Theater production of The Merchant of Venice, starring Academy Award-winning actor Al Pacino, officially marked an opening on Broadway Nov. 13, 2010 at the Broadhurst Theatre. This would be the publics' first date while the curtain call would be held November 5th.
The Broadway production marks Pacino's third time inhabiting the role of the unflinching Jewish moneylender. He also appeared as Shylock in Michael Radford's screen adaptation of Merchant to acclaim in 2004. Tony Award-winning director Daniel Sullivan (Proof) stages the dark take on the tale of greed, love, faith and vengeance, which brings a brutal pathos to Shakespeare's comedy.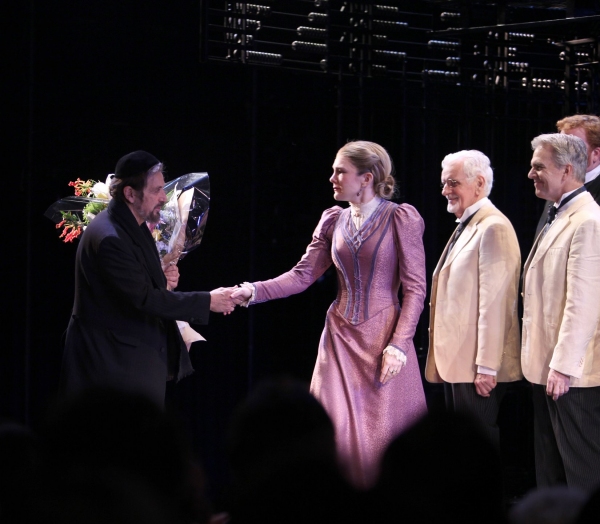 The company finally celebrated its Broadway opening Nov. 7, though press performances and reviews occured at a later date.
Actress Lily Rabe then returned to the Broadway production of the Public Theater's The Merchant of Venice.
Rabe, who originated the role of Portia in the Shakespeare in the Park staging of Merchant of Venice this past summer, had been absent from the Broadway transfer the past week due to the failing health of her mother, Academy Award-nominated actress Jill Clayburgh. Clayburgh lost her battle with Leukemia Nov. 5, 2010.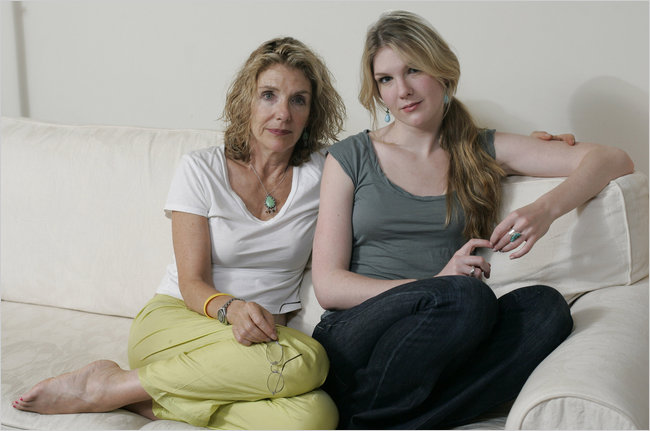 "It was very hard to leave her side during those weeks when things were happening so quickly with her health," she said. "And yet I had to keep going back to the show. I was with her on the Monday, on my day off, and I knew I couldn't leave her again. On Thursday she wanted to go home from the hospital. We got her home, and she died on Friday morning. I was with her every second."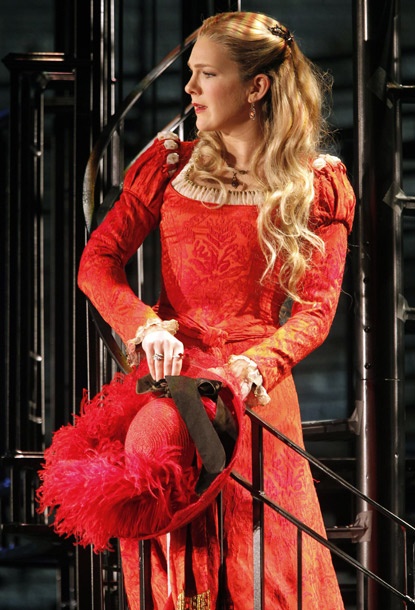 Ms. Rabe said her parents were in the audience night after night during early previews of "Merchant" in Central Park: "I remember, after the first one — and I had never had this experience before — they both just sort of looked at me and had nothing to say. They were really blissed out by the production."
She described doing the "quality of mercy" speech on one of those nights, with arms outstretched under a mist of gentle rain, as a magical moment that she was happy her mother got to witness.
*taken from NY Times' Article, Lily Rabe on Loss, Shakespeare and Acting, by David Rooney, dated December 1, 2010.

Encore! Encore!
"THE only thing that matters is the theater!"
~Lily Rabe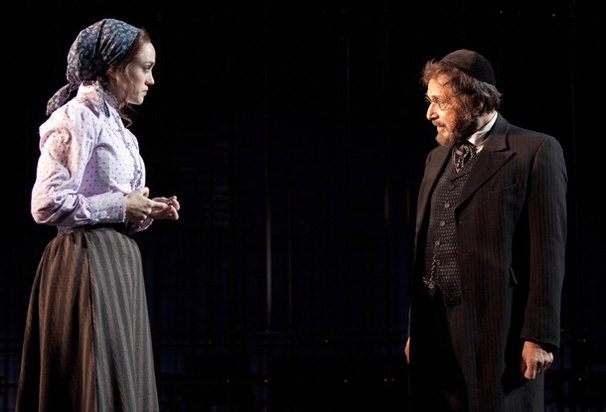 "The Merchant of Venice" is about broken bonds between fathers, daughters, lovers, friends, and of course Jews and Gentiles. One contract that never breaks, though, is between this magnificent performer and a great role. What Al Pacino and the rest of the cast and crew have done is present Shakespeare's classic in its tragicomic, all-too-human complexity.
~David Cote, Time Out New York, dated 11/15/10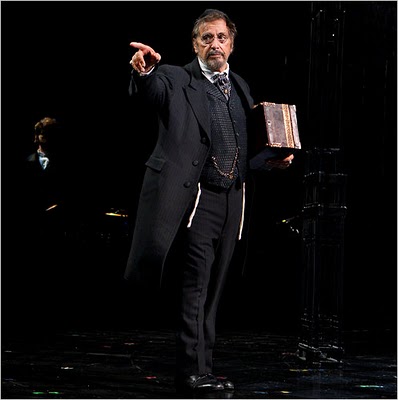 After a brief hiatus, the acclaimed Broadway revival of The Merchant of Venice, starring Al Pacino and Lily Rabe, resumes performances Feb. 1 at the Broadhurst Theatre.
Venice went on hiatus Jan. 9, 2011 in order to allow Pacino to fulfill prior film commitments. Performances will continue through Feb. 20, 2011.
*from Playbill article dated Feb. 1, 2011

See some highlights from the show on the video below!

Don't miss this wonderful production..Check out the Official website for ticket information today!
Extended for only 21 more performances!