"David Rabe's The Basic Training of Pavlo Hummel was the first American play of stature to deal with the experience of the Vietnam War... After being rejected by numerous regional and experimental theaters, the play was first produced professionally in 1971 at the Public Theatre by Joseph Papp's New York Shakespeare Festival...Rabe's professional debut was a success: Pavlo Hummel enjoyed a run of 363 performances and received predominantly enthusiastic critical response...For this play, Rabe received the Village Voice's Obie Award for distinguished playwriting, and a Drama Desk Award for most promising playwright."
Excerpts from Enotes.com LLC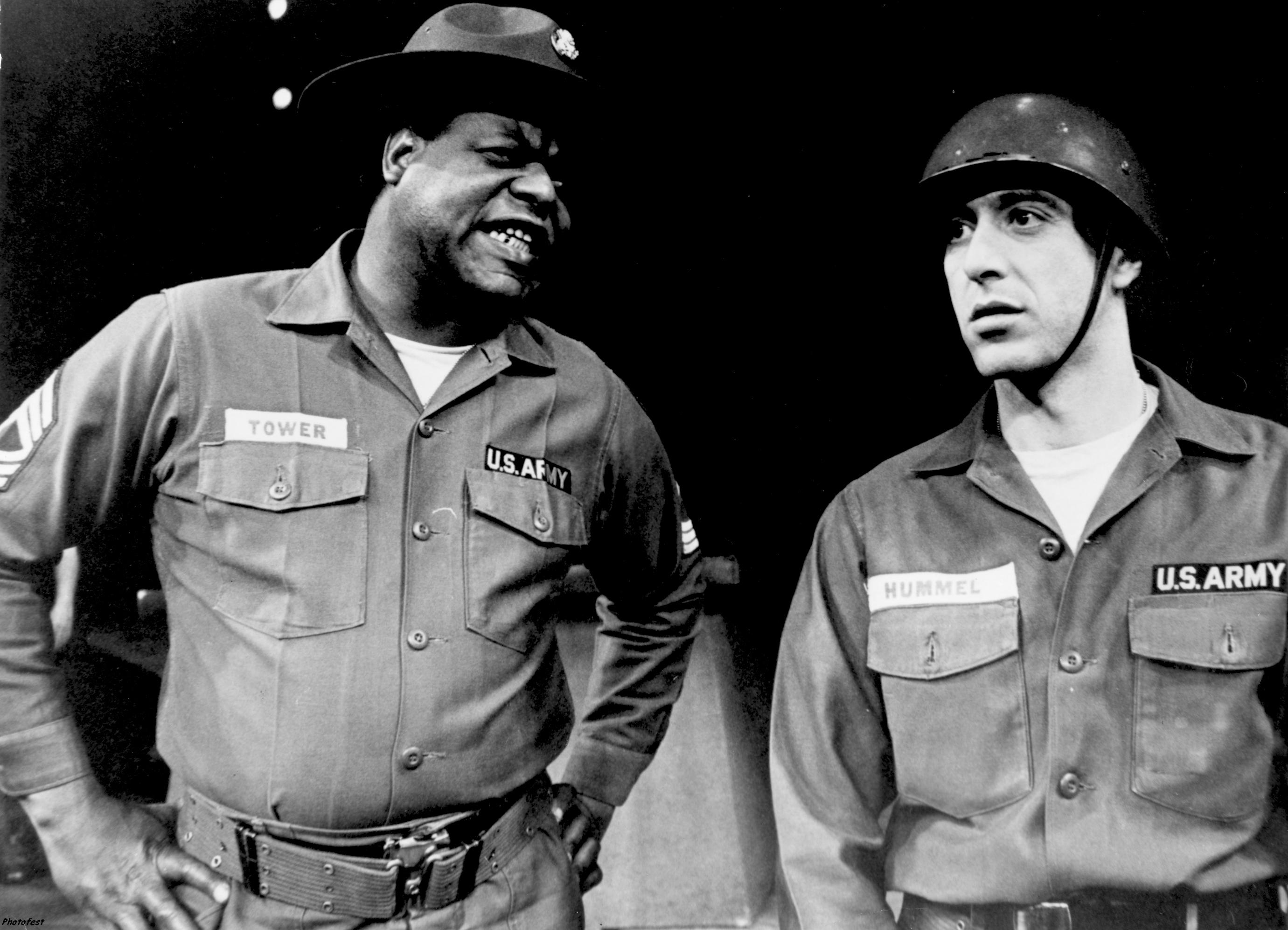 L to R - Joe Fields and Al Pacino were both honored with Tony nominations for their performances.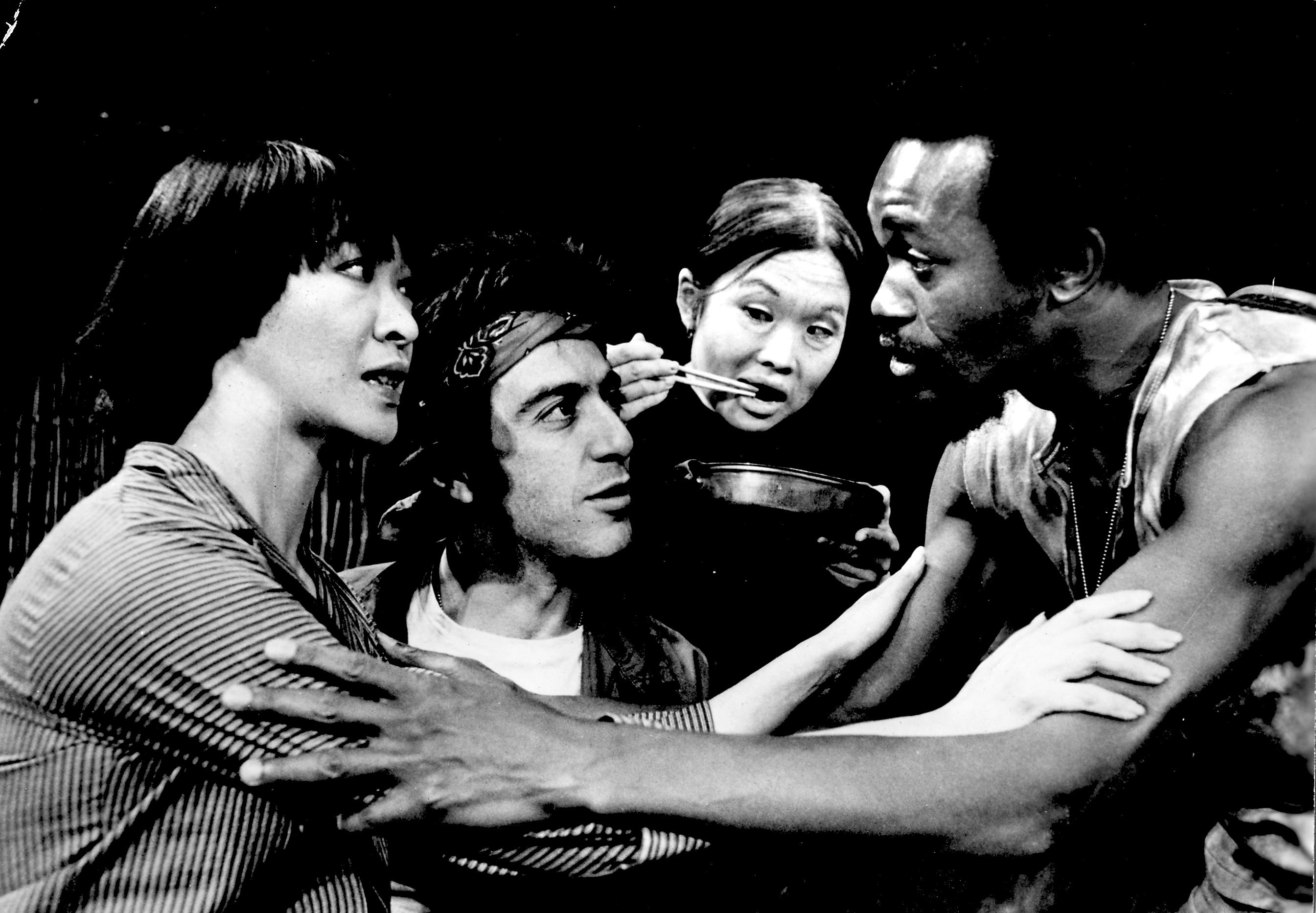 L to R - Tisa Chang, Al Pacino, Anne Miyamoto and Don Blakely

"The play opens with the title character, Pavlo, in a Vietnamese brothel with the prostitute, Yen. Pavlo brags about his various escapades as a soldier, but underneath his bravado he appears insecure and edgy. A grenade is tossed through the window, mortally wounding him. Ardell enters, a black soldier in a '"strangely unreal'" uniform who serves as Pavlo's alter ego throughout the play (only Pavlo can see or hear Ardell). Ardell's entrance triggers for the dying Pavlo a flashback of his army life...."
Excerpts from Enotes.com LLC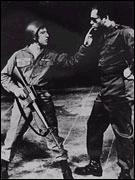 ...."The action goes back in time to Pavlo's arrival at boot camp. There he encounters Sergeant Tower, the imposing drill sergeant...who immediately isolates Pavlo for '"looking about at the air like some kinda fool'" and makes him do push-ups; this initiates a pattern which is repeated throughout the play...."
Excerpt from Enotes.com LLC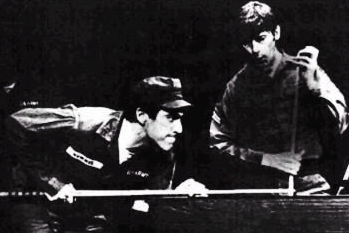 "The thing about Al Pacino's acting--the reason it stirs us in an almost unpredictable, almost, you note, not quite, way--is that it is a two-part figure. It is acting in two voices, at two pressures. He is constantly alternating between intense and the casual, the comic and the deeper than comic. The voice at one moment will have the flip descant of the streets to it, and soon after it will be calling a different statement, with a slightly different tone.
"It was all apparent years ago when he made his New York debut in Isreal Horovitz' The Indian Wants the Bronx. It was apparent again last night--a few plays and, more recently, a few films farther on--when he starred in the Theater Company of Boston's production of The Basic Training of Pavlo Hummel. It was at the Longacre Theater...."
..."Mr. Pacino has lost nothing in his absence from the stage. He is still a skeleton hand in a shabby velvet glove, he still moves like a boxer, and addresses the audience directly with the daring impudence of an Olivier.
"He has an oddly modern face, and a body with a gracefulness that belies its shape. Yet the effect is compelling, the oddity is beautiful, and the variety of his playing, that frugal alternation of stress and release, draws one into the private stage of his mind...."
"An abrasive, honest play, well worth seeing even if you have already seen it Off-Broadway. Partly because this is a play that gains from the contest of its successors, and partly because of Mr. Pacino's jauntily luminous and pathetic performance."
Above excerpt from The New York Times, Monday, April 25, 1977 "Rabe's 'Basic Training of Pavlo Hummel,' With Al Pacino" by Clive Barnes.